Plymouth Devonport & South Western Junction Railway
(Note: Numbers in brackets refer to specific references)
The LSWR built the PDSWJR which opened in 1890, as a line to Plymouth however the PDSWJR remained nominally independent. The PDSWJR took over the 3 foot 6 inch gauge East Cornwall Mineral Railway in 1891 and in 1908 the LSWR paid to have this line re-laid to standard gauge and improved to take passenger traffic. The line was extended across the Tamar to rejoin the PDSWJR at their station at Bere Alston on the existing line to Callington and the old mineral depots were converted to passenger stations. Devonport (a naval town) was merged with Plymouth in 1917. Under BR the line was known as the Callington Branch and part of the line remains open to passengers today (2003).

The PDSWJR was a very small company with very few wagons, mainly opens, most trains were operated by the LSWR, but the goods livery was sufficiently distinctive to be worth including for its modelling interest.
Goods stock was a bright cherry red body with white lettering, initials used were P. D & S. W (Note only full stops after the P and S). I have no information on the passenger coach livery.
Fig ___ PD&SW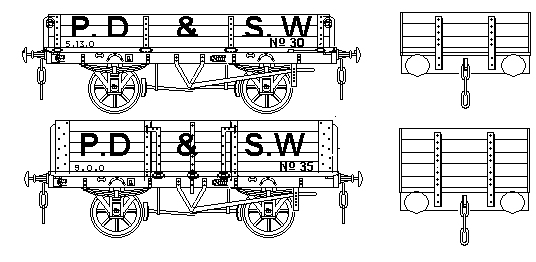 References:
(1) An Illustrated History of Southern Wagons Vol 2 (LBSCR & Minor Companies)
G. Bixley A. Blackburn, R. Chorley, M. King, J. Newton ISBN 0 86093 220 6
Second in a series of four, covers the goods livery of this small line with at least one photograph of an open wagon.
CHEESEMAN A J. THE PLYMOUTH, DEVONPORT & SOUTH WESTERN JUNCTION RAILWAY. OAKWOOD, 1967.
Societies:

THE COLONEL STEPHENS MUSEUM
The PD&SWR was part of the famous Colonel Stephens empire, this site devoted to the good Colonel has a section on this line.
West Country Railway Archives
A site covering all the lines in the South West of the country with some interesting information on each of the companies covered.


An Introduction to The Callington Branch
This web page is the work of Chris Osment of the West Country Railway Archives
---
^
Go to top of page


International Good Guys ~ Laughing in the face of advertising since 1971 ~ Site maintained by


All material Copyright © Mike Smith 2003 unless otherwise credited