North British Railway
(Note: Numbers in brackets refer to specific references)
The NBR started operations in 1844 but did not reach its final form until 1862 following a long series of amalgamations and take overs. This was the biggest of the Scottish companies, originally intended to link Berwick and Edinburgh it actually provided a link direct to London via Rugby, Sheffield and York. The purchase of a line to Glasgow lead on to Mallaig & the West Highlands and services also ran to Dundee, Fife and Perth. The building of the Forth and Tay bridges replaced ferries operated by the company, including one of the very few freight rail ferries to operate in Britain (on the Forth near Burntisland). In its final form its 1,389 miles of track served 21 Scottish counties, 2 English counties and operated several large dock complexes (Burntisland, Methill etc). By the Grouping of 1923 the company owned over a thousand locomotives, three thousand passenger carriages and nearly six thousand goods vehicles. The main competitors were the Caledonian Railway to the west and the North Eastern Railway to the south.
The main freight revenue came from the Fife coal fields, the bulk of the lines traffic being coal carried north to Aberdeen and east to the docks. Access to the industrial heartland of Scotland meant there was a considerable traffic in metal goods such as wire, plate and tubing as well as some machinery (both agricultural and industrial). The company built a number of one plank 'pig iron' wagons,
from 51l site: Used for the transport of pigs from foundry to rolling mill, a heavy duty uncompromising traffic.When the need arose used for other traffic. Frequently seen in industrial Scotland but also nationwide. Eg baled wool from Glasgow to Bradford.
One source of revenue was the linoleum from the factories on the banks of the river Forth for which the NBR built a number of six wheeled linoleum wagons with raised ends and a timber 'tarpaulin rail'.
Goods livery was grey body work with white lettering, sometimes the ironwork was picked out in black. Initials used were N B. Also on the wagon side was painted an inverted crescent containing two numbers (building or re-building date), and a small quatrefoil, resembling a four-leaf clover, usually referred to as the 'illiterate mark'. Service stock, gunpowder vans and fitted (steam brake) brake vans were painted red oxide, unfitted brake vans were painted grey. I am informed that goods vans did not carry the crescent marking, however I have not yet checked this.
Passenger livery was a maroon very similar to the Midland Railway colour with black ends and chassis. The lettering was in gold.
Fig ___ NBR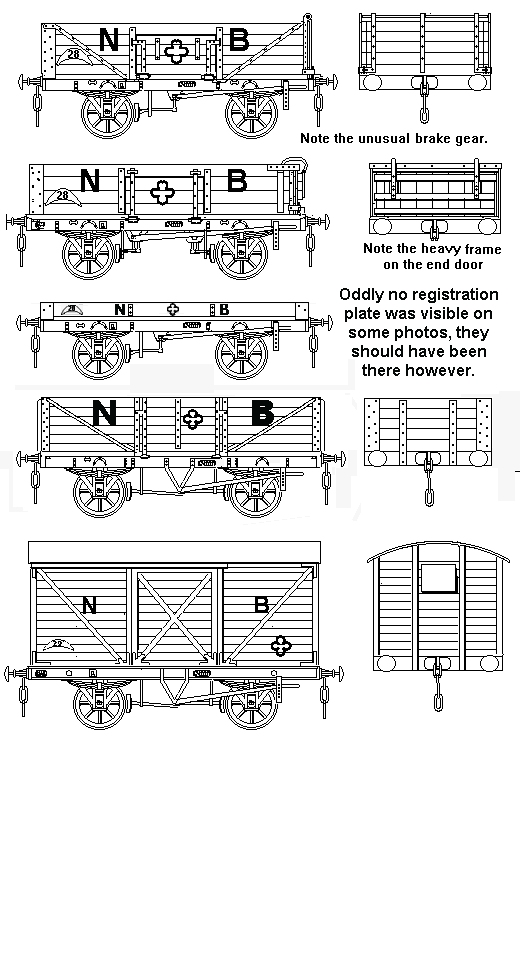 The timber framed end door coal wagon was fully described in article July 2001 Railway Modeller - Traffic for Tickling - Short wheelbase and Scottish end-door wagons. Being quite low you need to use 20x20 thou for the end door timber frame, I used the staples from a Peco kit for the iron hoops on the end door.

The flat wagon was described in the May 2002 Railway Modeller - Traffic for Tickling - Wagon chassis types. It is simply a Peco ten foot wheelbase chassis with the side loops added using 5 amp fuse wire set into cuts on the chassis top and a deck of 1mm scribed card.

The van is a Peco 'ventilated van' kit with new sides of 1mm scribed card, framing from 20x20 thou strip and a sliding door of scribed card sitting on a rectangle of plain 10 thou card.

Dapol have released a model of a NB gunpowder van, they release their models in short runs to allow the production of a range of liveries, so you may need to wait a while for this livery to re-appear.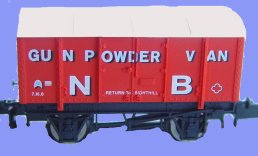 References:
A Pictorial Record of LNER Wagons - P. Tatlow - OPC - 1976 - ISBN 0 92888 92 7
One of the earliest books on goods wagons it includes several NB wagons in both NB and LNER liveries.
Societies:
North British Railway Study Group
The membership fee currently £18 per year
Available Models
Bill Bedford Models, Leebiton, Sandwick, Shetland, ZE2 9HP
Mr. Bedford offers and etched brass kit of the North British Railway/LNER Cask wagon, this is an open framework body only. This would certainly make an interesting and distinctive model, and a home made body would be unlikely to turn out satisfactorily, but building a suitable chassis might well prove tricky. I have not tried it myself.
Acknowledgements
Thanks are due to XXX XXX of the NBRSG for assistance and advice in the preparation of this article.
---
^
Go to top of page


International Good Guys ~ Laughing in the face of advertising since 1971 ~ Site maintained by


All material Copyright © Mike Smith 2003 unless otherwise credited