Somerset & Dorset Joint Rly.
(Note: Numbers in brackets refer to specific references)
The S&D became a jointly owned company in 1875, ownership being divided between the Midland Railway and the London and South Western Railway, subsequently the LMS with the SR. The line ran from the Bristol channel down to Bournemouth on the English channel connecting Bristol with Bournemouth, Poole and Southampton. The S&D used Bournemouth West station for its southern passenger terminus via running powers on the LSWR. A later addition was the branch line from Evercreech Junction to Bath Green Park station, which became the northern terminus of the S&D, Here the S&D joined the Midland Railway and the rest of the national network. The S&D was mainly single track, making it popular with modellers, however it suffered from seasonal traffic variations, busy in summer, less so in winter. The companies goods rolling stock was transferred to the LSWR and MR in 1914, the passenger and non passenger coaching stock was transferred to the LMS and SR in 1930. The line was closed in 1966, amid some controversy.
The SDJR goods stock was painted a light grey with iron work picked out in black and with black underframes. Lettering was white and about 6 inches high. The wagons were usually marked S & D J R to the left, typically two or three planks from the bottom, and with the number similarly placed to the right of the body. The goods rolling stock was divided up between the LSWR and the MR in 1914, however some LSWR vehicles were simply re-initialed and were not repainted for some years, possibly as late as 1930 in some cases. (1) The passenger livery was all-over blue, slightly darker than Humbrol 'Oxford Blue'. From 1914 until 1930 the S&DJR only had locomotives, passenger stock, goods brake vans and service vehicles in it's own livery, non of which would have wandered off S&DJR rails.
I am not sure when the 'Non passenger coaching stock' (horseboxes etc) was disposed of and I cannot be sure of the loco livery details
Fig ___ S&DJR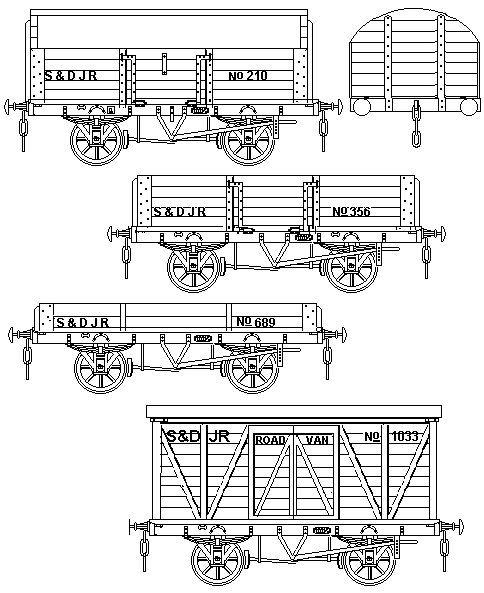 The van shown in the sketch is very similar to a Midland Railway standard design, my model was made using a second hand N Gauge Society kit with the door scraped flat, plank lines scribed in and vertical and diagonal framing added from 10x20 thou strip. The model is mounted on a standard Peco ten foot wheelbase wooden chassis.

The three plank drop-side wagon is another Midland Railway design. My model is a shortened section of Peco 'ventilated van' body mounted on a Peco nine foot wheelbase chassis.

The high ended open wagon is an LSWR design. The model is made using a shortened Peco five plank wagon body with raised ends added from 20 thou 1mm scribed card.

References:

(1) An Illustrated History of Southern Wagons Vol 1 (LSWR and S&DJR) G. Bixley A. Blackburn, R. Chorley, M. King, J. Newton OPC 1984 ISBN 0 86093 207 9 Offers comprehensive coverage of the S&DJR goods stock and goods liveries.

Societies:

There is the Somerset & Dorset Railway Trust, which has been in existence virtually since the line closed, and can be found at www.sdrt.org (Thanks are due to Chris Osment of the West Country Railway Archives for lettimg me know of this website)

West Country Railway Archives
A site covering all the lines in the South West of the country with some interesting information on each of the companies covered.



Somerset & Dorset Joint Railway
A website devoted to the line.


Historical Model Railway Society

N Gauge Society

2mm Scale Association

Available Models.

Graham Hughes Kits 20, MacKelvie Road, Lamlash, Isle of Arran Strathclyde KA27 8NP

Mr.Hughes offers white metal kits (including chassis) of the MR 3 plank 8 ton wagon and the 5 plank open wagons both of which were used by the S&DJR.

Acknowledgements
---
^
Go to top of page


International Good Guys ~ Laughing in the face of advertising since 1971 ~ Site maintained by


All material Copyright © Mike Smith 2003 unless otherwise credited