Railway Freight Operations - Grain and Beer Traffic

British grain was mainly carried in sacks, but from the 1920's imported grain was sometimes moved in bulk. The railways built a number of bulk grain hopper wagons for the imported grain trade. The wagons used included both open and closed wooden hoppers and some closed steel hoppers. British Railways inherited a mixed bag of GWR and LNER wooden hopper vans, LMS and GWR steel hopper vans and even a few open hopper wagons with raised ends to support a tarpaulin from the LSWR via the Southern Railway.

In Scotland there were also several fleets of small (ten or nine foot wheelbase) grain wagons handling imported grain. These remained operational into the early years of BR and modelling these wagons is discussed later, in the section on Kit Bashing.

Illustrations of various pre-nationalisation grain wagons will be found in the section on Rolling Stock Development - Specialised rolling stock. A sketch showing various hoppers used by BR for grain will be found in the section on Rolling Stock Development - BR Designs. By the late 1950's British farmers were starting to invest in bulk grain handling gear so the hoppers were increasingly used for inland flows. To load the grain into the rail wagons some yards in country areas had permanent grain loading gear installed. There is a good photograph of a large fixed auger based system used for loading BR era grain wagons in East Anglia in the book British Railways Goods Wagons in Colour by Robert Hendry (see Bibliography). The picture shows the detail of the gantry with its twin discharge pipes but not the facilities for the farmers lorry depositing the grain.

BR inherited a mixed bag of mostly rather elderly grain hoppers with a mixture of wooden and steel bodies. The British Railways standard grain hopper was based on the LMS steel grain hopper in spite of a preference by the users for the wooden bodied type that suffered less from condensation. They also pressed into service some standard 21 ton unfitted coal hoppers, fitted with a rail to support a tarpaulin cover.

Grain going to larger rail served establishments was usually emptied into under track pits where a conveyor or auger (discussed below) hauled the grain away. Vacuum unloading of grain from ships was standard practice but I have seen no references to this approach being used to unload railway wagons. If the destination was not rail served the grain had to be transferred to a lorry. Getting grain out of a bottom discharge hopper and up into a lorry required something called an Auger, basically a powered screw in a pipe (this is described in more detail below).

Most bulk grain was moved and delivered in short rakes of a few hoppers in standard wagon load mixed goods trains, few services warranting a block working. As few as three or as many as ten wagons might be involved. As the railways withdrew from wagon-load and less-than-wagon-load traffic in the later 1960s and early 1970s a limited amount of grain traffic was retained. Most of the domestic grain switched to road transport but rail remained more economical for the bulk imports arriving by sea. One of the more successful elements in retaining this traffic was the introduction of large vacuum braked steel grain hopper wagons of the type offered by Peco. These were built in the 1960s by Pressed Steel Ltd and for a company called BRT (British Railway Traffic & Electric Co Ltd, a wagon leasing company) who then hired them out to the Scottish Malt Distillers company. These are more fully discussed in the section on modern private owner rolling stock.

The rail movement of grain in the UK was revamped in the later 1970's by a shipping company called Traffic Services Limited, or TSL. They set up an operation they marketed as Grainflow which offered an integrated service, TSL provided the large polybulk hopper wagons and handled all dealings with British Railways on behalf of the shipper. By this time Britain was exporting a lot of grain so there were traffic flows both to and from the ports (carrying different types of grain).

The Grainflow wagons were moved in the Speedlink wagon-load traffic services. Incoming Grainflow traffic was directed to a limited number of rail served industries but most was transferred into road lorries for final delivery. To do this a pit was required in the yard into which an Auger could be fitted. The wagon was parked over the pit and the hopper door opened to permit a slow but steady flow of grain into the pit. The auger transferred the grain to the lorries.

Fig___ Auger used for Grainflow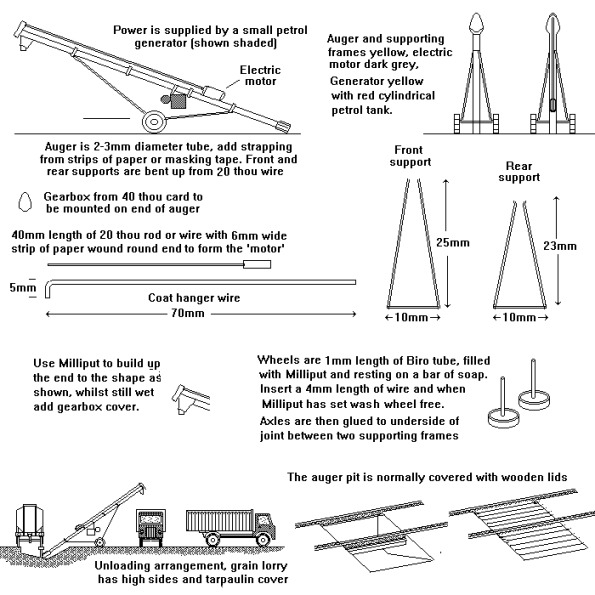 Grainflow wagons were painted in overall green livery with yellow lettering and travelled in standard Speedlink trains. The N Gauge Society offer a neat etched brass kit of the large bogie 'polybulk' wagons used for this service which includes a set of transfers. In 1983 the Scottish Malt Distillers company purchased a small fleet of Polybulk wagons which they painted in their own livery. The unwanted BRT hoppers these replaced were then re-vamped by Procor and leased to TSL as part of their Grainflow operation.

Fig___ Grainflow livery on a Peco type grain hopper





With the end of Speedlink in 1991 Grainflow switched to trainload services, this proved unsustainable however and the service ended in 1992. Even today only a proportion of grain is shipped as bulk, considerable quantities of grain were moved in sacks by Speedlink, usually palletised and carried in VGA vans. and the IBC (basically a big sack designed to be handled by a fork lift truck) has also been used for grain.
---
Beer & Ale


Comparatively little beer was moved by rail, most towns had their own breweries supplying local brewery-owned and independent pubs by horse-drawn or motorised wagons called 'drays'. There were some rail wagons built to carry barrels of beer but these would mainly run in groups between the brewery sidings and other private sidings, typically for bottling plants. Of the Big Four only the LMS had purpose built 'beer wagons' for moving beer barrels, these were built to replace existing pre-grouping stock and were typically used in block workings mainly from the major breweries in Burton on Trent.

Some companies, notably Guinness, did move a lot of beer by rail. Guinness did not own pubs they sold their porter or stout to other breweries for sale in their pubs. Up to the 1930s all Guinness was brewed in Dublin, consignments in wooden barrels were shipped to London, Liverpool and Manchester docks and carried to their depots and bottling plants by rail. In the mid 1930s tensions between the Labour-led Ramsay McDonald British government and Irish government under de Valera brought the possibility of taxation on imported Guinness so the firm built a new brewery at the Park Royal industrial estate being built close by the GWR main line not far from Oal Oak yard. This started production in 1936 and dispatched a twice weekly block working to their Newcastle stores and other rail deliveries to other depots around the country. Park Royal brews four million kegs of stout compared to Dublin's eight million but in 2006, in part due to the increasing costs of operating in London the brewery is to be closed and demand met from the Dublin brewery.

As traffic declined in the 1930's (when containerised meat shipment became the norm in Britain) some cattle wagons were transferred to the business of carrying barrels of beer. The cattle wagons involved were mainly the unfitted types, they were marked `ALE WAGON' but not in the main modified in any way. The Peco barrel wagon load will fit neatly inside the Peco cattle truck, although this does need supporting 6mm high (a 6mm scrap of Plastruct rectanglular tube works for me, I had some of this tube as I was also making some L type containers).

The older vehicles were used for beer in barrels but with the growth of 'keg beer' supplied in small steel pressurised containers in the 1960's BR modified various wagons for palletised beer kegs. I have not seen a photograph of such a wagon loaded however their size would allow pallets stacked with two levels of the small kegs or a single layer of the larger steel beer 'hogsheads' that were in use at that time and I suspect they would be sheeted over in transit. Another possibility is that they were used for the Guinness portable tanks, introduced in 1952 and designed for fork-lift operations (although they were handled by an electric overhead crane at the breweries. These tanks were circular, 5'4" in diameter by 4'10" high and weighing in at about 2.5 tons when full, the long wheelbase wagon shown below could carry five of these tanks. By the end of 1961 the old wooden Guiness kegs had all been replaced by these new steel containers.

Fig ___ Ale wagons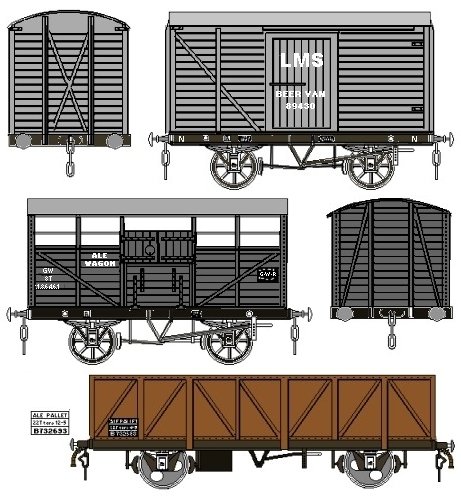 In the later 1930's there were some rail tank wagons carrying beer, these wore the livery of the brewer. Scottish & Newcastle was one user of these tanks. Again these would not have been seen running up a remote branch line, they were used to supply beer or ale to bottling plants. Given the small numbers involved these tanks would appear to have run in wagon load services. Ind Coope operated a small number of tanks, at least one of which was a multi-compartment type (see also Kit Bashing - K Unusual Tank Wagons).

Fig ___ Multi compartment beer tank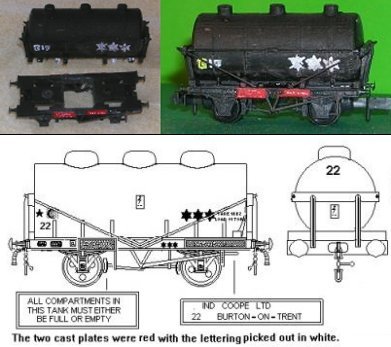 The breweries used tank wagons of both the fixed and 'de-mountable' kind for both beer and spirits. Guinness developed a steel tank in the 1940s that could be carried in ordinary open wagons but demountable beer tanks were in effect containers and ran on purpose built chassis. Bass built up quite a fleet of these tanks, some of which were later used for other work, one example being the movement of glue to chipboard factories. This latter traffic was carried throughout the 1950'2 and 60's but I think it transferred to road in the 1970's. There were a few demountable tanks carrid in pairs on a single wagon, Scottish and Newcaste had two of these and Truman's had one (which could carry either two tanks or a single tank mounted, I believe, centrally). Modelling these de-mountable tanks and their wagons is discussed in the section on 'Kit Bashing'. In the sketch below the colours used are largely guesswork and based on increasingly dim memories. I thing the Bass tanks (of which there were quite a few) were red as shown, The twin tank wagon is shown in Truman's livery, the tanks were similar to a pair operated by Scottish and Newcastle Breweries between Edinburgh and Glasgow.

Fig ___ Demountable beer tanks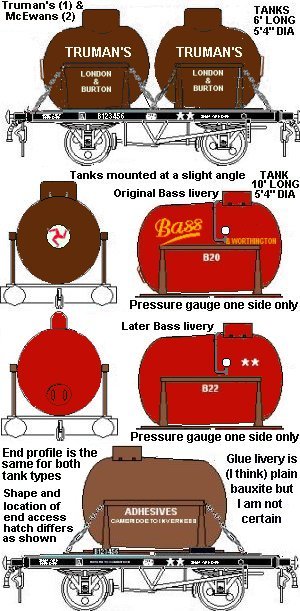 Some larger brewers, notably Guinness but also Whitbreads and possibly others, used road-tankers which were transported on railway wagons. The Guinness tankers came in a number of designs, all I believe built by Dysons. The first lot were convntional in appearance and may well have been based on the existing designs for milk tanks, however they had the larger covered filling dome at one end rather than the centrally mounter exposed dome on the milk tanks. Guinness also had some larger tanks on six wheeler chassis with two filling domes, grouped toward one end, which ran on larger 6 wheeled chassis. All the guinness tanks ran on six wheeled chassis, the Whitbreads tanks were carried on four wheel chassis. Modelling the road tanks and the rail wagons to carry them is discussed in the section on 'Kit Bashing'

I believe the Guinness road-rail tanks (of which there were over thirty) were black or very dark blue with gold markings, the Whitbreads tank (only two were built and I believe they ran as a pair in parcels trains) was 'dull metal' with black markings. If anyone has definite information on the tank colours used I would be grateful if they could let me know.

Fig ___ Road/rail tanks for beer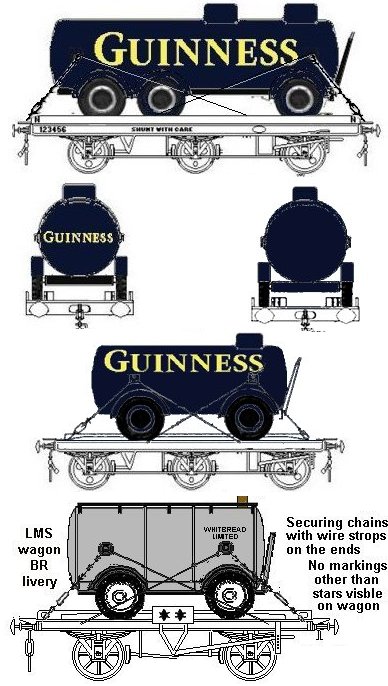 The Guinness deliveries from their Park Royal brewery in London to the varoious 'stores' depots around the country were truly epic in nature. Up to World War Two the stout was shipped in wooden casks, local deliveries (including the south Midlands and East Anglia) were by road, further afield Guinness stores were supplied by rail. During and after the war the shortage of American oak for the casks lead to a move toward bulk shipments, 500 gallon stainless steel demountable tanks proved a success (over a thousand were built) and road tank trailers were supplied in some numbers as well as a fleet of eight wheeled tanker lorries (operated up to 1953 by the firm of Thomass Allen, who had been road-hauling Guinness for many years). Following the nationalisation of road haulage British Road Services had to be employed for deliveries of more than 25 miles from base but in 1953 the fleet of Thomass Allen delivery vehicles (and most of the staff) were purchased by Guinness and restablished as Park Royal Transport Ltd). On the railway side there was a twice weekly block train up to the distribution and bottling plant in Newcastle with open wagons filled with casks and several demoutable tanks as well. The road rail tanks were used to supply depots in Newcastle, South Wales and Plymouth (as well as other destinations).
---
^
Go to top of page


International Good Guys ~ Making the world a better place since 1971 ~ Site maintained by


All material Copyright © Mike Smith 2003 unless otherwise credited