Railway Freight Operations - Ferry Traffic

Getting wagons across rivers usually involves building a bridge, in some cases however it was too expensive an option or too difficult from a technical standpoint. In 1833, on the Forth & Clyde Canal in Scotland, a barge was fitted with two sets of tracks arranged longitudinally, with a central loading track feeding a turn-plate and extending to the side of the barge. This was the worlds first wagon ferry and remained in operation for many years. The first railway ferry operating on open waters was also built in Scotland in 1850, it was used to carry goods wagons between Burntisland and Granton on Firth of Forth. The paddle-steamer Leviathan carried the trains, which formed the main link across the Forth until completion of the Forth Bridge railway in 1890.
Passenger and car ferries continued until the 1960s when a new suspension bridge was built.
Passengers were not carried on the train ferry, they had either to take a separate ferry or take the long way round in their coaches. Ferries of this type have not found favour in Britain, most rivers are small enough to be bridged, but they are widely used in other countries.

All larger dock complexes were laced with railway lines and even a small riverside quay would be quite likely to have a goods siding run onto it. The railways saw the commercial potential in linking up with ferry services connecting the British mainland with Ireland and the Continent, several companies either bought stock in dock companies or purchased them outright (for example the London & South Western Railway purchased the whole of Southampton Docks in 1892 and the South Eastern Railway purchased Folkestone harbour to cater for their ferry service to Boulogne). Other companies actually built their own dock complexes from scratch - Harwich Parkeston Quay was built by the Great Eastern Railway in the 1890's, the Lancashire & Yorkshire Railway extended the docks at Fleetwood to handle their timber, grain and fish traffic and the Hull and Barnsley Railway was until 1905 named the Hull, Barnsley & West Riding Junction Railway & Dock, as it was set up to service a purpose built dock complex at Hull.

By the late nineteenth century the railway operated ferry services ranged from small paddle steamers operating on lakes and rivers to large cattle carriers operating across the Irish Sea and fast passenger ships running to the Continent. The size of the ships varied with the work they had to do and that varied with time. The GWR operated a ferry across the river Dart between their station at Kingswear and the town of Dartmouth (the principal destination for the passengers). At the height of its popularity they used a moderately large paddle steamer for this service (the 1924 built Kingswear Castle is now operated as a cruising ship based at Chatham). By the 1950's when a new vessel was built a small motor type was sufficient (this service was operated by British Rail until the 1970's and the motor vessel remains in use today under the ownership of the Dart Valley Railway).

The railway owned ferries were often painted in the house colours of the railway company but some services were operated by wholly owned subsidiaries. One example is the Caledonian Steam Packet Company which operated services on the Stranraer Harbour to Larne ferry route. British Railways inherited the railway owned ships and routes and operated over a hundred services for many years, very few of the railway owned ferry services carried railway wagons however, by the twentieth century those that did all operated between ports on the South and East coast and the Continent. The BR operated ships had black hulls, white superstructure, red funnels with a black top and, after 1964, the BR logo in white on the funnel sides. In 1965, following the change to the 'corporate' British Rail livery they adopted the name Sealink for all their ferry services and this name was often painted in white on the side of the ships hull.

Fig ___ BR Sealink ferry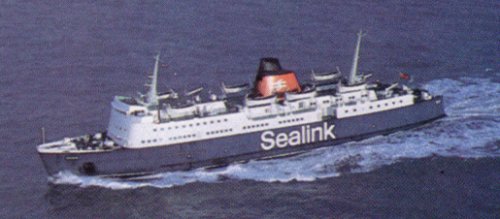 International Ferry Traffic

International ferry traffic falls into two main categories; conventional ferries docking at rail served ports that carried passengers and goods and specialised ships fitted with ramps and rails to allow railway vehicles to be loaded directly on board. These latter are usually called train ferries although the locomotives are not carried on board.

Train ferries usually have two tracks to connect to the shore, each of the lines diverging on the deck to provide four tracks for on board carriage of rolling stock. These tracks are usually in the open which means that stock carrying dangerous cargo can be carried safely. The ship connects to the shore using a 'link span', essentially a bridge, one end hinged on the shore the other suspended from a heavy rectangular arch carried on a floating pontoon. The Granton to Burntisland ferry was the first to use this method, although that one carried only a single line, with a set of points either just before the connection to the ship or possibly on the ship itself. I believe it had two tracks on the deck.)As the ship will tilt if one side is loaded and the other is not the loading and unloading at the more modern terminals takes place using two engines, one on each approach track, to keep the ship balanced. The two train ferry ports in Britain were at Harwich and Dover, both connecting with the continent. There was no train ferry service to Ireland, mainly because the track gauge in Ireland is wider than that in the UK and unlike the Iberians trade the nature of the traffic did not lend itself to (profitable) rail movement.

Harwich was actually built by the Great Eastern Railway in the 1880's to service their ferry services to the Continent. It was originally named (and sometimes still referred to as) Parkeston Quay after GER's Chairman, Charles Parks.

During the First World War the War Department built three ships to carry railway vehicles and established military ports equipped with the necessary docking gear. These were used during the war to carry stores between military ports at Southampton and Richborough in Kent and France. In 1924 the LNER purchased the three ships and the associated shore 'link-span' equipment from the army and moved the linkspan to Harwich, establishing the semi autonomous Great Eastern Train Ferries Ltd. to operate a service to Zeebruge in Holland.

Fig ___ Original ex WD train ferry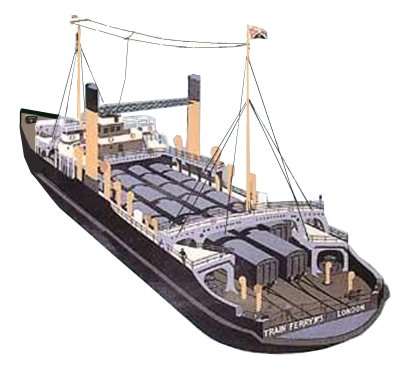 The LNER also purchased some of the high open wagons and vans built for the army for their operation on the continent, equipped with either an air brake or through pipe, extended buffers and special long link couplings to match the continental standards. There is very lifttle informatoon on the British ferry stock used by these early services however the Great Central Railway built a number of their standard steel underframed six plank open wagons for service in France, fitted with extended buffers and screw link coupings but the only photo I have found (in Peter Tatlow's book on LNER wagons, see Bibliography) shows a wagon with no brake hoses. I have to date been unable to find any further details of the British rolling stock used, although I gather 'ordinary' British stock was used as well, however I understand the bulk of the rolling stock used was Continental.

Continental stock is too big for the clearances in Britain so specially built stock was built for the ferry services. By the 1930s (possibly earlier) the German railways operated a number of wagons and vans built to suit the British loading gauge for use on ferry services to the UK. The vans, coded Gfh by the Germans, ran on a 23 feet wheelbase chassis with a body 35 feet long and (at least some) had the 'caboose' brake man's compartment added to one end. Quite a few of these large vans ended up in Britain when the Second World War broke out and were used for military services during the war, apparently some retained the Nazi logo on the side. German 'stake wagons' (four wheeled flat wagons with fold down side bars coded Rfh) were also produced for ferry work but non ended up in the UK during the war. These had a similar sized chassis to the vans and again (at least some) had the 'caboose' for the brake man at one end.

In 1936, the Southern Railway company and the newly nationalised French railway (SNCF) invested in new train ferry docks at Dover and Dunkerque. This service employed three ships each of which had two tracks laid onto the stern with four tracks on deck. At each end, the ship ran into a dock where the water level could be adjusted so that the trains could run off the ship onto the tracks. They could carry twelve international sleeping carriages or twenty four forty foot wagons and an enclosed upper deck had a garage for 25 motor cars. The illustration below is based on a poster produced by the SR advertising this service. Note the funnels are mounted fore and aft rather than at the sides as on the old WD ferries.

Fig ___ 1930s Southern Railway train ferry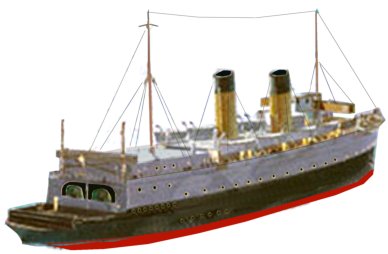 The SR cross channel ferries were originally built to carry freight (although foot passengers were also carried) but the new terminal at Dover was then used to carry both through sleeper passenger coaches and freight from 1936. This passenger coach carrying service was the London Paris 'Night Ferry' which ran every day except Christmas Day (with a break during the Second World War) and ceased operating in (I think) 1980. Passengers boarded the train in London (or Paris) and went to bed, they crossed the channel during the night and awoke in Paris (or London). One of the train ferries operated by the Southern Railway was specially adapted for this work. The sleeper coaches used were actually built by the French CIWL (Companie Internationale des Wagon-lits or International Sleeping Car Company, who also supplied the coaches for the 'Orient Express' . These coaches were specially built to suit the British loading gauge and were supplied along with some four wheeled brake vans with 'birdcage' look outs on top of the roof. The illustration below is a scan from a 1930s coach and wagon handbook, this was a 'pocket book', hence the poor quality of the image. It formed part of an advertisment for the Birminham Railway Carriage and Wagon Co.

Fig___ Wagon Lit London-Paris Coach





The usual train was made up of perhaps six sleeping cars with three or four special luggage vans and one of the special brake vans, the wagon lit coaches were essentially the same as the standard Continental type and as Continental N is 1 in 160 you could get away with using models from Continental firms although the brake van might be hard to find.

Fig___ Wagon Lit London-Paris Guards Van





I believe it was usual to add six British Pullman coaches for the London to Dover leg (the Grafar Pullmans might serve for a pre-war layout, but I am not sure about that) but these did not travel on the ferry.

The other well known passenger train serving the ferries was the all-first-class Pullman coach Golden Arrow, an express service between London and Dover (Folkstone for a time in the late 1950's) where passengers left the train to cross over on the ferry. A similarly plush train was provided on the French side to take people on to Paris. The French actually started the idea, their 'Flèche d'Or' service began operating between Paris and Calais in 1926, it was 1929 before the British introduced their Golden Arrow service. The only pictures I have seen of the Golden Arrow train show it headed by a streamlined Merchant Navy class loco with a circular name plate on the front.

When war broke out in 1939 a number of continental wagons were on British soil and were retained for the duration of the war. The Germans used 'stake wagons' and purpose built vans for the British ferry service traffic, these carried full German markings and were not put into general service but handed over to the military for use as stores vehicles.

As the railways owned and operated a great many ferry services they had many passenger trains timed to connect with these but as far as I am aware no other passenger services used distinctive coaching stock (the GWR may have had a distinctive livery for their 'ocean mails' service but I think that was confined to the mail bag vans).

Having said which BR did run a rake of coaches in distinctive ferry livery in the 1980's, the livery used was the railway owned Sealink ferry livery. I only recently heard of these and couldn't find any further information but Marcus Kerr was able to advise as follows-

There were two sets of Mark 1 coaches (approx. 11 in total) that were all based at Polmadie and used exclusively between Glasgow and Stranraer, that I know of.
They were only used in the livery for a short period of time, from 1983 to 1986, when they were replaced by two sets of Mk2a coaches.
Of the 11 coaches that I noted between 1983 and 1986, there were :


2 x BSK
2 x CK
7 x SK

These were formed into two sets of :
SK-SK-CK-BSK-SK-(SK)



They were also used on Stranraer-London and Glasgow-London Christmas additional trains, where both sets were reformed into a single set of 1 x BSK, 2 x CK, and 6 or 7 x SK Polmadie depot would also add one of its RMB or TSO(T) to this I have an old photo one such set at Plat 9 of Glasgow Central with a Class 81 at the helm, a blue/grey RMB, noted on an additional 07:20 Glasgow - Birmingham service. After this time they spent many years sitting at the now abandoned carriage sidings next to Shields Road depot, awaiting their inevitable disposal.
Jack Taylor (http://www.tabbyvans.co.uk), a regular contributor to the uk.railways newsgroup added -

The coaches involved were nearly all SK or BSK (the CK's were all withdrawn or repainted by 1986), and all 1950s stock, all-wooden interiors, though "face-lifted" with un-dimable fluorescent lights in the ceilings, reading lights and blinds removed. Presumably once upon a time they came from the WR, who seemed to specialise in this kind of downgrading of stock. They actually spent much of their time running BR operated railtours, it was only at the end that they were, as you say, dumped at the now abandoned Smithy Lye. I remember travelling to Glasgow quite frequently at the time, and when first dumped they were complete, then the windows went in the coach nearest the bridge, and then gradually the smashed windows seemed to "creep" along the set until they were all gone, much to the annoyance of the dossers who'd taken up residence in what was reasonably comfortable accommodation when they still had windows! - Jack.
Fig___ Sealink coach livery




My sketch is based on the Lima model and may be inaccurate. Lima produced a brake-second and an open tourist second coach in this livery I believe.

Ferry Equipped Railway Freight Stock

On the freight side wagons from Spain and Portugal formed the first major trade, as the Iberian railways use a wider track gauge the stock used for this trade has to be fitted with interchangeable axles (these are changed at the French border). A brief summary of the types used will be found in the section on Goods Rolling Stock Design - Ferry Wagons and the special markings are discussed under Livery - Ferry Stock. See also the section on Freight Operations - Road Vehicles, Military Traffic and Farm Machinery for details of some car carrying four wheeled wagons built to carry exports of Morris motor cars.

The demand for carrying railway goods wagons to and from Europe on purpose built cross channel ferries increased slowly over the years. In 1951 British Railways built two new four-track ferries for the Harwich-Zeebrugge route, and in the late 1950's BR Southern Region started building rolling stock for this trade. Peco offer a rather short 'tube' wagon and a fairly accurate eight plank 'tarpaulin' wagon, both of which are based on these BR ferry wagon types. BR/SR also built a small fleet of covered vans, both four wheeled and bogie types, however the bulk of the van traffic used purpose built continental wagons, for which some models are available off-the shelf in N.

To avoid problems with the loading gauge restrictions most of the open ferry wagons and larger specialised stock was supplied by British Railways after the war. This involved the fitting of air brakes and adding four heavy lugs to the chassis to allow the wagon or van to be chained down to the deck of the ferry.

In 1962 and again in 1964 British Railways built some very large four wheeled vans for ferry traffic, over forty foot long with a single sliding side door and continental style side ventilators. In 1968 a rake of ninety nine of these ferry vans was hauled by a class 37 locomotive during trials of the Westinghouse air brake, this was the longest train ever hauled on British Railways . As ferry stock these vans were fitted with air brakes and proved a successful and long lived design with examples remaining in service into the 1990's.

Scale drawings for this vehicle were included in the Model Railway Constructor Annual 1985, these were used with various photographs to produce my own sketches.

Fig___ BR Ferry Vans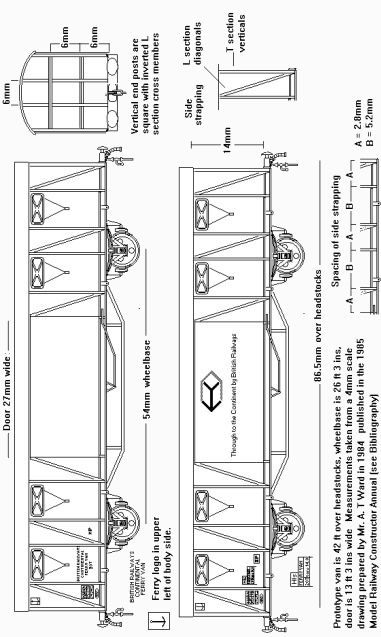 Bernard Taylor's article on ferry stock in Practical Model Railways (see bibliography) detailed the building of this wagon using a continental wagon chassis with pivoted wheelsets. This was required as the long wheelbase of the prototype caused problems when negotiating tight curves on a model railway (the Hornby model of this wagon had a similar arrangement, for the same reason).

One less commonly reported ferry traffic were Freightliner flats, fitted with securing lugs so they could be lashed down on the ferry. These ran a regular service to France in the 1970's but I do not know how the rakes of conflats were set up, a standard Freightliner five wagon set is about three hundred feet long, which I think was longer than the deck of the ferry (I could be wrong on that, I couldn't find the lengths of the ferry ships listed). There are photographs of these wagons on Paul Bartlets website (http://gallery6801.fotopic.net/ - An excellent site and highly recommended). These show a three wagon rake, two outer vehicles with a bufferless inner between them. Two outers could also be coupled together. This makes for an unusual 'Freightliner' working. The only modifications required are the securing links on the chassis, the 'ferry' identification plate and some other markings.

Fig___ Ferry equipped Freightliner flats





As far as I am aware these modified flats only worked as far as a depot near London, however as I get to decide what happens on my railway and I favour areas North of Watford Gap I would be tempted to have a pair of 'outer' flats (as shown in the drawing) each loaded with half height and sideless thirty foot open containers each carrying two agricultural tractors (see section on Wagon Loads). I would then forward this as a wagon load working via Speedlink.

All British Railways owned ferry stock was routinely used internally by British Railways. In the late 1970's a lot of the British Railways ferry stock was overhauled but in 1982 it was all withdrawn from ferry use and transferred to Speedlink to meet internal demand for air braked vehicles. I do not know what became of the ferry Freightliner flats at this time.

Although the LNER, SR and BR had all built numbers of ferry wagons of various types the flow of goods was mainly imports into Britain and the rules of ferry stock operation required that wagons be returned to the country in which they were registered (there was no 'common user scheme' for international traffic). As a result train ferry goods traffic has always involved a large proportion of continental rolling stock, both railway company and privately owned. The continental wagons have to be built for the trade and scaled to suit the British loading gauge but some designs have found extensive application on the British internal freight market. With the emphasis on encouraging the use of leased rolling stock in the 1970's and 1980's quite a number of continental railway vehicles (mainly vans) became effectively permanent residents. Some notes on suitable continental models have been included in the section on available models.

Harwich connected with the railway networks of Germany (West), Austria, the Swiss OBB, Belgian SNCB, Scandinavian railways and various Eastern European countries including the former East Germany.

Dover saw traffic from France, Spain, Portugal, Italy, Switzerland, Yugoslavia.

The most common non private owner stock were the West German vehicles, least often seen were the Scandinavians. Most ferry traffic was carried in vans but France, Belgium and Germany all use a standard type of open wagon with low drop sides and stakes that was often used to carry timber and road vehicles whilst French and Belgian steel open 'mineral' wagons have also been seen (although not I believe carrying minerals).

Private owner stock has always been a feature of ferry working, and once inside the UK the Continental vehicles could turn up almost anywhere, quite a lot of traffic through Harwich went to Liverpool for example.

The Spanish company Transfesa was one of the biggest users of the ferries, carrying Spanish and Portuguese cargo, mainly fruit and vegetables, in ventilated or refrigerated vans. Transfesa actually built its own terminal at Paddock Wood near London but Transfesa vans were regularly seen in Liverpool and by the 1980's they could turn up almost anywhere in Britain (often carrying Spanish onions, they often remained on a siding for several days whilst the local traders collected their share).

Another player in the refrigerated cargo market is Interfrigo (jointly owned and operated by all railway companies) and the French company STEF operated some ferry vans very similar to the Interfrigo refrigerated stock in the 1960's and 1970's.

VTG is a German wagon leasing company which started out dealing mainly with chemical tank wagons, they built up a fleet of many thousand tankers of many designs operating all over Europe and these were a common sight on the Dover ferry. Smaller continental players in the ferry tank business include CAIB from Belgium, Eva from Germany and ETRA of Italy and Switzerland.

In 1976 VTG introduced a fleet of sliding wall bogie vans (available from Roco) and in 1979 they introduced some interesting vans with a three-section telescoping body which found regular use carrying steel in the UK. VTG alone was operating over 400 bogie vans in the UK by the early 1980's. Both types of VTG van are capable of ferry use but are also often seen on UK internal workings, for example the telescopic vans were used for moving coiled steel from the steel works to a galvanising plant.

Danzas is another company which developed quite a stake in the UK internal market. Danzas has vehicles in its own blue livery and also bearing it's CARGO WAGGON logo, including some bogie stake cars introduced in the early 1980's.

British rolling stock leasing firms also supply ferry vehicles, notably Traffic Services Ltd (TSL), which grew out of a rail-tank hiring company called Petrochemicals Ltd. Originally leasing their tanks from British Railways in the early 1950's they began buying their own in 1957 and also rented stock from other private companies. Tank Rentals Ltd (who were absorbed by TSL in the early 1970's) had several tanks in ICI livery, TSL was absorbed by Tiger Railcars in 1975 and Tiger Railcars (UK) operate a fleet of 'Polybulk' wagons built in France. English China Clay use these Polybulk wagons as well as bogie tankers of slurry to supply Switzerland. Tiger were the first to use the French designed Y25 family of high speed/high load freight bogies.

Quite a lot of new cars and vans were both imported and exported by train ferry, in 1957 a curious double-deck bogie car carrier called the Tierwag was introduced by a company called MAT for the BMC traffic. These would be very difficult to model but fortunately they proved difficult to maintain and were all withdrawn by about 1970. They were replaced by British Railways 'Carflat' bogie wagons, converted passenger coach chassis fitted with a wooden deck and low side rails. The ferry bogie carflats were slightly unusual in that they used old Southern Railway coach underframes (SR underframes were not used on internal British Railways carflats). This traffic ended in the early 1980's and after that date cars were delivered to the docks in car carrying ships and then loaded onto Cartic or Autic car transporters for internal distribution. With the opening of the channel tunnel car transporter wagons, mainly of French design, have worked through to Britain direct. In 1996 the former MAT fleet of cartic wagons were re-numbered in the international series to allow them to work through the tunnel.

By the early 1980's Speedlink was running five trains a day to and from Harwich and four trains a day to Dover and there were additional special workings, notably china clay slurry tanks working to Switzerland. As noted above British Railways owned ferry stock was all withdrawn from ferry use in 1982 and transferred to Speedlink to meet internal demand for air braked stock.

In 1984 the Government decided BR should sell all its ferries and hotels, the entire ferry fleet was purchased by Sea Containers Ltd in 1985. The passenger train ferry services (carrying railway coaches) ended in the early 1970's but freight operations continued at Harwich until 1987 and at Dover until 1995.

The restrictions on carrying dangerous chemicals in the channel tunnel mean that this once common railway traffic is now carried on lorries using roll-on roll-off vehicle ferries. On the continent there are still a number of train ferry services operating and this has prompted people to consider re-starting a UK-Continent train ferry service, mainly for freight, using the old Harwich terminal. That would offer an alternative rail route in the event of problems with the channel tunnel but the costs of setting up the service will probably kill it on the drawing board. The 'link-span' that connects the ship to the shore at Harwich is now seriously dilapidated and would require a substantial capital investment to bring it back into use.

Roll-On-Roll-Off road vehicle ferries

The roll-on-roll-off (Ro-Ro) cross channel road vehicle ferry is a comparatively recent development. In the 1930's a Captain Townsend purchased a redundant steam mine sweeper from the Navy and began a car-ferry service to France. The ship had no ramps so the cars had to be lifted on and off by crane. In its first year of operation Townsend's ferry carried over six thousand cars, and their owners, and in the year before the outbreak of war in 1939 the service transported over thirty thousand cars. The demand was evidently there and Townsend built the first cross-channel Ro-Ro car ferry and associated terminals in 1953. It was not long before lorries began making regular use of these services.

Hoverspeed Services

British Rail also operated a hovercraft ferry service between Southampton and Cowes in the Isle of Wight and the well known cross-channel car and passenger services using the giant SR.N4 hovercraft. Although these services did not involve the railway freight business some notes on their development might be of general interest.

The hovercraft had been patented by Christopher Cockerell in 1955 but it had taken until 1959, when he received financial backing from Saunders Roe, for him to build a craft (the SR.N1) capable of crossing the channel. The craft was further developed and new 'skirt' technology was introduced, an idea that came from another inventor, C. H. Latimer-Needham. In 1961 he sold his patents to Westland, the parent company of Saunders Roe Ltd. The skirts were a vital breakthrough lifting the craft much higher above the water and enabling them to cope with all but the worst weather. The SR.N2 introduced in 1962 was a one-off, it could carry over fifty passengers and was soon in commercial service. The SR.N3 was another one-off, developed as a military landing craft able to carry over 90 troops or small vehicles. As ferry operators BR were aware of the demand for cross channel passenger and car transport and Saunders Roe spent some time developing a suitable craft, the SR.N4. In 1965, once the design of the skirts had been established, the project was authorised and work was started. The first SR.N4 hovercraft car ferry made its maiden flight from Dover to Boulogne in June 1967. The Government then instructed British Rail to set up a hovercraft subsidiary to operate cross channel services with the SR.N4 and a service to the Isle of Wight using a second hand example of the smaller SR.N6. The Isle of Wight service proved a success and the cross channel SR.N4 services began operating in 1968.

Fig___ SRN4 in BR Seaspeed Livery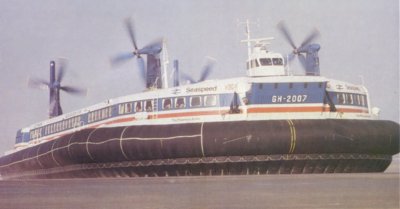 The SR.N4 (Mountbatten class) weighed in at about 200 tons, its propellers are 21 feet across, making them the largest driven propellers in the world, it carried 254 passengers and 30 cars across the channel. Top speed was about 80 knots and the journey took only about 30 minutes. A new improved skirt design was introduced in 1976 and the body was stretched by 55 feet to increase passenger capacity to over 400 along with 60 cars, this increased the weight to about 300 tons, making it the world's largest ever hovercraft.

Fig___ Airfix SRN4 hovercraft box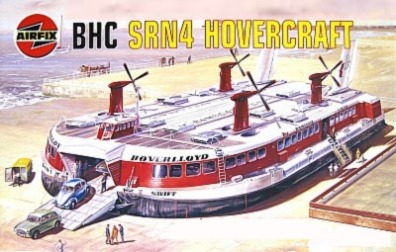 There is a cut away of the SRN4 on the website James' Hovercraft Site

The British Rail Seaspeed Cowes IoW to Southampton hovercraft service proved a success. The small hovercraft used for the service was stretched in increase capacity in 1972 but in 1976 the route was taken over by Hovertravel of Ryde. The British Rail cross channel hovercraft services proved popular but the fuel price increases in the later 1970's made them less profitable. In the mid 1980's BR was instructed to sell off its ferry services and the hovercraft business was sold as part of that exercise. The cross channel hovercraft service was finally wound up in 2000 as the channel tunnel had rendered it uneconomic.



---
^
Go to top of page


International Good Guys ~ Making the world a better place since 1971 ~ Site maintained by


All material Copyright © Mike Smith 2003 unless otherwise credited