Privatisation Era Liveries
NB The colours used were obtained by sampling colour pictures, they may however vary from the true colour, use as a rough guide only
In the early 1990's the government introduced a further change in the way the railways operated as a run up to privatisation.
They divided the train-load business into three regionally based companies and established the parcels and mails under a fourth organisation. Freightliners was bought by a Management lead bid and separated once again from its former Speedlink owning partner, Railfreight Distribution. Railfreight Distribution continued to operate the international traffic but in 1991 'Speedlink' wagon load services and in 1992 the 'Network Coal' services (for domestic and minor industrial users) ended.
There was a delay whilst the new organisations sorted themselves out then the parcels services took the name Rail Express Services, the train-load companies became Transrail, Mainline and Load Haul. These companies commissioned designers to develop their 'corporate image' and eventually new liveries began to appear. The logos are easier to draw than to explain so I have added a sketch of the main details below.
Rail Express Systems, commonly abbreviated to Res, has only bogie vans in its own rosters, although it provides the locomotives for the Royal Mail services. They went for something rather close to the pillar box red of the Royal Mail vans but added a blue-grey band at the top. This band, about a quarter of the height of the loco or van extended from one end for about four fifths of the side. The logo consisted of a set of pale blue rectangles one end of which was on a square of the same blue-grey as the band.
Many of the train-load businesses simply applied their logo to existing locomotive colour schemes, goods stock only got a look-in when it went for a major service. Transrail opted for a basic grey, which they also applied to their goods stock. Their logo, a capital T with two lines underneath was also often applied to goods stock as well as locomotives. Mainline went for a dark blue colour scheme and their goods stock followed this pattern. HEA coal hoppers were painted with dark blue sides and yellow ends whilst the MEA open tipplers were in plain blue although some of the latter had a yellow capping band at the top and the Mainline logo about a foot high in the lower right of the body. Load Haul went for black and orange with an angular logo.
Departmental stock for all areas remained in the British Rail grey and yellow scheme, as did many of the former departmental locomotives.
Fig ___ Freight & Parcels liveries of the early 1990's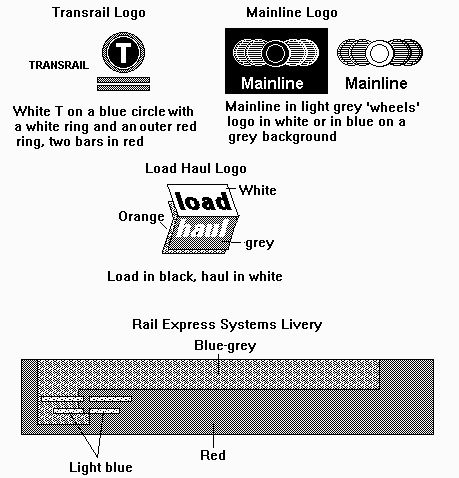 In late 1995 Rail Express Services was sold to a consortium lead by the American company Wisconsin Central calling itself North & South Railways, in 1996 the same company made a successful bid to buy all three train-load businesses and in 1997 they also bought Railfreight Distribution. This combined enterprise was renamed English Welsh & Scottish Railways Ltd.
Railfreight Distribution was the last British Rail freight sector to be sold, with a fight between Freightliners (backed by the Stagecoach company) and EW&S, they were finally bought by EW&S in 1997. Whilst still operating as Railfreight Distribution some stock was re-painted in dark grey with yellow upper panels.
EW&S uses a basic livery of maroon with yellow lettering on both locomotives and rolling stock. The size of the lettering varies however, early vehicle re-paints featured large letters, later stock had lettering about six inches (15 cm) high. Early lettering was EW&S, more recently (since late 1997) a plain EWS has been adopted. Under EWS former traffic vehicles transferred to departmental use are loosing their departmental TOPS codes and returning to their original traffic codes. Purpose built departmental stock retains the departmental TOPS code but the British Rail 'fish' code names are to be abandoned and the vehicles are all painted in standard EWS livery as shown.
Fig ___ EWS Freight Livery



EWS has decided to abandon the plain metal sides on its sliding wall vans, at least they have painted over the sides of some of the inherited VGA vans in the fleet. The colour used (on the one example I have seen a photograph of) was darker than the usual EWS maroon but this may have been due to the lighting of the photograph.
Fig ___ EWS VGA van Livery



EWS supplies track maintainance rolling stock to the company providing support for the infrastructure, the examples below are MHA ballast wagons (some coded 'coalfish' in yellow lettering at the centre of the solebar) in full EWS livery passing through Stockport station in the later 1990s.
Fig ___ EWS MHA Livery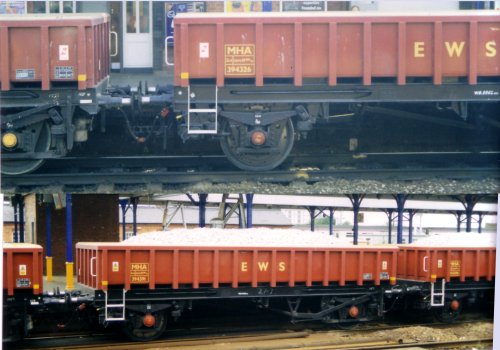 One other general freight company was established, Direct Rail Services, a subsidiary of British Nuclear Fuels they do not operate their own rolling stock but initially simply operated a fleet of class 20 locomotives. They took on the transport of the rail traffic to and from the Sellafield nuclear reprocessing plant. This traffic consists in the main of tank wagons of chemicals (mainly acids) and the waste fuel bogie wagons.
National Power, the power station operator, operated fleet of polybulk hoppers and a small fleet of locomotives in its own blue livery. These wagons and locomotives were sold to EWS in early 1998. The bogie hoppers were used for limestone traffic between Drax power station and Tunstead. The aggregates firms continue to operate their fleets of locomotives in their own livery, hauling rakes of private owner wagons.
In 1998 Freightliner adopted a new dark green livery with yellow lettering. This livery is applied to locomotives and will be applied to any containers Freightliner buys (they pulled out of owning containers in the 1990's but the prototype of their jointly developed Car Rac container was produced in this new livery). The container flat wagons appear to be changing to black from 'rail blue' but as with the earlier livery this is soon coated with dull brown brake dust.

More recently GB Railfreight has begun operating with a fleet of locomotives, I believe they began running trains in late 2003.
---
^
Go to top of page


International Good Guys ~ Making the world a better place since 1971 ~ Site maintained by


All material Copyright © Mike Smith 2003 unless otherwise credited