Unit Loads - Pallets and IBCs
Pallets

Pallets are again not a new idea, in Lancashire, where the cotton goods once clothed over half the worlds population, a simple wooden tray called a 'flat bottom' was developed in the mid 1870's. This had a low lip around the edge and a lifting lug at each corner. These were stacked up with up to 4 tons of yarn or cloth and loaded into one plank open wagons by crane (the load was covered with a tarpaulin on the wagon in transit). By the 1920's the 'portable platform' was used by a number of industries both for shipping goods and also for internal movements at the factory.

What is new however is the acceptance of a common standard and the use of the fork lift truck. The fork lift truck was developed by the Americans in the 1930's but was mainly used as a light mobile crane. The fork lift idea only really gained acceptance during World War Two when they were used for handling military supplies. They arrived in Europe just after the war and soon became a feature of British industrial life.

An early use for standard pallets in Britain was the movement of bricks during the re-building after the second world war. Pallets saved considerable time in loading and off loading railway wagons and British Rail actually built or converted quite a few wagons to `palbricks' with fixed and braced ends fitted with screw clamps and simple removable sides. A pallet of bricks is almost a cube, being slightly higher than it is wide or long. They are strapped down with three or four 'band-it' metal straps one way and sometimes two or three similar straps the other. The model on the left is an early version, converted from a 'medfit' (the metal bodied equivalent of a three plank dropside wagon). On these early conversions the ends of the wagon body were retained.

Fig___ Models of Palbrick wagons






The palbricks are no longer used for bricks but you still see them in marshalling or maintenance yards, painted blue, with the TOPS codes RGQ and RFQ. They are used as 'match wagons' for allowing loco's to couple up to wagons which are not fitted with conventional couplings (for example Freightliner 'inner' container flats).

Today bricks are often not actually palletised, from the mid 1980's they have been stacked in such a way that the stack has holes suitable for a fork lift in its sides. The stacks are then strapped with metal strip called 'Band-it' and, since the mid 1990's, they have often had a tight fitting clear or printed plastic cover wrapped round them.

Eliminating the pallet reduces the volume of the stack and means that the empties do not need returning which reduces the costs. Wrapped stacks can be modelled from blocks of wood, the shrink-wrap plastic can be represented by cling film, the printed type by paper wrappers. Up to the mid 1980's these block-stacked bricks were regularly shipped in low sided open topped containers, carried on Freightliner bogie flat wagons. The containers usually have fixed ends about four foot high (half height) and have removable side panels supported on removable stanchions. Thirty foot long types were the most common I believe. These were operated as block workings from the London Brick works at Stewartby to Merseyside and enthusiasts called them 'Brickliner' or 'Fletliner'. The only photograph I have seen is a black and white print which does not appear to show any special markings but a chap on the uk.railways newsgroup who signs himself as 'Chippy' advises me that in the 1970s the removable-sided Fletliner containers were yellow, with the words 'London Brick Fletliner' on them. He was not able to remember the lettering style or colour, but quite frequently saw them at Fletton, which must have been near the end of production there. As far as I am aware no special markings were carried on the Class 31 diesels hauling the trains. These services ended in about 1985.

Smaller consignments are shipped in open wagons such as the OAA and OBA, the pallets of bricks are separated with motor car tyres to protect them in transit, the tyres often showing above the top of the palletised bricks. These tyres can be made by cutting short lengths from the insulation stripped from electrical wiring they should be about 4mm or 5mm in diameter and cut about 1mm thick.

BR has since the 1950's produced a range of vans for palletised cargo. Early types were modified standard vans or even conversions fitted with doors large enough to accept a pallet, generally towards one end of the body. Inside there were rollers on the floor to enable the pallet to be moved along the wagon. The model shown below is a BR Western Region vehicle made from a Peco ventilated van kit. See also the section on Post Nationalisation Wagon Development for photographs of two pure BR plywood bodied pallet vans. Modelling these vehicles is described in the section on Kit Bashing.

Fig___ Model of an early BR(WR) pallet van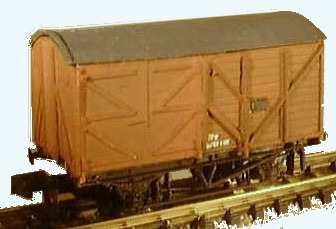 Later came purpose built designs, incorporated sliding side sections giving access to the entire wagon (an example of this being the Peco pallet van). More recently the air-braked stock has included `curtain sided' vans, which have a tarpaulin side which can be removed to give access to the interior. Campbell's Soups were an early convert to rail palletisation and hired a fleet of VDA vans converted by BRT to sliding-side-doors in the mid 1970's. In about 1981 some of these were converted to curtain-sided vans. The side curtains were bright red with the company name in white. This idea spread to other users, which adds some colour to the modern rake of wagons. Unfortunately illustrations of these vans seem to be thin on the ground, there is a good colour photograph of the Campbell's van in British Railway Vans Volume 2, published by Cheona publications. In N the Campbell's vans are available as an etched brass kit from John Grey (see Available Models section for details). For the colourful Private Owner liveries sometimes seen on these wagons a computer colour printed side sheet would serve rather well.

Fig___ Sample 'PO' liveries for curtain sided air braked vans





Other materials well suited for palletised shipment are sacks of fertiliser, cement and even dried china clay. By the early 1980s a new type of van was in use, fitted with sides incorporating a section of roof that can slide back to provide easy fork-lift access to the cargo. These vans soon caught on and saw widespread service on palletised traffic.

Fig___ Sliding wall van being loaded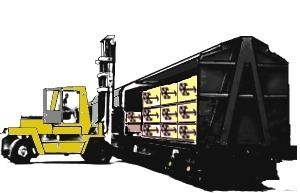 In Europe today there are three common sizes of pallet in use - Most common is the 1200 x 800mm CEN Standard (also called a Euro Pallet) used mainly for retail business, industrial users prefer a 1000 x 1200 mm (ISO Standard) but 1200 x 1200 mm is common for handling vegetable retail business The Euro pallet size (1200 x of 800 mm) is derived from the 'standard transport package' size with base dimensions of 400 x 600 mm. This basic measurement is used for all European freight transport and warehousing purposes, it was arrived at on the basis that an average bloke can lift and stack packages of this size. The Euro Pallet fits comfortably into road trailers and semi trailers but it does not mate up well with the ISO container which is slightly too narrow to fill with the pallets. As a result the ISO container has not found much favour for internal freight movement in Europe, although it dominates the traffic on deep-sea routes to America and the Near to Far East. This has lead European shippers to develop the road-rail 'swap body', designed specifically to carry the standard Euro Pallet. The swap body is about eight feet six inches wide and cannot be carried in the standard cellular container ships. This is further discussed in the section on Unit Loads - Modern Containers, Road Railer, Piggyback and Swap Bodies

Incidentally wooden planking and beams are these days generally moved about with fork lift trucks. They do not (usually) use pallets for this but simply band the wood in metal strip and attach two or three short lengths to the underside so the fork lift can get under the stack. Bundles of wood, which are stacked to be as square as possible, can be stacked on top of each other to save space in the yard.

IBCs (Intermediate Bulk Containers)

IBC's are basically big sacks, originally developed for powders such as chemicals and fertilisers. They come in a range of sizes shapes and colours depending on their intended use. Some are reusable but many are intended to be disposable. They are fitted with lifting strops sewn onto the top or sides and are moved by fork lift trucks, sometimes using a specialised hook if the design of the sack requires this.

Fig___ Moving an IBC using a fork lift truck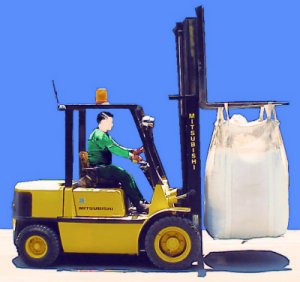 Farm equipment can be designed to take the bag directly without the need for loading an on-board hopper and IBCs for this use often have a single lifting strop sewn in at the top. This fits on a raised arm on the tractor and the bottom is attached to the spreading gear.

Redundant bags of a convenient size and shape were then taken up by builders merchants as a handy way to deliver sand and gravel and more recently these low value goods have been supplied in IBC's for ease of handling. A typical example might be four foot to a side and virtually a cube shape with lifting loops on the corners and carrying a ton of gravel.

On the railways IBCs are carried in standard vans, the more modern sliding wall type such as the BR VGA vans being favoured by users. For materials such as sand and gravel, where protection from the elements is less of an issue, open wagons of the OAA and OAB type could be used, but I have not seen any photographs of open wagons carrying IBCs. The operators of the dispatching and receiving terminals are responsible for providing the handling equipment.



---
^
Go to top of page


International Good Guys ~ Making the world a better place since 1971 ~ Site maintained by


All material Copyright © Mike Smith 2003 unless otherwise credited