KITS



When the first version of this book was written in the mid 1980's there were few ready to run goods vehicles available and even fewer kits. The steady increase in interest in N Gauge and 2mm Scale modelling over the last ten years has seen a small growth in the former and a considerable growth in the latter.

Many kits are produced by small scale enterprises and they tend to come an go, however for the sake of completeness I have included details of all the kits on offer that I could find.

Thanks are due to Alan Cox who provided a number of corrections to the entries, bringing them up to date. Any errors are mine, some of these entries do date back a long way and some models may have been re-mastered since I bought examples (anything up to 25 years ago now).

Small runs are often commissioned by an individual to fill their own needs, typically they will advertise their intentions in the modelling press so that others may place orders for the models. By selling additional copies in this way sophisticated and expensive methods employed by specialist firms can be brought to bear, resulting in some excellent models. Kits are often created to fill gaps in the RTR market, a good example was a run of N Gauge BR 'Covhop' kits produced in 2007, this was a limited run but the models were rather good and a further batch may yet appear. The photo below is copyright and courtesy Paul Cheffings and shows a short rake of these hoppers built for his layout.

Fig___ Kit built Covhop hopper wagons






Some kits are only available to members of the N Gauge Society and 2mm Scale Association, some of these kits have been sponsored by the organisations themselves, others are produced by members for sale to other members. Details of kits available to N Gauge Society and 2mm Scale Association members will be found at the end of this section. Membership of both of these organisations is strongly recommended.

There are two problems with kits, assembly and livery. Assembly is largely a matter of practice and a little care but liveries have always been something of a problem. The extensive Woodhead (pressfix) and Fox (waterslide) transfers appeared in the 1980's and transformed the situation. The Woodhead range is now sadly discontinued however members of the N Gauge Society have a new range of transfers supplied by Modelmaster.

Kits are available in a range of materials. Injection moulded plastic, like the old Airfix kits, is expensive to produce but these kits are probably the easiest for the beginner. Personally when building plastic kits I much prefer the liquid glues applied with a paintbrush to the tube type.

Cast white metal is generally the preserve of the commercial producers although some home based businesses use this material. Cast metal kits can be assembled with solder or a glue such as Uhu or super-glue. I often use Araldite Rapid for vans and the like as it is 'tacky' enough to hold the parts together while I make small adjustments but it does go slightly runny as it sets so keep an eye on the job for about fifteen minutes to make sure it doesn't collapse into a heap. Whitemetal kits can comprise a set of parts or just a simple single piece moulding such as the P.D. Marsh one plank wagon body, this has the coupling retainer plugs to suit the recommended Peco chassis moulded in place.

Cast resin is quite fragile but it is popular with individuals producing a small range of kits as it is comparatively cheap to make. Kits can again be either a single moulding or they may come as a set of parts in which case I would suggest Uhu Glue as the best adhesive.

Finally there is etched brass, which produces excellent results but which does take a little practice and a lot of care in assembly. Solder is the best 'glue' for brass, it takes a little getting used to for those who have graduated from Airfix type kits but the result is a very strong model. One additional benefit is that the solder can be re-heated to dismantle the parts if you get things wrong the first time. You can use Superglue for etched kits but you are then literally stuck if you put it together out of true. Brass kits are usually supplied as a one piece fold-up box for the basic body shape with additional etched overlays to provide the relief detail. Most models have additional detail such as hinges, plates and bolt heads half-etched onto the surface.

Quite a number of the available kits are for the body only, the modeller is expected to fit the kit to a proprietary chassis (Peco, Graham Farish or Parkside Dundas) or to add a chassis from one of the etched brass chassis kits available to members of the two main clubs. There are two problems when using the Peco chassis kits, the chassis is designed to be used with bodies which have a recess in the base to take the Peco weight and either plugs to hold the couplings in place or space for the plugs supplied with the Peco kit. Some kits are designed with coupling retainers moulded in and others have a small clear space under the body for the Peco retainers. The problem comes with body parts which have a flat base but others have a flat bottom which has to go flush onto the chassis floor.

The Peco Else coupler in the chassis kits is secured in place with a separate plug which stands proud of the chassis. This plug is larger to one side than the other (ie the pin underneath is off-set slightly), they can be inserted so most of the top is near the end of the wagon or with the bulk toward the centre of the wagon. This can be relevant if you are cutting the chassis about, such as when making a dropped-centre machinery wagon.

Stuart Brasier of the N Gauge Society discovered that the old type Peco track sleeper is just the right size to make a replacement coupling retainer pin. Cut a 4.5mm length of sleeper from Peco track and insert them on top of the coupling with their top side facing downward. The floor of the kit then serves to hold them in place although Stewart actually glued the sleeper cutting to the base of the body being mounted.

When fitting old Lima wagon and van bodies onto Peco chassis I usually cheat and just cut holes in the floor to clear the retaining plugs, in which case it is important that the plugs are inserted so they lie toward the centre of the chassis rather than toward the ends. In open wagons I fill in the space around the plug with a little filler eased into place with a wet finger.

The centre of the Peco chassis also has a small raised moulding pip and it is often essential to sand the top smooth before trying to fit your body to it.

Plastic Kits

Peco

Peco offer several of their RTR models as unpainted kits and several of these serve as the basis for simple modifications. The ten foot wheelbase refrigerator van kit can be used to make up a variety of wagons, both opens and van types. If you scrape off the lower door detail and make up strapping to match the doors on the Graham Farish NE bogie van and add vertical posts at the ends you get something which resembles a standard LNER van, although I believe the van in question may have had vertically planked ends. They also sell their ten foot and fifteen foot chassis, which are simple one piece mouldings allowing even a beginner to build a model that rolls well.

One vehicle which has only been produced in kit form is a Southern Railway brake van supplied with the standard fifteen foot wheelbase chassis. This kit has separate side duckets and sand boxes, allowing variants to be produced, the SR design dates from the 1920's. This kit can be modified in various ways, I have a cut-down version as an internal user van for a colliery (shown right) and I used the spare end attached to a refrigerator van body to make a 'road van' for a light railway (shown left). Both of these use the 4mm length of Peco sleeper as the coupling retainer, the extended ends from the original kit were used to make a lowmac type vehicle for the same light railway model.

Fig___ Brake Vans produced using the Peco kit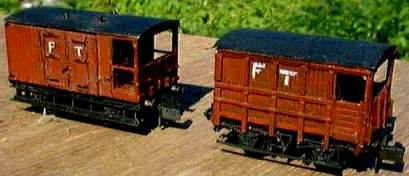 More recently Peco have produced a nine foot wheelbase chassis in kit form, and they have now released kits based on this chassis; a BR standard sixteen ton mineral wagon, a door-less ore tippler wagon and the half-height 'sand' version and a seven plank end-door wagon.

The steel bodied sixteen tonner end-door wagons were the single most common type on BR up to the late 1960's, the last of the unfitted vehicles disappeared from the revenue earning fleet in the early 1970's, a few of the vacuum fitted examples (never very common) soldiered on into the early 1980's.

The twenty seven ton tippler wagons are simply door-less versions of the mineral wagon. These were introduced in 1951 for iron ore but used for a wide range of cargo including stone, chalk and sand.

Vacuum brake equipped versions of both these wagons often had a tie bar between the axle boxes, this is not part of the kit but is easy to add. Empty vacuum fitted sixteen tonners were often used as barrier wagons on Class A oil tank trains in the days of steam, typically two or three being at the engine end and one at the guards van end of the rake.

These models have a frame on the base of the floor to allow accurate alignment of the solebars and headstocks so even a complete beginner has a better than even chance of getting the thing to roll well. The kits also include a new variation on the standard Peco coupler with a separate retaining cup to be glued to the chassis.



---



Parkwood Models

31 Elmwood Close, Retford, Notts, DN22 6SL

Payment by cash, cheque or postal order payable to Parkwood Models.

This firm offers a range of simple to assemble but rather good kits of goods stock seen in the early BR era, several of which are of pre-nationalisation prototypes. The van models come complete with a moulded roof. They also offer three models of early, centre-cab, Type 1 diesel locomotives as single piece cast-resin mouldings to fit the Graham Farish Class 20 chassis.

Pre nationalisation stock includes the LNER steel bodied open wagon built in 1937 for their all-fitted 'Green Arrow' goods service (some of which were later used for sand traffic by BR). The LMS is represented by a 1933 steel ended five plank open and a 1948 three plank open wagon. The LSWR/SR/BR eight plank open wagon appeared in the 1920's on the then standard nine foot wheelbase chassis and more were built in the 1930's using a ten foot wheelbase chassis. The GWR had some eight plank wagons of a generally similar type although there were variations in the strapping on the upper side cupboard doors. The GWR/BR wooden bodied china clay wagon has now been added to the range, designed to fit the Peco nine foot wheelbase chassis. Further details on the history of these china clay wagons and notes on making a model based on the Peco five plank open will be found in the section on Kit Bashing.

The remaining open wagons in the range are a pair of single bolsters, a twin-pack containing a Coil J body and a sand tippler body (both to suit the Peco nine foot wheelbase chassis) and finally a BR 1951 steel bodied medium open wagon (similar in size to a three plank wagon) which comes in a twin pack with an early BR pallet van with offset double doors.

Early BR standard vans are available as a twin pack containing one each with planked and plywood sides, this pack also includes alternative ends to make the insulated and multi-vented meat vans (this was a good idea). The final kit is for the BR 'vanwide', the last of the ten foot wheelbase standard BR vans introduced in 1962. Some of these remain in revenue service in the late 1990's reserved for carrying Ministry of Defence traffic.

Vans produced using the Parkwood kits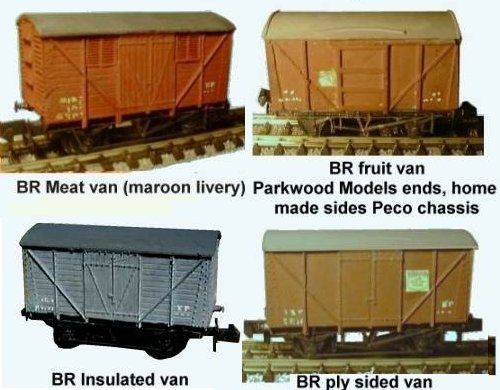 ---



Foxhunter Models

10 Glebe Lane, Buckden, Huntingdon, Cambridgeshire PE18 9TG

This firm offers only a single goods wagon kit at present as they are concentrating on their range of locomotive kits. The goods wagon is a BR standard twelve ton ventilated van with corrugated metal ends to fit the Peco ten foot wheelbase chassis.



---



Taylor Plastic Models

Unit 4/1, Enterprise Centre, Wardwell Lane, Newington, Sittingbourne Kent. ME9 7BS

Taylor Plastic Models began with a range of simple inserts for Graham Farish Mk. 1 coaches and moved into the injection moulded kit field starting with a modern BR HBA hopper as a simple kit to fit a Peco 15' chassis. The HBA was built to supply domestic coal dumps, no automatic discharge gear being fitted. They are air braked and originally they had a through pipe for working with older vacuum braked stock. Originally designed for operation at up to 45 mph (the standard for the old vacuum braked wagon load services) they were re-sprung in from late 1981 to carry 25 tons at 60 mph and re-coded as HEA. Some carry a `St Andrews Cross' (a blue rectangle with a white X, about a foot square or in the form of an oblong flag about eighteen inches long by ten inches high) on the side to indicate that are to be returned to Scottish destinations. Following the reduction in coal traffic after the 1984 miners strike some have been further modified to carry minerals and `fragmented scrap metal' (these latter being coded HSA).

Mr Taylor offers a series of kits to fit the chassis for the early air braked designs (20'9'' wheel base) this having been produced in conjunction with Graham Farish in an eminently sensible liaison between the two manufacturers. To suit this chassis Mr. Taylor is providing kit bodies for the VCA van, ZRA engineers van (coded `Bream'), the SAA/KTA/RRA Steel Bolster/Coil/Runner, the SHA/RRA Steel Coil/Runner and the FPA Conflat P with 'Russel' coal/salt container. He also offers an insert which allows the open frame of an empty container wagon chassis to be built using a butchered Grafar chassis.

Mr Taylor has arranged for the kit parts to be produced in a range of colours to suit various periods, but it is recommended that at the very least a coat of matt varnish is applied before the application of transfers as these do not generally stick so well to plastic.



---



Parkside Dundas

This firm offer a 12 foot wheelbase injection moulded BR chassis originally produced to an order by the N Gauge Society who sell it as part of a GWR van kit. The original kit was difficult to assemble and Parkside have now re-tooled the kit and produced something much easier for the average modleller to put together. Parkside Dundas have an arrangement with Romford for the production of replacement wheelsets including spoked, three hole and disc types. These are all black, metal tyred and cut to the same profile as the Kato (a Japanese manufacturer) wheelsets, considered to be about the best available. They are supplied on metal axles which are a direct replacement for Peco wheels, but can be used with Graham Farish chassis with a spot of running in and they may also fit other manufacturers stock, although I have no definite information on this.

To go with the chassis Parkside Dundas have released a series of kits of pre-grouping and BR vehicles. The range includes a 1924 GWR 20 ton mineral wagon of a type leased to private owners, a 1930's LNER loco coal wagon and a 1936 LMS loco coal wagon. In the 1960's, with the demise of steam on BR the remaining loco coal wagons passed into the revenue earning fleet before being scrapped.

The remaining pre-BR kits are a 1928 SR sleeper wagon, which was still in service in the late 1980's and the LNER/BR pipe wagon (a design dating from the 1930's and retained into the 1990's for departmental use). Fifty of the pipe wagons have been retained for supplying Ministry of Defence establishments where tight curves preclude the use of longer more modern vehicles.

They also offer the BR 24.5 ton mineral wagon (the BR 21 ton wagon body kit from Mr. Paul Hodgson may also be used with the Parkside Dundas chassis), and a BR `Grampus ' ballast wagon. This latter was introduced in 1951 but is based on a GWR design dating from the turn of the century, the GWR version had plain metal ends with two stanchions, easily produced from plasticard and microstrip.
The model shown is the 24.5 ton mineral with home made sides to represent one with no side doors fitted.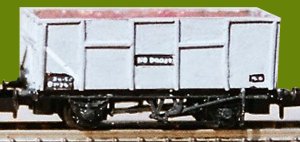 For the future they had planned a range of 10 kits on a new 9 foot wheel base chassis, however this idea may have been shelved.

The plan called for an initial release of four GWR models; 7 plank open (02), 10 ton goods van (V4), loco coal wagon (N13) and ballast wagon (P14).


---




White metal Kits




W&T

This company were one of the supporters on N gauge in the early days offering a small number of kits under their own name including a neat `petrol tank' body kit, representing a standard RCH tank. This model was a smooth-sided (i.e. `lagged') tank made up from a length of tube with cast whitemetal ends. It was a handy basis for converting to a 6 wheel milk tank (it has a separate filling dome and so can be used to represent the milk tankers with off-set filling domes) as well as being a cheaper alternative to the Minitrix tank body for modelling other lagged types.

W&T also produced a rectangular tar/chemical/oil tank similar to that produced by Graham Farish, and a neat twin cylinder tank wagon. This kit can represent an oil tank wagon type, used for small parcels of oil of different grades such as vegetable or fish oils. These may also have been used for the products of industries such as gas works or wood distillation plants. I have included liveries for railway gas tanks in Fig ___ and a vegetable oil tanker in Fig ___. There was a similar wagon to this on Peter Denny's famous 4 mm Buckingham Great Central layout which was used to supply gas for carriage lighting. The kit as supplied closely resembles a GWR gas tank wagon, simply omit the filler domes, add some pipes at one end of the tank and mount on a wooden chassis. Mine has been trundling about on various layouts for many years, working from a black and white photo I got the colour wrong (it should be black all over with white markings) and it should have a two digit number, but it has given several people pleasure over the years.

Fig___ Gas Tank Wagon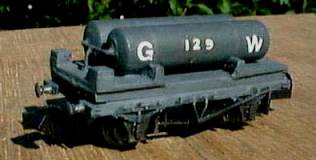 All W&T wagon kits are designed to fit on standard Peco chassis kits, the petrol and twin `gas' tanks use plastic tubing with cast whitemetal ends for the tanks and a whitemetal sub-frame. The twin `gas' tanks kit can also be used for an LMS type, mounted on a Parkside Dundas 12' wheelbase chassis with a platform at one end and a handrail (a square inverted U) at both ends.

Also in the range were a set of 1930's-50's motor vehicles, a pair of Fowler steam ploughing engines with their associated plough and some horse drawn road vehicles. All of these make useful wagon loads as well as service as scenic dressing on the layout.


---


Fleetline Road n Rail (includes former Skytrex N range)
Now handled by GEM Model Railways, 101 Harrowden Road, Bedford, MK42 0RT
Telephone 01234-261482
GEM Website

This company offer a very wide range of whitemetal road vehicles, girder and plate bridges, water cranes/tanks and accessories as well as their range of freight stock models. Their `Vitroil' (sulphuric acid) 10 ton de-mountable tank, suitable for early BR and possibly Big Four eras (fits a Peco 10 foot steel chassis) was one of the first N gauge models I tried. The rather crudely assembled example shown has been running about unlettered and on the wrong chassis for nearly thirty years now, one of those jobs I really must get round to.

Mike's very old Vitroil tank (not yet lettered)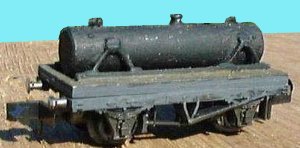 The current range includes the following:

(These kits are supplied complete with wheels/axles, bogies and chassis as required.)
NW1 GWR type Lowmac machinery wagon - This four wheeled machinery-carrying well-wagon is actually a Swindon (ex GWR) design, built by BR. This wagon filled a large hole in the market although members of the N Gauge Society now have the option of a plastic kit for a similar wagon. It resembles at least one pre-grouping wagon (seen running on a small Welsh line) and also one produced by the Southern Railway, so it would serve in pre-BR rosters. The wagon body incorporates mountings for the wheels (supplied).
NW2 UNAVAILABLE
NW3 GWR type shunters truck
NW5 Bogie Bolster wagon
NW9 Bogie Well wagon (Weltrol) with cable drum load - If this is the same as the old Skytrex offering it would appear to be a Swindon, and hence GWR design resembling the Crocodile H, although similar wagons were used by all the Big Four. The original model came with Graham Farish bogies, which were incorrect for GWR stock. It used to be available with or without a 'transformer' load. I have run a couple of these since they first appeared and I have been happy with them.
NW12 Bogie steel coil carrier with load
NW18 BR 38ft bogie steel plate wagon
NW19 BR 54ft bogie ballast wagon - Coded Lamprey and originating in the North Eastern Region of BR these were 3-plank open wagons
NW22 BR standard independent snowplough - This is a BR type produced using redundant tender underframes from withdrawn steam engines. May resemble pre BR types but I have no information on this.
NW23 Ransome & Rapier 45 ton steam crane with match and packing wagons - Unless this kit has altered in the last 20 years the jib is cast solid, replacing this with a home made job can result in a really fine model as the rest of the kit is pretty good
NW26 Mermaid side-tipping ballast wagon - A side-tipping ballast and spoil wagon design originating on the GWR in the 1930's and still in use on all regions of BR in the 1980's. This is a useful wagon although the model is supplied on a Peco fifteen foot wheelbase chassis which is too long, the original ran on a twelve foot wheelbase chassis.
NW27 Bo-Rail bogie flat car carrier - A bogie steel carrying wagon, there were various types built with plate-frame bogies and more modern designs. Some of these were converted to single deck car transporter wagons, used for `Motorail' services and for deliveries from manufacturers and imported cars.
NW28 Turbot 34 ton bogie ballast wagon
NW29 Cowan Sheldon 6.5 ton travelling hand crane with match truck - This is a nice model of the BR era drop-centre four wheeled hand crane, the crane has a cast chassis, the associated match truck runs on a Peco chassis.
NW38 Midland travelling crane with match truck
NW39 Cowan Sheldon 15 ton medium steam crane with match truck
NW40 Vitriol acid tank wagon (10ft wheelbase)- Nice little kit of something a bit different yet they turned up all over the system
NW41 GWR travelling hand crane with match truck


---


Graham Hughes

20, MacKelvie Road, Lamlash, Isle of Arran Strathclyde KA27 8NP

Payment by cheque or postal order payable to Graham Hughes.

Mr. Hughes offers a range of pre-grouping cast metal kits, these kits have the solebars and running gear and require wheels and couplings to complete. The range currently comprises a GCR six wheeled brake van and ten ton cattle wagon (handy this as there are no ready-to-run LNER type cattle wagons on the market), a pair of LNWR timber bolster wagons, an MR 3 plank 8 ton, 5 plank open and manure wagons, a GNSR 3 plank 8 ton open, GNR twenty ton loco coal and nine ton four plank open wagons, a GER seven plank open wagon and finally an LSWR five plank open, ten ton box van, ten ton cattle van and twenty or twenty four ton brake van.


Fig ___ Great Central Cattle Truck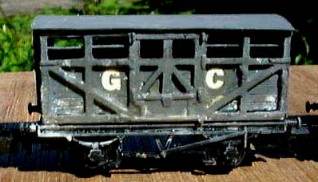 One sometimes sees pictures of pre-grouping cattle wagons with white interiors and white stains on their sides caused by `lime washing' the insides of the wagons as a way of disinfecting them. The interior of these wagons should be all white and the liquid leaked out between the planks as well as through the built-in openings. There would be patches of white all over the body but mainly where there were gaps such as the openings at the bottom and around the open upper sides. This practice was banned in the 1920's, so the stains should not appear on Big Four or British Railways stock.

Some care is required in assembling these kits as the chassis is integral with the sides, so alignment is important. The cattle truck shown was my first attempt at a white metal kit and I made a mess of the chassis so I fitted the body to a spare Minitrix chassis from my bits box. Many of these kits can be fettled onto a Peco 10 foot or nine foot wheelbase chassis, which may be of interest to the less experienced modeller and the provision of unusual prototypes is welcome.


---


P.D. Marsh

This firm offers a range of whitemetal kits, including an LMS goods brake van to fit a Peco 15 foot wheel base chassis, a GWR Mink C van to fit a cut down Peco 15 foot chassis (the new 12 foot wheelbase chassis from Parkside Dundas might fit, I have not tried this however) and an SR goods utility van or GUV which runs on a lengthened Peco fifteen foot chassis. The model shown was assembled by my god son with no problems and runs well on its cut-down Peco chassis.

Fig ___ Mink C Van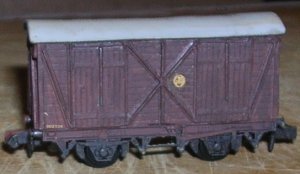 The Mink van serves as a good basis for a Bloater fish van, although you should cut away the swinging link suspension gear, add brake gear and add steps under the doors for both the Fish and Mink versions.

The GUV was used for general parcels traffic mainly attached to passenger trains, the design dates from 1937 and saw service at least into the 1970's. The GUV is supplied with optional end doors for use as a CCT and is designed to fit on a lengthened Peco 15 foot chassis, using a simple metal insert to extend the chassis.

They also produce a range of models designed to fit the Peco 10 foot chassis; a single plank wagon, which is available with a single `fixed' bolster (such vehicles did exist, they were phased out by the 1970's however) and a useful 7 plank end door wagon body. For van enthusiasts they offer a planked and plywood bodied versions of the SR van as offered by Graham Farish but supplied with an aluminium extruded roof which more closely matches the distinctive compound curves.

The GWR 12 ton van is unfortunately identical with that offered by Peco (although this does mean that the production of a `Mogo' car carrying van is a little easier as the ends need not be cut away but simply omitted) and a neat GWR shunters truck which comes with the distinctive tool box.

The shunters truck is over long as it is designed to fit directly onto the Peco 10 foot brake van chassis, the prototype used a 7 foot wheelbase chassis. This can be produced by cutting down the body and box, mounting on a cut down Peco kit, but personally I used a cut-down Peco single bolster body on a cut-down 10 foot brake van chassis with a carved block of Milliput for the tool box and scraps of plastic for details.

Fig___ GWR Shunters Truck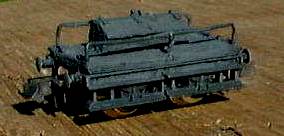 The model has been fitted with Farish wheels, which required the chassis to be eased open slightly to obtain smooth running. Underneath there are phosphor bronze wipers bearing on the wheels as this model was made to run with and provide additional pickups for a GWR 'dock tank' engine on the very short wheelbase Minitrix 0-6-0 chassis. It has been leant out to various people over the last twenty odd years and has never failed to perform as intended although the loco body (a rather good white metal kit) has failed to survive.


---




Cast resin kits




Since Nthusiast Resprays has discontinued production the only resin kits I know of are produced by members of the 2mm Scale Association and the N Gauge Society for sale to members only.
Having said which the membership fees are worth it if only for the Journals, which often contain really useful information on the prototype as well as articles on modelling. Some of the resin kits are really very good these days, the 2mm Scale Association has a few worth considering, for example the body for a GWR Mink A van 16' with non-vent cross strapped ends which could run on a Peco 9 foot wheelbase chassis (or you can use the 2mm Scale Association etched chassis kit with N Gauge wheelsets). They also offer a very nice preswtin hopper, this is lot better than the Lima models even when the latter have been extensively modified. They also offer a Presflo kit, although in N we have the Graham Farish model for those.


---




Etched Brass kits


Etched Pixels

Etched Pixels, 106 Heol Walter, Abertawe, SA1 5QQ

Etched Pixels website

Etched Pixels is a new (to me in 2008) company run by Alan Cox (who kindly re-wrote large chunks of the Diesels section of this website) producing digitaly mastered brass etched kits. As they realise that N Gauge is somewhat 'fiddly' they design their kits to assemble easily using a fold-up body with overlays designed to be glued rather than soldered in place (although soldering remains an option). Their range covers modern image and pre-BR rolling stock, detailing parts and accessories. Their freight wagons models do not include bogies/buffer but do include instructions, the current range includes:
BAA steel carrier (requires TPM Gloucester bogies, or more accurate roco ones)
Fig___ Unpainted BAA steel carrier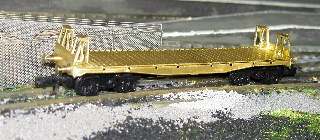 GWR bogie mink (Mink F) (requires N Gauge Society plateback bogies)
LNER quad (I found out about ABS beaver kit after releasing it) (requires microtrains bogies)
Barry Railway six wheel mineral brake ( requires peco 10' brake van chassis with extra axle from second similar chassis)
Barry Railway ten ton cover goods van (requires Peco 9' steel chassis)
Barry Railway ten ton stores van (requires Peco 9' wooden chassis)
Barry Railway 10 ton goods/ballast opens (requires Peco 9' steel/wood chassis according to diagram)

In the accessories range he also produces a detailing kit for the Mill Lane Sidings ferry van, comprising an etched door frame, securing points, vents, and sundry detail for the BR ferry van kit. One splendidly odd item is a set of small etches which, painted and fitted together, form a N gauge scale model of a 6'x4' OO gauge model railway, including legs. Alan comments that this kit has 'Very fiddly parts'.


---


BH Enterprises
68 Meadow Road, Kingswood, Garston, Hertfordshire, WD25 0JA Tel 01923 672809 Fax 01923 670937
BH Enterpises website

This firm has been established for several years now and although I have not (yet) built any of their kits from what I have heard they are pretty good kits. They now handle the John Grey range of kits (listed separately below) and their own range currently includes -
W1 LNER Fish Van
W2 LNER Perishables Van
W3 NE Birdcage Brake Van
W4 LNER (ex GN) Brake Van
W5 LNER Fruit Van
W6 Russel Coal Container
W7 POA Lime Tippler
W8 Etched sides to convert Farish VBA to VCA
W9 Etched sides to convert Minitrix Shocvan to VEA
W10 SR Banana Van
W11 LNER Banana Van
W12 LNER Refrigerator Van
W13 LMS Fish or Meat Van
W14 China Clay Hoods (for Minitrix Hopper)
W15 PNA/POA Scrap or Agregate Hopper Resin Body Peco Chassis
W16 20TON SR Brake Van 6inch Planking L H Ducket (Etched Body)
W16CH 20TON SR Brake Van 6inch Planking L H Ducket (Etched Body) with chassis
W17 20TON SR Brake Van 6inch Planking R H Ducket (Etched Body)
W17CH 20TON SR Brake Van 6inch Planking R H Ducket (Etched Body) with chassis
W18 20TON SR Brake Van Alternate 3 +6inch Planking R H Ducket (Etched Body)
W18CH 20TON SR Brake Van Alternate 3 +6inch Planking R H Ducket (Etched Body) with chassis
They also offer a number of modern containers suitable for freightliner wagons, small lorries or yard scenes) including 20' box and tank (liquid and gas types) containers, 40' box containers, 20' gypsum container (in stone cast), 20' coal containers (with or without the associated chassis). To go with the tank containers they offer a range of pre-printed overlays.


---


John Grey

This range is now in the capable hands of BH Enterprises detailed above

Mr. Grey has produced a series of BR period kits in etched metal, basically these consist of relatively simple fold-up bodies with additional etched overlays. This means they are detailed inside and out and the standard of detail is excellent. The four wheeled stock is designed to fit on Peco nine, ten and fifteen foot wheelbase chassis, the Parkside Dundas twelve foot wheelbase chassis or the Graham Farish/Taylor Plastic Models twenty foot nine inch wheelbase modern chassis.

The bogie stock makes use of Taylor Plastic Models Y25C bogies and Atlas Bettendorf bogies, both of which are available from Mr. Grey. Other bogies can be used for some models, the Graham Farish diamond frame type is readily available and the Kadee arch bar bogie has to be obtained from a specialist importer. The Borail kit includes overlays to represent plate frame type bogies which can be attached to standard commercial bogies.

The range includes several late grouping and early BR models which suit the Peco ten and nine foot chassis including a 16 ton mineral and 27 ton sand tippler, similar to those offered by Peco on their new nine foot wheelbase chassis. The advantage of Mr. Grey's kit of the sixteen tonner is that you have the option of omitting the small drop down doors above the side doors. Those with the small drop-flap doors above the main side door were built from 1950, later re-bodies built from 1970 had no drop flap above the side doors.

Mr. Grey also offers a BR steel shock absorbing open wagon, a BR steel vacuum braked `Medfit' (equivalent to a three plank wooden wagon) and an LNER steel bodied high sided wagon (equivalent to a 5 plank open) with vacuum brake and a tarpaulin rail. Some of these latter were modified with locking bars across the doors for sand traffic.

To suit the Parkside Dundas chassis he offers the BR SOV/ODA pipe wagon.

He also produces the more recent BR bogie steel carriers BDA, BDV and BDO, the BBA fifty foot steel carrier and the BEV bogie bolster E. According to a review in the N Gauge Journal the 52 foot BDO, or Bogie Bolster D, is in fact a BR built LMS design. The BEV represents a 32 foot BR type introduced from early 1961 as a replacement for the double bolster (as supplied by Peco) and pre-war bogie stock. These were the shortest BR bogie steel wagons and most have been converted to steel strip or coil wagons. I believe these were all fitted with vacuum brakes. Some BEVs were transferred to the engineers department in the 1980's where they are used for ballast/spoil wagons and renamed 'TURBOT'.

Mr. Grey's range includes and etched metal HAA MGR hopper, although most etched hopper wagons require a little care in assembly and may not be suitable for beginners.

Other railway company owned traffic models in the range include the OBA open wagon, OHV steel sided open wagon, OTA timber wagon, SPA plate wagon, STV tube wagon, JHA/JGA bogie hopper wagons and the VGA van.

Private owner vehicles include the distinctive bogie fertiliser van coded PWA and the curtain sided van PVB as used by Campbels soups, Mr. Grey offers transfers for both of these. Offered without transfers is the POA 73 ton payload bogie open dating from 1975 and used for scrap or aggregates, you need to obtain bogies as well (American Bettendorf or Graham Farish tank wagon bogies would do). The standard PGA fifty ton hopper completes the current PO types on offer.

The ferry-equipped Trestrol EO, TOPS coded XTP is an interesting model and there are several departmental vehicles; YDA `Dolphin' track carrying wagon, YCV 'Turbot' bogie open (see BEV above), YLA/BPV Borail, YLO (ex GWR Gane) bogie track carrier, YMO 'Salmon' bogie flat wagon and ZFV 'dogfish' ballast hopper. The 13 ton medium goods wagon serves well in engineers fleets where it was coded ZAV.

The OBA four wheeled open wagon has the prototypical gap at the bottom edge of the sides and the steel carrier shows the corrugated floor designed to ease loading and also dissipate heat.

The latest release is the Eurospine lorry carrier which entered service at the beginning of 1997. These kits are very reasonably priced and well produced, although the instructions supplied with early releases were a little basic. Providing one has a clear idea of the finished result in mind they can be assembled in a single evenings work, given a little practice.


---


Fence Houses Model Foundry

49 Graythwaite, Chester-le-street, Durham, DH2 2UH Tel 0191 3874756
Mr Jones produces a range of compkete kits, mostly to 2mm scale, but a couple are to 1:148 British N.
The freight kits cover:
LNER and BR 21T hoppers,
BR 13T hoppers,
LNER bogie flat wagon,
LNER bogie van,
Glass transporter wagon.
I am informed by someone who should know that 'You don't get better etches than Fencehouses in any scale (because Bob Jones also designs the very best 7mm etched loco for Waterman's 'Just Like the Real Thing' ranges)'.


---

Ian Stoate Models
20 Orchard Close, Frome, Somerset, B11 4EA

Mr stoate produces a range of models in British N, the freight wagon part of his range includes -
101 PTA/JUA Yeoman / ARC / Ore Tippler, 102 PHA/JYA O & K Yeoman Box Wagon (discontinued I believe), 103 PXA/JXA Aggregate / Scrap Wagon, 104 BAA Steel Carrier, 105 BBA Steel Carrier, 107E JHA Yeoman 102t Bogie Hopper (Pair of Hoppers with standard N-Gauge couplers and buffers on outer), 107I JHA Yeoman 102t Bogie Hopper (Intermediate Hoppers - fitted with Buckeye couplers), 108 PHV/JHV I.C.I Limestone Hopper Wagon, 109 PFB M.O.D 'WARFLAT', 110 PFA 'BINLINER' Container Wagon , 111 BLA Steel Coil Carrier, 112 PCA/JCA Twin Cement Tank Wagon, 115 KIA/KIB Sliding Hood Steel Coil Carrier, 116 IHA/BGA Canvas Hood Steel Carrier, 150 POA Scrap wagon. Standard Wagon, 151 VGA 'Speedlink' 46ton Van 152 SSA(POA) Scrap Wagon. 'Blackadder', 153 POA Scrap wagon, 154 OCA Open Wagon, 159 USV 13ton Sand Wagon, 250 MTV/ZKV 'ZANDER' Ballast Wagon, 251 ZJV 'MERMAID' Ballast Tipper Wagon, 252 ZCV 'CLAM' Spoil Wagon, 253 ZCA 'SEA URCHIN' (DC200xxx series), 254 ZCA 'SEA URCHIN' (T100xxx series), 255 ZCA 'SEA URCHIN' (DC460xxx series), 256 MSV/ZGV 'BARBEL' 27t Ore/Spoil Wagon, 257 ZCV 'TOPE' Ballast Hopper Wagon, 259 PNA Railtrack Ballast Wagon, 260 PNA Railtrack Ballast Wagon, 261 MTA EWS Ballast/Spoil Wagon,


---
Kestrel Brass
---


Bill Bedford Models

4 Belgrave Court, George St, Pontypool, NP4 8NP, UK.

Mr Bedford advises that delivery times will typically be in the order of 12 weeks as he produced the etches to order and holds only a relatively small stock in hand. He therefore prefers payment by Visa or Access, which will be debited when he sends you the kit. Mr Bedford offers a printed list of all currently available models for 50p. An up to date list of available kits is available on the internet (free) at http://WWW.mousa.demon.co.uk/Cat

Mr Bedford offers a custom etching service and sells further examples of the etches commercially. He uses an eight thou sheet, somewhat thinner than most kits, but the quality of the items is very good. The range is extensive, mainly dealing with passenger coaches but also including some interesting goods stock and several locomotives. These are however not exactly full kits, they were mainly intended for 2mm Scale Association members and many of the etches are simply the difficult bits to be added to a home made body and chassis. No cast parts are supplied, no instruction sheets are included and you need to track down the prototype information and livery details yourself. The kits I have seen have no locating lugs or securing tabs, so assembly requires a little care, but as I say the range offers some interesting models. It is probably easiest to list the models, as in his catalogue, by railway company.

Great Central Railway/LNER: D.13 ten ton van with cupboard doors, D14 van with sliding doors, the D.16 outside framed van, a ten ton fish van and a six wheeled brake van.

North Eastern Railway/LNER: Outside framed brake van and horizontal planked brake van.

North British Railway/LNER: Cask wagon, this is an open framework body only.

London & North Eastern Railway: D.5 horsebox, D.23 ten ton fish van and D.37 ten ton fish van.

London & South Western Railway/SR: D.1409 ten ton van, ten ton brake van and eighteen ton brake van.

Midland & South Western Junction Railway/GWR: Van number 303

Welsh Highland Railway/GWR: Slate wagon

North Staffordshire Railway/LMS: twenty ton brake van

Highland Railway/LMS: Three brake vans

London & North Western Railway/LMS: Standard hut.



---



Worseley Works
(Worseley Works website)
To confirm address
Worseley Works, run by Alan Doherty (Worseley Works), offer a vast number of things as etches. He calls most of them "scratch aids", they are no worse than many a Bill Bedford etch in having limited/no instructions and no cast parts.



---


There are also a number of individuals offering small ranges of kits suitable for the 2mm/N modeller however these tend to be short production runs. Most cater to the 2mm Scale side rather than British N, notable examples being David Eveleigh and Chris Higgs (Masterclass models). They make superb kits, rivalling Bob Jones' Fencehouses kits. However, they are sufficiently niche to be of interest mostly to 2mm finescalers.


---




Hybrid Kits



Some kits use a selection of materials, mainly plastic and metal, to achieve the desired result. Some firms have prodiced kits in a range of materials, such as whitemetal locos and etched brass wagon kits.

Mill Lane Sidings
http://www.mill-lane-sidings.co.uk/index.html
This company now has a number of kits on the market, these use a range of materials including laser cut wood, resin, etched metal and plastic parts. Their first offering was the LMS Palethorpes Sausage Van from 1936. One notable addition to their range is the BR long wheelbase Ferry Van , the van kit is a card and paper model (which comes out rather well) running on a modified Peco 15' wheelbase chassis (although this will restrict the minimum radius curve the model can handle). Their GWR three-bladed aeroplane propellor wagon kit uses laser-etrched plywood and requires a Peco 10' wheelbase steel chassis to complete. They also offer a plastic kit of a BR era 'shock open', complete with sheet rail and corrugated steel ends. This comes with parts required to modify a Peco chassis, including the vacuum brake cylinder.


---


Ultima Models

The Ultima range of coach kits and parts is currently mothballed however I understand the former owner, Colin Albright, has now wold the masters and the range should reappear soon. The range includes several items which may be of interest in the context of freight, notably their range of roof ventilators and brass buffers. The range of coaches includes several vehicles suitable for goods working such as an LMS 42 foot luggage van/CCT, LMS, LNER and GWR full brake coaches and two types of LMS TPO (Post Office) vans.


---


ATMWagons
Unit 235, Stratford Workshops, Burford Road, London, E15 2SP
ATM Website
ATM products are all modern image rooling stock, either injection moulded or cast in super-strong engineering grade resin. They feature etched detailing, close-coupling where possible and blackened low-profile wheels to their own specification. Originally available either as kits or as ready to run I understand they are now only selling kits as they have to clear a backlog of orders. WIA "Arbel" 5-piece Articulated Car Carrier - Over 18 inches long and with a lot of detailing, a well regarded model. A limited run of 100 wagons, currently 'sold out' but may reappear due to popular demand under the banner of CJM Models (see below).
KQA Container "Pocket" Wagon - This drop-centre container wagon incorporates a correct lattice floor and full detail at each end, replicating the "busy" appearance of the prototypes.
Tiphook KFA container flat.

For the future they plan to produce the TIA Depressed-Centre "Silver Bullet" Clay Slurry tankers


---


CJM Models
Address:- CJM Studio, 54 Marine Parade, Tankerton, Whitstable, Kent CT5 2BD
Telephone:- 01227 262431 Fax:- 01227 262431
CJM Models Website
This firm produces a range of modern image locomotives and coaching stock, they are included here as they may be re-releasing the ATM Wagons WIA car carrier.

---


ABS/Beaver (now Beaver Products)
Now available from: KeyKits, 36 Field Barn Drive, Weymouth, Dorset, DT4 0ED
(KeyKits website)
This company used to sell via W&H in London and after that firm went I was not sure where to contact them, however Alan Cox has pointed out their range is now available from KeyKits. This form were early contributors to the N Gauge market with a rather nice model of the LNER Quad bolster wagon, I gather this is still available but I had problems accessing the website to confirm the details. If it is as the original it requires the etched metal bogies making up, which may put some people off, but it was a very nice model.
Currently lists kits are:
BR Class 04 Drewry Diesel shunting loco (fit to MINITRIX 0-6-0T LMS Dock Tank chassis)
BR Class 03 Standard Diesel shunting loco (fit to MINITRIX 0-6-0T LMS dock Tank chassis)
GWR "1366" 0-6-0 Pannier Tank (fit to MINITRIX LMS 0-6-0T chassis)
GWR "56XX" 0-6-2 Side Tank (fit to GRAFAR 0-6-0PT chassis)
LNER "J52" 0-6-0 Saddle Tank (fit to GRAFAR 0-6-0PT chassis)
LNER "J63" 0-6-0 Tank Loco (fit to MINITRIX LMS 0-6-0T chassis)
LMS ex HR 0-6-4 Tank (fit to GRAFAR 0-6-0PT chassis)
LMS "Flatiron" ex MR 0-6-4 Tank (fit to GRAFAR 0-6-0PT chassis)



---




Kits available through modelling clubs



The 2mm Scale Association and more recently the N Gauge Society have both commissioned plastic and etched brass kits which are only available to members. Both organisations also offer kits from commercial suppliers and small ranges produced by members through their respective shops. Membership of both organisations is highly recommended as there is a lot of cross-over in techniques.

The 2mm Scale Association range is ever changing and expanding, to see the current selection on offer visit the 2mm Scale Association website.
These notes may be out of date by the time you read them, however I understand the Association offers plastic kits of a 7 plank end-door mineral wagon to the RCH 1923 standard design and a GWR Iron Mink van introduced in 1888 and still in occasional departmental use into the 1980's. Both of these kits are designed to fit on the accurate 2mm scale etched brass compensated chassis available from the Association, but mine have been fettled onto Peco chassis with no problems. The original 2mm Scale Association Iron Mink plastic kit consists of sides and ends only so you need to make the a roof from five thou plastic card. Remember to curve the corners of the roof and add the strips across the tops where the iron plates were bolted together as shown in the various drawings. This is a handy kit as it can be converted into an RCH standard design gunpowder van, introduced in the 1920's and used by all of the Big Four and by BR in the early years. All you have to do is carve and smooth off the end vent, sand/scrape the door planking off to leave `steel' doors and add a new door bolt. The kit comes with the post 1927 fully planked doors, to produce the outside framed type sand/scrape the planking away leaving only the two planks in the centre and one at each outside end, then add horizontal framing top and bottom.

The photos show from left to right the standard kit, a model modified to represent the original door design and a gun powder van, all mounted on Peco 10 ft wheelbase chassis (should be on 9ft chassis but they were not available when the models were made).

2mm Scale Association Iron Mink on Peco chassis




Latest in the 2mm Scale Association range is a plastic kit of the BR 16 ton mineral wagon body, produced for them by Parkside Dundas. The association and its members also produce a wide range of parts such as fold-up chassis of various wheelbases, bogie side frames and axle boxes and they offer models from various suppliers which are suitable for 2mm scale through their shop. The current lits of kits includes several of the N Gauge Society kits as well as a range of handy wagons and vans, including-
BR 16T mineral wagon body kit and BR Diag 1/109 riveted standard 16-ton mineral body kit, BR 16T mineral slope sided with doors, BR/MOW 16T slope side tippler wagon, BR 21T mineral wagon body kit (I think this is the Paul Hodgshon kit) BR 25 1/2T ironstone hopper body kit, BR standard brake van (Dia 1/506) Etched Kit, LMS vented van body kit, LMS low side ballast body kit, LMS 5-plank wagon body kit, LMS cattle wagon body kit, LMS 6-wheeled express fish van (etched body &chassis), LNWR Diag 88 box van (etched body &chassis), MR Open wagon body kit twin pack (one 5 plank, one 3 plank), NER hopper wagon body kit, GER Cattle Van, SR 20T sleeper wagon body kit, ST 12T 8 Plank Open Wagon body kit, SR Cattle Van body kit plastic (also kit ref 2-370 for chassis and roof), both the 1887 and 1907 RCH open wagon body kits (nice alternative to the 1923 RCH wagon), 1923 RCH 8 plank open body kit BR Diag 1/150 standard coke hopper (etched body), BR Diag 1/242 banana van (etched body), BR Palbrick B &C (double etched body), BR 12 Ton Open Shock Wagon - dia 1/056 - body only kit and the MR 4 wheel l Brake Van

The Association kit of the Prestwin is very nice indeed (and they do have British N Gauge wheelsets on offer for their models). Comparison with the original Lima offering (actually a Continetal prototype) shows just how much better things have become for the UK outline modeller thanks to the efforts of the Association. The Lima model (shown below left) is a Continental prototype in BR livery, the kit available to members of the 2mm Scale Association (below right, photo courtesy and copyright 2mm Scale Association) is an accurate model of the British prototype and is much more detailed.

Fig___ Lima and 2mm Scale Association Prestwin silo wagons






Jim Watt offers 2mm Association members resin kits of two rather interesting Caledonian Railway eight ton open wagons, including the distinctive outside-framed end-door mineral wagon which may be built with dumb or sprung buffers. He also offers sides and outer ends for the CR thirteen ton brake van. These kits are not suitable for N gauge as they require specialised etched brass chassis parts only available to 2mm Scale Association members.

The N Gauge Society has since the mid 1980's built up an ever increasing and highly useful range of kits comprising both injection moulded plastic and etched brass models. The range is continually expanding and for the latest details you should see the N Gauge Society website. They provided the impetus for Parkside Dundas to produce a kit for a 12 foot wheelbase chassis and they sell the Parkside Dundas kits through their society shop. The 12 foot wheelbase chassis comes with new wheelsets, which are profiled to match the Japanese Kato range, considered to be about the best looking N wheels available (see also the comments under Parkside Dundas). Society kits are available to members by post from the Society Shop or from the Society stand at exhibitions.

Kit No.1 is a plastic model of a 1955 BR twenty five and a half ton ironstone hopper, TOPS coded `HJV', designed to fit the Peco ten foot chassis. The vacuum braked version lasted into the early 1980's, the unfitted type (TOPS coded HJO) only lasted into the mid 1970's. The Society sell this kit as a coal hopper, I am not certain these wagons were used for the 'house coal concentration' system introduced by Beeching although they may well have been, they were definitely regularly used for sand traffic. The basic kit can be modified in a number of ways, see also

Fig___ Models made using the N Gauge Society ironstone hopper kit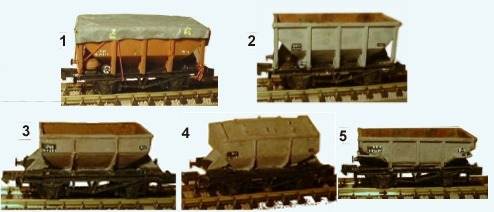 This kit can be built as the fitted version (1) or the unfitted version (2) and can also be converted to represent an LMS designed hopper (3), again intended for iron ore but also used for other bulk cargo such as crushed stone. A variant of this LMS vehicle was produced with a peaked roof for lime traffic (4). If you make either of the LMS wagons the unused parts of the kit can be utilised to make one of the smaller types of BR standard thirteen ton coal hopper (5). All these conversions are considered in the section on Kit Bashing.



Kit No.2 was a GWR Mink C long wheelbase van, designed to fit the Parkside Dundas twelve foot wheelbase chassis. This van features the older louvered openings on the ends with sliding covers. This kit is supplied with the Parkside chassis.

Kit No.3 is a rather neat MR/LMS/early BR standard van to fit the Peco 10 foot wheelbase chassis. Introduced in the 1890s they remained in use into the early British Railways era and were also supplied to both the Cheshire Lines and the Somerset and Dorset. This kit can be further modified to produce a range of van types, the example shown below right was made using a second hand van model, a better result could be produced using an unmade kit as the basis.

Fig ___ MR van (BR livery) and Barry Railway van





Kit No.4 was their first etched metal kit, an SR/BR bogie forty ton ballast hopper wagon dating from the 1930's. This kit is not really suitable for a beginner.

Kit No.5 is the SR bogie brake van, used for high speed goods trains running from the ports to London. These vehicles were built on redundant Bo-Bo electric locomotive chassis in 1936 and lasted into the British Railways era. Another detailed kit but as it has an etched brass body it is not ideal for the beginner.

Kit No.6 was a depressed centre low machinery wagon in plastic. A slightly unusual prototype was chosen the 1923 Rhymney Railway/GWR/BR 'Loriot K' low machinery wagon. This was in fact a 'one off' vehicle but it did last into BR ownership and visually similar vehicles were used by all the railway companies from the tail end of the nineteenth century.. The wartime standard and BR telegraphic code for these vehicles was Lowmac.

Kit No.7 is a pair of etched metal LMS goods brake vans (sold as a single kit) to suit the Peco or Graham Farish fifteen foot wheelbase brake van chassis. These produce nicely detailed vehicles but they are not ideal for the beginner.

Kit No.8 is a plastic model of a long LMS/BR Bolster D, an LMS design additional examples of which were built by British Railways in 1948.

Kit No.9 is aimed at the modern image modeller, a plastic kit with etched brass detailing parts, of the large Polybulk wagons used for Grainflow services in the 1980's. I believe these were originally supplied with transfers for the sides but now come with glue-on printed overlays. The model features correct pattern Y25c bogies with Graham Farish wheels. Very pleasing.

Kin No.10 in a GWR/BR Mica (A/B) insulated/refrigerated van to fit on a Peco ten foot standard chassis kit. The kit can be finished as either the insulated type or the refrigerated version complete with end ladders and roof hatches for the ice boxes.

Kit No.11 is a modernised version of the Seacow bogie ballast hopper (see Kit No.4) but this model features a plastic body and modern Y25c bogies. I have not built this kit myself but I understand it is straightforward and should not present any problems for the average modeller.

Kit No.12 is a modernised air-braked version of the Bogie Bolster D (see Kit No.8) with Y25c bogies and coded BDA under TOPS. As with the earlier version this kit is not difficult to build.

Kit No.13 is the GWR/BR Iron Mink van which can also serve as a gunpowder van for any company from pre-grouping times to the 1960s. This kit fits the Peco 9ft wheelbase chassis which requires a slight modification.

Kit No.14 is an eight plank end door mineral wagon with a Peco nine foot wheelbase chassis. Based on an LNER prototype this serves well as a Private Owner wagon.

Kin No.15 is a splendid large bogie well wagon coded 'Trestrol' . The basic design dates back to pre-grouping times but this model is a type built by the LMS in 1928. This plastic kit was produced for the Society by Parkside Dundas and comes with optional etched brass parts to make up three trestles, used to carry large plates.

Kit No.16 is a plastic kit with etched brass detailing parts of the British Railways 21 ton 12 foot wheelbase hopper wagon This is a very welcome addition to the range. Although nowhere near as difficult to assemble as the etched brass kits of this wagon it is not perhaps the ideal 'first kit'.

Kit No.17 is a plastic and etched brass kit of the air-braked Cartic 4 Car Carrier. The model is of the original version which had handrails on the upper deck.. As the name suggests these comprise four body units, two outer and two inner, mounted on five bogies as an articulated unit. Even in N it is over a foot long (roughly the same length as three passenger coaches). Introduced in 1964 these units will continue in service into the twenty first century. Not a cheap kit and not one for an absolute beginner but very pleasing model.

Kit No.18 is a twin pack of two different types of LMS vans, one all-wood vertically planked on a Peco 9 foot wheelbase chassis the other with horizontally planked sides and metal ends on a Peco 10 foot wheelbase chassis.

Kit No.19 is the British Railways standard 21 ton mineral wagon. The kit was originally produced for the 2mm Scale Association and has been modified to suit the new Parkside Dundas chassis kit.

Kit No.20 is the British Railways 24 ton Anhydrite hopper wagon to fit on a Peco ten foot wheelbase chassis. These were used to carry stone from a quarry on the famous Settle & Carslile line to the ICI works at Widnes on the Mersey estuary. They were not (as far as I am aware) used on any other duties but they make a nice model.

Kit No.21 is a triple kit offering three different variants on the standard Southern Railway box vans (similar to the Graham Farish twin vent van but with a more accurate roof profile). The three variants will be equal-width planked sides, unequal width planked sides (as seen on the Graham Farish model) and a plywood sided van.

In the 1980s Mr R. Snelling of the N Gauge Society produced a range of kits, mainly of pre-grouping prototypes, which were available to society members. I believe production has now ceased but second hand examples may well be found. These kits are in cast resin and are designed to fit proprietary chassis. Models featured in the range on display at the 1988 N Gauge Society 21st Anniversary exhibition included an LMS bogie van requiring Graham Farish bogies and buffers to complete, GWR Siphon C milk van to fit a Graham Farish 4 wheel coach chassis, SR/LSWR 8 ton van (shown below), LNER/NER meat van, GWR roll wagon, GWR agricultural implement wagon, BR Iron Ore Tippler (loaded) and a road milk tanker carrying wagon, all to fit on the Peco 10 foot wheelbase chassis.

Fig ___ LSWR/SR 8 Ton Van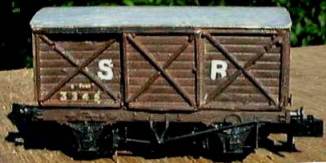 Mr Snelling also produced a BR scrap metal open wagon body, LNER mess/tool van and an LMS open carriage truck to suit the Peco 15 foot wheelbase range of chassis.

Fig ___ BR Scrap metal wagon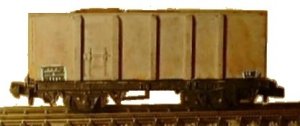 To suit the Mike Bryant/Precursor Models 9 foot wheel base etched brass chassis he produces an LMS/MR coke wagon, although this can be fettled onto the Peco 9 foot wheelbase chassis if required.
The last kit (that I know of) was a one piece kit of the bogie stone tippler wagons used by ``Yeoman'' which is designed to run on a pair of Kadee 1500 bogies, this kit also includes the conversion parts for the wagons at the outer ends of the rake (Kadee is an American firm who's products can be obtained in the UK through specialist importers advertising in the railway press).





^
Go to top of page