Steam Locomotive Summary




NB The sketches used for illustration are NOT scale drawings

For more information on the basic construction and development of steam locomotive types see Appendix Four - Overview and General Information.

Note There is a fore-shortening effect when a locomotive is viewed from the normal 'three quarter view' angle, making it appear rather shorter than it is. The photo below shows this effect. When preparing sketches I have tried to find photographs to work from taken at as flat an angle as I was able.

Model of BR Standard Class 4 locomotive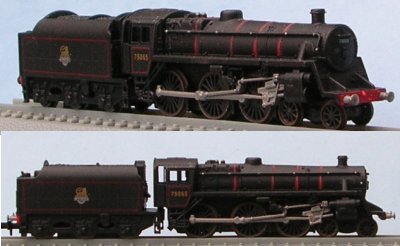 Photo of model courtesy Ian and Sandra Franz

It should be noted that the pre nationalisation Railway Company locomotives tended to stay mainly within the boundaries of their owning company, this was particularly true of the smaller tank loco's, although obviously inter-company trains would often be hauled by the same loco all the way. This loco would drop off it's wagons at one or more destinations, then after perhaps stabling overnight pick up any returning traffic and take it back to it's home territory.

Steam engines are generally long-lived machines and a great many different designs or 'classes' were built by the various railway companies. At the time of nationalisation British Railways inherited something like ten thousand loco's of well over four hundred different designs. After nationalisation loco's built by the Big 4 remained associated with their existing areas, where spares and repair expertise were already in place.

After a flurry of designs in the early years a set of basic designs emerged and from the later nineteenth century change was very gradual. One thing that did change, most notably in the early years of the railways, was the size of the locomotives. The two classic large BR standard engines from the final days of British steam engine building were the '7MT' Britannia class which served well on main line passenger duties, and the heavy 2-10-0 '9F' freight engine (one of which, named Evening Star, was the last BR built steam engine). The sketch below is not exactly to scale but is close enough to show the comparative sizes of these engines and those performing the same duties on the early railways of the 1830s. A is a Britannia class engine, B is the Rocket, C is a 'Planet' class 0-4-0 goods engine and D is a BR 9F. From this sketch it should be fairly obvious that finding a suitable mechanism for the early locomotives is not at all easy, although there have been some OO scale layouts built, usually using self contained motor bogies.

Fig___ Comparative sizes of 1830s and 1950s engines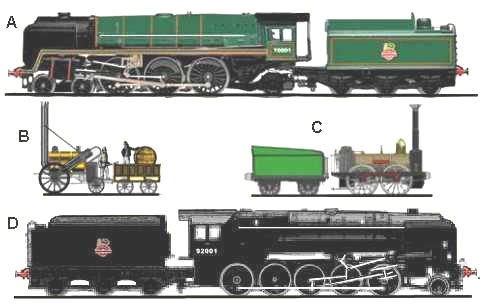 There are simply too many pre-war steam locomotives to discuss in detail, something like eight hundred different designs having been built, over a thousand if one looks at all the variants. The intention is to describe as many as possible of the available RTR and kit options in the section on Ready to Run Models. This will take time however.

BR standard steam engine designs are easier to list, there have been eleven standard steam loco's with a few pre-war designs perpetuated by BR and less than a hundred diesel types in service, most in small numbers.




BR Standard Steam

BR used a similar power classification to the LMS with class 1 as the lower powered loco's, pure freight loco's were suffixed F, passenger loco's were suffixed P and mixed traffic loco's were suffixed MT. BR standard classes had to cover all ranges of power and they favoured mixed traffic types. The eventual mixed traffic designs ranged from 2MT to 7MT tank and tender loco's with the massive 2-10-0 9F class and a single 8P locomotive (the only three cylinder type) named Duke of Gloucester. These locomotives appeared in the early 1950's, most of the smaller locomotives were withdrawn in 1966, the larger loco's lasted until 1968.
This was an eventful fifteen or so years however, the first of the new BR diesel traffic loco's came into service at the end of the 1950's. The possibility of running steam and diesel locomotives together has meant this period has held a fascination for modellers not wholly committed to either motive power. BR diesel types up to the Class 50 (introduced in 1967), including examples in the post 1964 blue livery as well as the earlier green, can be run alongside steam engines dating back a hundred years or more.

92xxx class 9F 2-10-0 [Minitrix].




These 2-10-0 heavy freight loco's were the last steam locomotives built by BR. By the 1920's there were several large freight engines in service, the GWR had its 28xx class 2-8-0's and the Great Central had a fleet of Class 8K 2-8-0's (more of these were later built for the Government's Railway Operating Department (ROD) during World War One). During the second world war the Government needed similar locomotives and Mr R. A Riddles (later to become the first CME of British Railways) helped design a suitably basic 2-8-0 machine which became the WD 2-8-0. By the time of nationalisation there were still over seven hundred of the WD 2-8-0's in service along with a small number of WD 2-10-0 loco's.
The result was the 9F introduced in 1954 and all withdrawn by 1968, were the last and possibly the best steam loco's produced by British Railways. They were heavy freight loco's but managed to appear everywhere, occasionally hauling passengers and were even used for 'pick-up' goods operations on occasion. The 9F loco 'Evening Star' was the last steam loco built by BR and was painted in GWR lined green with a copper capped chimney, all the others were painted in unlined black. Not fitted with steam heating equipment they were non the less used for occasional passenger trains in summer. The Hornby Minitrix 9F model was their Britannia body mounted on a (Continental) Trix 2-10-0 chassis (not exactly accurate but well liked as a model).
A model of this type was available in the Hornby Minitrix range..

71000 class 8P 4-6-2 Duke of Gloucester



The Duke of Gloucester was a one-off three cylinder express passenger engine.

70xxx class 7MT 'Britannia' 4-6-2 [Minitrix].




Only 55 were built, officially classed as mixed traffic locomotives, were introduced in 1951 and were withdrawn by 1968. These loco's were seen everywhere in the country. The Britannia was an icon in its day, a rather elegant locomotive which hauled everything from express passenger turns to long coal trains. The design of the Britannia was in many ways similar to the heavy 9F freight engines. The Britannias look like an express passenger locomotive but they were classed as mixed traffic types and could be found on almost all freight duties, including branch line pick-up goods work.
A model of this type was available in the Hornby Minitrix range..

72xxx 'Clan' 6MT 4-6-2.




Only 10 'Clan' locomotives were built. Introduced in 1951 and all withdrawn by 1966 The Clan locomotives were all allocated to Scottish Region but regularly worked express services to major towns in England.

73xxx 5MT 4-6-0




Introduced in 1951 and all withdrawn by 1968. Related to the classic LMS Black 5 which they replaced in service.

75xxx 4MT 4-6-0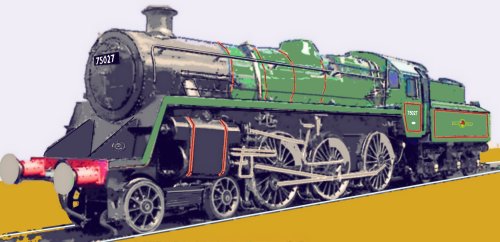 Introduced 1951 all withdrawn by 1968. Related to the LMS class 4 locomotive, seldom seen on the Eastern and Scottish regions. The photo at the head of this section shows an engine of this type in lined black Mixed Traffic livery, the sketch above shows the lined green passenger livery.

76xxx 2MT 2-6-0




A tender engine based on a standard type produced for the LMS during the tenure of Mr. Fowler as C.M.E. but with a reduced size cab to allow it to handle tighter loading gauges and with a BR standard chimney. All were paired with the BR3 standard tender which had a 'cab back' to allow tender first running. These were the smallest BR standard tender engines.
A model of this type was available in the Hornby Minitrix range. I gather the pulling power was a bit weak but it was still a popular model at the time..

77xxx 3MT 2-6-0
A tender engine, essentially similar to the 76xxx class but slightly larger. Only 20 were built, I do not (yet) know where they were allocated.

78xxx 4MT 2-6-0




Again based on LMS designs by Fowler, these are good examples of a mixed traffic types built in the late 1940's. The 4MT 2-6-0 tender loco's appeared just about everywhere on freight duties

80xxx 4MT 2-6-4T. (Farish)




Built as a suburban passenger duties in mind this was a common locomotive on the BR system. These tanks tended to favour the Midland, Eastern and North Eastern areas. The sketch above shows the lined black 'mixed traffic' livery but several engines of this class received full lined green passenger livery.





Photo courtesy of Simon Weston. The photo shows an OO scale model of the type, although a tank engine these were surprisingly long engines.
The 80xxx is available from Graham Farish

82xxx 3MT 2-6-2T





Again built with passenger duties in mind the 82xxx 3MT tank engine used a variation on the standard and distinctive GWR tapered boiler.
At the time of writing the 82xxx is scheduled for release from Bachmann Farish

84xxx 2MT 2-6-2T [Minitrix]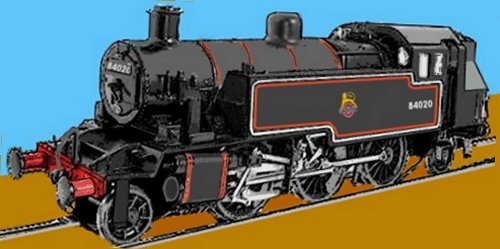 The smallest of the BR traffic tank engines.
A model of this type was available in the Hornby Minitrix range..


_______________________________________________________





^
Go to top of page




International Good Guys ~ Making the world a better place since 1971 ~ Site maintained by


All material Copyright © Mike Smith 2003 unless otherwise credited