Freight Locomotive Liveries
Note: The notes which follow are intended as a guide to assist in selecting suitable liveries for a layout set in a particular period.
Most railway companies adopted a plan black livery for their pure freight locomotive types. Engines used for freight or passenger duties (usually called 'mixed traffic' loco's, were usually painted in a simplified version of the full passenger engine livery. This was generally a single uniform colour with no complex 'lining out'. The buffer beam on all locomotives was painted red. This use of red was a hold over from the earliest days when a chap on a horse, armed with a red flag, rode ahead of the loco.
The company name, initials or crest were originally painted onto the loco, on the tender of tender engines, on the side of the water tank on tank engines (the boiler itself got rather hot, anything in that area, such as the loco name plate, would be a cast metal plate). By the 1930s the company initials and or the logo was applied using a transfer. This consisted of the transfer itself (not sure what that was made of) on a paper backing sheet. The transfer was 'face down' on the backing sheet. This was liberally coated with varnish and positioned on the engine (or tender). Once the varnish had set the backing sheet was soaked with water and peeled off, leaving the transfer in place, which was then varnished over to protect it.
Following nationalisation steam goods locomotives were painted all black with red buffer beams and the words BRITISH RAILWAYS in white on the tender or tank sides. Passenger locomotives and some mixed traffic locomotives were painted in lined green but most mixed traffic types were turned out in black lined in orange with a white line run alongside. The new diesel locomotives were initially black, this soon changed to all over green livery with red buffer beams. There were variations however, some diesel engines had two-tone green colour schemes, some had a broad white line between the doors, others had a thin white line higher up the side and some had the cab windows framed in white. Steam shunting locomotives were black whilst diesel shunting locomotives were mainly painted green although a few were black.
In the late 1950's BR tried using yellow and black chevrons on shunting engine ends and by the early 60's these were standard although it took a number of years for all locomotives to have these added.
The original circular lion and wheel (or 'lion on a unicycle') logo (A) appeared in about 1950 and replaced the words BRITISH RAILWAYS on tank and tender sides. This was in turn replaced by the rampant lion and wheel (or 'ferret and dart board') in 1956 (B). Also in 1956 diesel locomotives received the D prefix to their number. Passenger stock was often adorned with a round logo (C), I believe some (but not many) of the early DMUs may have had this logo applied.

Fig___ Early BR Logos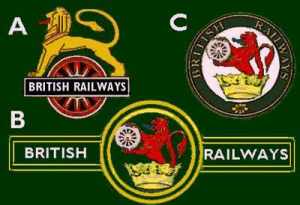 British Railways began painting the lower part of the ends of diesel locomotives yellow is about 1960 and locomotives lost the red buffer beam as part of this change. It was several years before all locomotives had this new colour scheme (the earliest photo I have seen of a yellow warning panel on a loco was dated 1964).

Fig___ Class 30 in green livery with yellow panel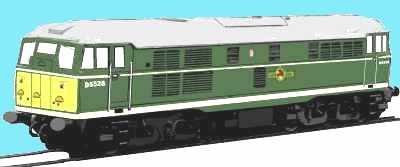 In 1964 the Corporate Image and the double arrow logo appeared. The official livery for locomotives changed to plain blue with the standard small yellow panels on the lower part of the ends and the coaching stock changed to blue and grey.
From 1966 British Railways locomotives were painted with completely yellow ends. The photo below was taken in the later 1970s, the engine was in very strong sunlight against a very dark background so the quality of the image was poor but is included here to show how 'weathering' (mainly brake dust) affected the fleet.
Fig___ 'Weathered' Class 25 in blue livery with yellow ends

In 1980 British Rail started painting the sides of the locomotive cabs yellow and they also introduced the large double-arrow logo, almost the full height of the body side. To go with the new large logo locomotive numbers were painted in much larger sizes on the body sides.
Fig___ Large logo Class 37 in blue livery with yellow ends and cab sides"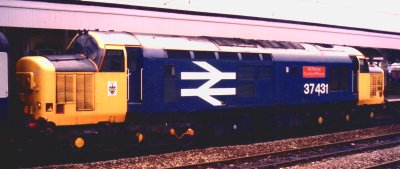 In 1985 the Class 59 locomotives owned by Foster Yeoman entered service. These locomotives were painted in Foster Yeoman grey livery.
In 1987 Railfreight was established as a separate entity with its own management and its own fleet of locomotives. Freight locomotives were theoretically no longer pooled with passenger loco's and were painted in a three shades of grey livery with the large double arrow logo and large numerals both in white. The freight locomotives were then assigned to specific 'sectors' and each sector had its own logo which was applied to the locomotive sides (usually toward the 'number one' end).
Coal opted for black diamond shapes, construction had yellow and black squares, petroleum had blue and yellow wavy lines, metals had blue and yellow chevrons and distribution had red diamonds. Parcels had no particular logo, although it handled the Royal Mail trains this sector was at the time the poor relation of the railway business and few expected it to survive for much longer.
Fig ___ British Rail 'Sector' logo's applied to locomotives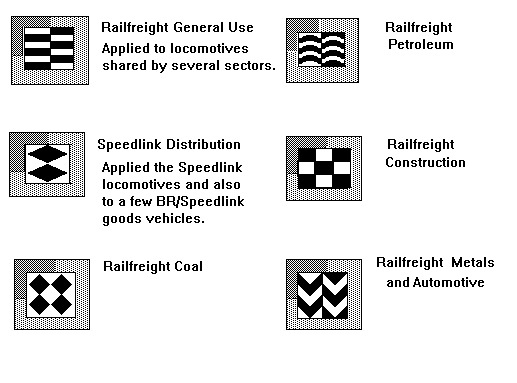 After the change to triple grey for freight locomotives in 1987 the loco's assigned to departmental duties adopted grey bodies similar to the new rail freight colours but with yellow upper panels (commonly called 'Dutch' livery as it resembles the colour scheme of the passenger trains in Holland).

Fig___ Class 33 in Engineers livery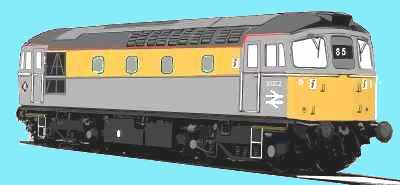 In 1989 a raft of new railway liveries were announced, Intercity had a modified look, British Rail Mainline livery was applied to locomotives working in a number of sectors, Railfreight standardised on two-tone grey with a dark grey roof and sub-sector markings, this livery was applied to classes 60, 58 and 56 as well as some class 47's and class 37's. British Rail General settled on a grey scheme which was applied to shunters of class 08 and 09 as well as class 20, 26, 31, 33, some 37's and some 47's.
The pre-privatisation companies; Railfreight Distribution, Rail Express Services, and the three 'trainload freight' companies, Transrail, Mainline and Load Haul were formed in 1991/1992. Each company adopted their own logo and livery for both locomotives and rolling stock and locomotives appeared in these new liveries from about 1994.

Fig___ Pre Privatisation liveries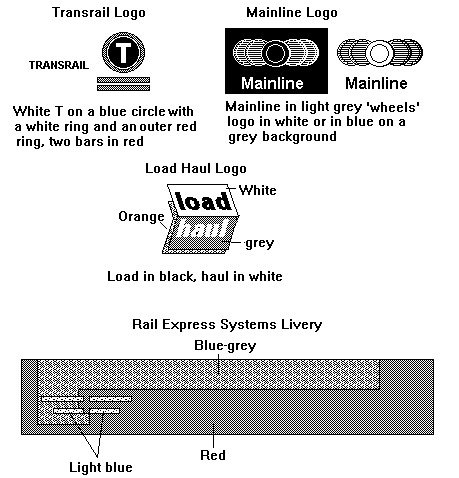 Rail Express Services used a basic body colour of maroon with their standard coach logo.

Fig___ Class 86 in RES livery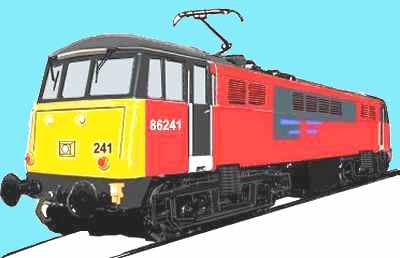 Transrail retained the plain three shades of grey livery with the T logo centrally placed on the body.

Fig___ Class 37 in Transrail livery




Mainline went for a dark blue body colour with their 'wheels' logo in sliver. On some locos they simply added the logo on a standard BR Railfreigh grey body.

Fig___ Class 58 in Mainline 'grey' livery




Load Haul opted for black with an orange cantrail line and orange cab sides on its loco's with the logo again centrally placed on the locomotive side.

Fig___ Class 56 in Loadhaul livery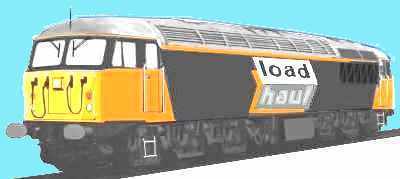 English Welsh & Scottish, the all-freight company set up in 1996 initially adopted a plain red livery with a gold (not shiny) stripe along the locomotive side. The early livery had EW&S and the locomotive number in red on the gold stripe, from about 1997 this changed to EWS and the number.

Fig___ Class 47 in EWS livery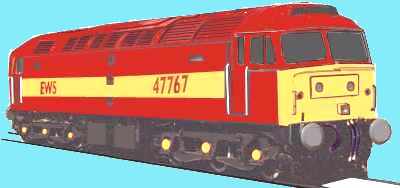 In 1998 the logo for EWS was introduced featuring outline drawings of a lion, a dragon and a stags head. The logo was selected from a number of designs produced in response to a competition run by one of the railway magazines, the winning designer receiving a 'cab ride' on an EWS train. When the EWS class 66 locomotives arrived in 1998 they were painted in a revised livery where the gold stripe was formed into a 'lightning bolt' on the locomotive side.

Fig___ EWS Class 66




Photo courtesy Sara Dee.
Direct Rail Services had a small fleet of Class 20 locomotives in its dark blue livery with DRS in white on the side of the engine casing. They subsequently obtained some Class 37 locomotives and (I believe) some Class 47's, the livery remained unchanged.

Fig___ Class 20 in DRS livery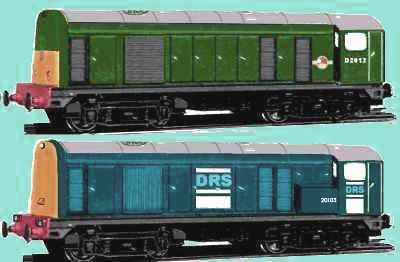 The Class 59 locomotives of Foster Yeoman were painted in their own livery from their introduction in 1985. In 1990 ARC introduced four similar locomotives and these were painted in their house colours.
National Power operated a fleet of dark blue liveried Class 59 locomotives from XXX until 1998 when they were sold to EWS. The locomotives remained in their National Power livery for some time after the change of ownership.
Freightliner initially used a basic plain grey body with their triangular logo and the word Freightliner in red.

Fig___ Class 87 in early Freightliner livery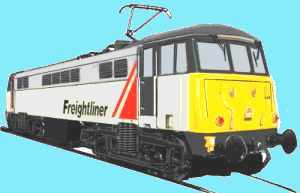 This livery has remained in place on several locomotives, I saw a Class 90 so marked in 2005. In 1998 Freightliner adopted a new livery for their locomotives of dark green with the Freightliner name in yellow. The ends of the locomotives remain yellow.

Fig___ Class 57 in Freightliner livery (2004)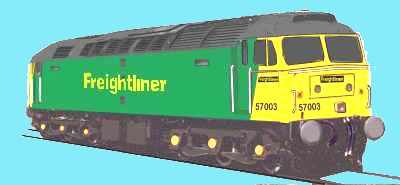 By the end of the twentieth century locomotives with BR freight sector markings, BR departmental markings, trainload company markings, leasing company livery (mainly Porterbrook and rare by 1998) and EWS maroon livery were all operating in the Manchester area. I have not yet seen a loco in Porterbrook livery however there is a coach in this livery which seems to be resident at Manchester carriage sidings. The livery is handed, that is it is reversed on the opposite side.

Fig___ Coach in Porterbrook livery (2004)




By the late 1990s a new system of applying livery was in use, this lays down vinyl cut-out shapes. When they were introduced it was claimed that this use of vinyl was cheaper and faster than traditional paint and transfer methods and that the vinyl was better able to withstand the anti-graffiti washing that by this time was a regular feature of the railways. The vinyl is thicker than the traditional transfers, if you get up close you can see it stands slightly proud, but it can be made and applied in complex shapes with strong colours and became standard for passenger multiple units. I am not sure if these vinyl 'transfers' are used on freight engines, although I think not (I could be wrong on that).
---
^
Go to top of page


International Good Guys ~ Making the world a better place since 1971 ~ Site maintained by


All material Copyright © Mike Smith 2003 unless otherwise credited