Diesel Locomotives
Note: The text of this section has been completely revised and updated by Alan Cox in mid 2005 and now contains a lot more technical information on the individual classes of engine. I am also deeply indebted to the members of the uk.railway and uk.rec.models.rail newsgroups who have provided a great deal of the information.

NB The sketches used for illustration the work of Mike Smith, they are very rough and certainly are NOT scale drawings.

Petrol and diesel engines turned up earlier than many modellers assumed. A small number were in use on the mainstream railways as early as 1904. Many small narrow gauge petrol engines were also built for the first world war for operation on the 60cm gauge trench railways supplying the front line. Some of these were armoured (about 30 I believe), others were not and after the war both types saw extensive service at industrial locations such as sand quarries and the like.

Fig___ Simplex petrol engines used in World War One.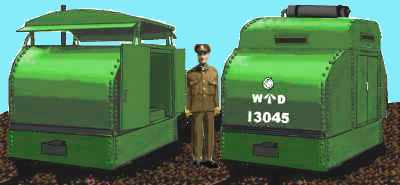 Both engines shown are of the larger 40 horse power type, the unit on the left is the non armoured type, that on the right the armoured. The doors are on one side only, the driver sits with his back against the opposite side, by looking right and left he can see ahead and behind without turning round. On the armoured unit there are double doors (smaller and easier to open in a trench) and there is a viewing slit on the drivers side as well, which would be just behind his head. The armoured unit has a silencer, this was sometimes fitted, sometimes not. Similar (non armoured) locomotives were built for standard gauge and used by several pre-grouping companies as light duty shunters.

The early diesel engines were very limited in power and also by the state of gearbox technology. It was both hard to build a large diesel engine and even harder to transmit large amounts of power to the wheels. Thus up until the early 1930s diesel and particularly petrol engines appeared as small industrial shunters, particularly on narrow gauge lines but never went much further.

In the late 1920s an important breakthrough was made in the USA. The first diesel electric engines were introduced and solved the transmission problem by using the diesel engine to drive a generator and the power from the generator to drive electric motors. Although much heavier this indirect drive solved the transmission problem and allowed the use of existing devices such as large electric motors, already used for electrified railways.

The GWR introduced petrol shunters around 1923 and several were built including some for narrow gauge lines. The GWR first built mainstream diesel locomotives in 1934 and rapidly built up a small fleet of railcars in an attempt to make some of the very lightly used routes profitable. Although most railcars were passenger vehicles the GWR introduced a single parcels car and then converted two others for this purpose. The GWR railcars also introduced another significant innovation for the period - as with the GWR autocoach and steam locomotive set the railcar could be driven from either end, eliminating slow turnarounds and in some cases trackwork. These units are described in the section on Railcars and Multiple Units.

The LMS also experimented heavily with diesels, starting with a deisel electric multiple unit converted from an electric multiple unit in the early 1920s. In 1932 the LMS introduced an experimental diesel mechanical heavy shunter (1831) primarily for research and testing purposes. Some sources suggest this was built on the chassis of an ex MR Johnson 0-6-0T locomotive, if this was the case there was precious little left of the original in the resulting engine. This went into service at the big Toton hump yard (near Nottingham) and I gather it remained in service into the mid 1950s as a heavy shunting locomotive.

Fig___ LMS No. 1831.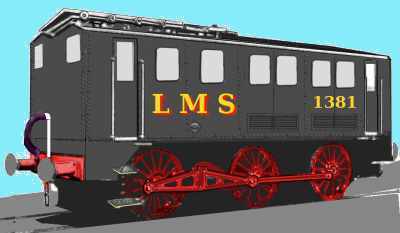 In 1934 it was joined by diesel mechanical shunter 7054. Following on from this the LMS built a collection of small diesel shunters before the war interfered. Earlier designs used a 'jackshaft' drive, the drive was supplied by wheel-less crank between the rearmost and middle wheels driving a push rod linked to the front wheel and separate from the connecting rod between the wheels, rather similar to the arrangement used to link a steam engine's pistons to its wheels. There were a number of design variations between these locomotives, the example shown below is one of a batch of ten from 1936, another batch of 40 to a broadly similar design were produced just before the outbreak of war and all made it into the post war era (several were shipped abroad to support the forces, a few are probably still out there).

Fig___ LMS Jackshaft shunter in LMS black livery.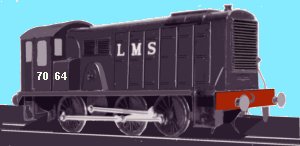 I know little about this topic so I asked on the uk.rec.models.rail newsgroup and Brian Williams was able to advise-
The last of the jackshaft-type ex-LMS shunters were withdrawn around 1967/8- I remember seeing some in the Liverpool area around then.
Quite a few went into WD service during WW2 and were shipped to mainland Europe after the opening of the Second Front. The preserved example in the UK was brought back from either France or Belgium, I believe.
There is still an example in Italy, operating on the 'private' line from Arezzo to Stia on the eastern edge of Tuscany. Remarkably, it's not their oldest loco, this honour being held by a couple of 1924 built electrics. Brian
Peter Abraham was able to advise -

These were built first in 1939 to a Stanier design developing a previous jackshaft design. They were numbered 12003 - 32 in 1951 and remained so in 1960, at which time they were classified as D3/7 in the E &NER. In the LMS period they were grouped with all the similar diesel/Electric shunters. Hope this helps as I have no modern data.
Fig___ Later LMS Jackshaft shunter in BR black livery.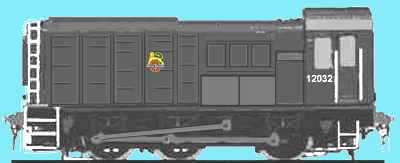 The diesel shunter proved a valuable piece of equipment and by the time of the Second World War the LMS alone had about 20 of these machines to various designs, many of these saw war service abroad although most if not all were returned to the LMS at the end of hostilities. The LMS used Vulcan as their supplier, after Vulcan was taken over by English Electric the relationship continued and later LMS shunters closely resembled the English Electric BR Class 08 shunter. These later engines survived long enough to receive the TOPS classification Class 11 but were withdrawn before becoming life expired as part of the rationalisation of BR loco stocks (see under Class 11 below).

In the early 1930s the LMS also purchased four 4-wheeled passenger railcars from Leyland, I understand these lasted into the 1950s and were mainly used in Scotland. Subsequently, in 1938, they purchased a three-car articulated unit (the centre coach sharing bogies with the inner ends of the two outer coaches), this is more fully discussed in the section on Railcars and Multiple Units.

The LNER inherited two small 0-4-0 petrol engine Simplex shunters from the GER and NBR where they had operated since 1919 and 1921 respectively. These two small engines, standard gauge versions of the Simplex petrol engine trench locomotives of the First World War, were designed to replace horses and were used for various trials where they showed huge savings compared with steam shunters. Both survived until 1956. The GWR had at least one such engine, I understand it was used to shunt the sidings handling fodder for horses in London (perhaps it was felt that the reduced fire risk was an advantage in this location).

Fig___ Standard gauge Simplex shunter, GWR example.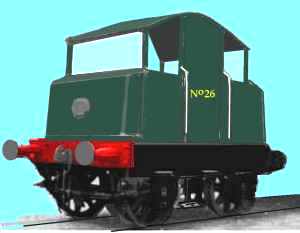 Note these locomotives differed considerably in detail, the GER type had a three pane window at front and read and no door as such, the roof was metal and had an exhaust silencer, the NBR example had a wooden cab but with the three pane window arrangement to front and rear and no silencer. The L & Y purchased a Simplex standard gauge shunting engine in 1919, this had no sides at all and was painted in neatly lined black with the company garter crest (See Science &Society website, image number 10444274).

Between 1909 and 1911 the York Carriage Shops built three petrol powered inspection saloons, the first a six seater and the others twelve seater's. With 6 cylinder engines the twelve seater inspection cars could reach 75mph. All three were scrapped in 1939.

More diesels started to appear in the late 1930's. The war interrupted railway development greatly and it was not until after the war that prototypes for main line diesel locomotives ordered by the railway companies actually rolled off the production line into the hands of the new British Rail.

Early prototypes tried a variety of power systems. The GWR ordered two gas turbines in 1940, which were delivered in 1949 and used for passenger testing. The majority of engine designs were however of the diesel electric design, that had by then been perfected in the USA. Mechanical gearboxes in the 1940s were (and still are) unable to reliably transmit the large forces needed for anything but a small shunting locomotive (the class 08 uses electric motors supplied from a diesel powered generator).

The early prototypes were generally painted black with silver (more correctly aluminium) trim. They bore numbering similar to those of steam locomotives and in some cases also controls that were designed to resemble steam locomotives to help drivers make the changeover.

A variety of early prototype diesels were produced as the war ended and engineering companies stopped producing for the war and supplies became available.

In 1941 the LNER decided to build five locomotives based upon the LMS design of diesel electric shunter and four of these DES1 designs were delivered between 1944 and 1945. The fifth shunter was built with slightly different Brush components instead of the English Electric parts used in the other four. The LNER chairman at the time also happened to be Brush chairman. The DES1 designs, which closely resembled the Class 08) lasted until 1967 while DES2 (which was rather different in design to the 08) was scrapped in 1962.

The GWR had some 0-6-0 diesel shunters built to they specifications which did not closely resemble the Class 08 but their later order (delivered after nationalisation) was again a fair copy of the Class 08 design.

10000 and 10001 were a pair of English Electric Co-Co prototypes built to explore the use of diesel power for larger locomotives. Ordered by the LMS in 1947 and delivered in 1948 10000 and 10001 were 1600hp diesel electric designs aimed primarily at passenger services. Both ran until the mid 1960s and their design provided the basis for several classes of production locomotive including the class 40. Problems with train heating boilers kept these two locomotives mostly on freight services. European styling favoured a flat fronted engine but these two locomotives resembled contemporary American locos in their end shape.(Knightwing make a kit for 10000/1)

Fig___ LMS 10000 .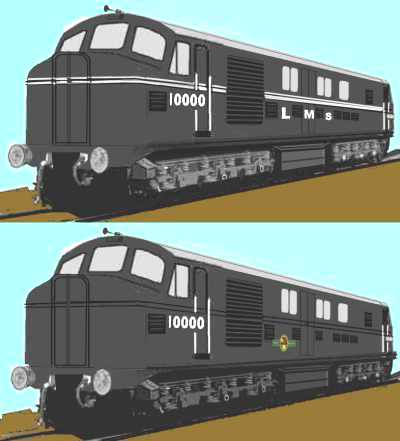 The upper sketch shows the as-delivered livery, black with silver band and bogies, silver grey roof and white markings. Both engines underwent trials in this livery. The lower sketch shows the BR livery, lacking the body band and silver paint on the bogies and with the BR emblem in place of LMS on the sides.

10201-10203, 1-CO CO-1 loco designs based on 10000 and 10001, were produced for Southern Region between 1949 and 1953. 10203 entered service in 1954, equipped with a more powerful engine. These engines had the more European flat fronted body style, which became the norm on later classes of BR engine. As they were built for Southern Region they had five headcode disks to allow for the SR route indicating codes. These were arranged three above the buffer beam, two to either side just under the drivers windows and one between the drivers windows. As prototypes these locomotives were highly successful and were used for some of the most prestige passenger services including the Royal Scot, Golden Arrow and Night Ferry services. They made excursions on the LMR for training in 1951 but spent most of the time on Waterloo-Exeter express services for Southern Region. The first two were then transferred permanently to LMR in 1954 (at which time they were repainted from their original BR black with silver grey lining to BR green livery). As newer machines came on line these engines were transferred to mixed freight workings and minor passenger services. Scrapped in 1962 these locomotives (10203 in particular) formed the basis of the later class 40 locomotives.

Fig___ BR Southern Region 10201 .



The sketch, based on a BR publicity photo, shows all the six headcode discs on display, in practice this would not have been the case. The extra two discs half way up the front are for SR route indicating codes.

10100 was an unusual design built by the Fell Development Company, I. G. Ivatt of the LMS was involved in this project. The machine had four engines and mechanical gearing, giving a total 2000hp output. The wheel arrangement was very curious, four wheeled bogies at either end with four outside framed driving wheels. The driving wheels were coupled together to give a 2-D-2 (which would be 4-8-4 in Whyte notation) wheel arrangement. There were various modifications whilst in service, the side grilles on the front 'bonnets' increased from two to four (as shown) and a window in the upper side was replaced with another ventilation grill. Able to run at over 70mph the design was intended to operate passenger services, and the loco performed well on passenger duties on the London Midland Region between 1952 and 1958, but in the event only a single prototype was built. It was destroyed in 1958 by a fire which started in the loco's steam heating boiler.

Fig___ 10100 the Fell Diesel Mechanical Locomotive





10800 was an LMS ordered prototype with a Paxman engine delivered to British Railways. A BO-BO diesel electric locomotive with single cab inset from one end it laid the foundations for many of the early light freight diesel designs and led to the class 15 and class 16 locomotives. Having the cab inset from one end provides two separate sections for equipment, normally only seen on diesel electric locomotives. It was usual where this arrangement existed to put the engine and generators in the larger end and the switch gear (which prefers a clean environment) in the smaller section on the other side of the cab. Interestingly this locomotive had a set of four electric lights at each end in place of the steam era lamp brackets. Lamp brackets were subsequently fitted, the standard BR four plus two more half way up the sides of the front end for use on Southern Region where they used route indicating headcodes. The loco started trials in Scotland, went to LMR for a time, then to SR, then ER, then back to LMR before being withdrawn in 1959. Parkwood make a kit for 10800.

Fig___ 10800 Bo-Bo prototype in BR black livery





That was not the end for this engine however, it was purchased by Brush who used it with a new engine and three phase generator set (and modifications to the side grilles) as a test bed for traction equipment and control gear in the early 1960s. The modified locomotive was actually used to work trains for a time before being withdrawn in 1967, I believe the livery during this period was a light grey body with black chassis but I have no information on markings.

11001 was a prototype 0-6-0 mixed traffic locomotive designed by the staff of the former Southern Railway and delivered in 1948. It was limited to speeds of around 40mph (comparable to the tank engines of the time) and famously the controls were laid out as if it were a steam engine. The drive was via a jackshaft at the rear linked to the centre pair of wheels via a connecting rod, the wheels themselves being linked together by a coupling rod, rather in the manner of a steam engine. The jackshaft was in line with the wheels, hence the connecting rod was aligned with the coupling rod and not immediately apparent in photographs.

Fig___ 11001 0-6-0 prototype diesel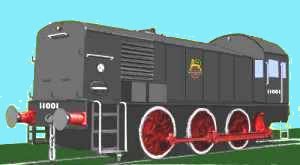 18000 and 18100 were experimental gas turbine engines running on six wheeled bogies, the former built by Brown Boveri to a Swiss design, the second by Metropolitan Vickers to their own design. These used a gas turbine to drive a generator supplying DC power to bogie mounted electric motors. At the time gas turbine offered significant promise as although very fuel inefficient the fuel in use was cheap. When the oil industry learned to convert the previously turbine only fuel into other petrochemicals the gas turbine became extremely expensive to operate. The livery was black offset with a silver-grey roof and side stripe.

Sketch of Locomotive 18000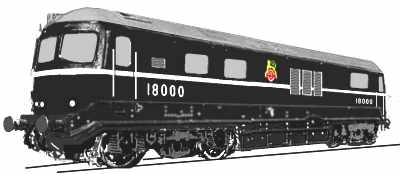 The Metro Vic loco 18100 was later converted to 25kV overhead electric operation and renumbered E1000. The sketch below shows 18100 in service hauling The Bristolian passenger service, complete with headboard. It is interesting that, although there was a full set of four electric headcode lights (three on the upper buffer beam, one on the roof), the train carried two white oil lamps as its headcode.

Sketch of Locomotive 18100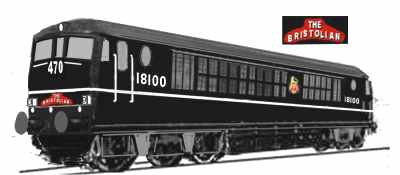 In 1955 a modernisation plan was completed that proposed the complete switch to diesel and electric as part of the restoration of British Rail to profitability. A few years later the plan was revised and hasty orders were placed for many locomotives even though the early trials were incomplete. As a result of this the British Railway network was graced with a large number of varied, unusual and at times unmaintainable locomotives many of which were abject failures.

To understand the modernisation plan it is important to understand the historical context. In the early 1950s British industry was recovering from the war. Hard foreign currency was in short supply. The railways were also government owned and subject to a great deal of political control. The state of the railways at this time was very bad indeed. A track replacement program had begun but war damage and years of minimal maintenance had created a gigantic backlog of work. Reliability was low, derailments were at their highest for many years and worse still for the railways the motor car and the lorry were becoming practical ways to travel long distances.

The politics of the situation prevented the purchase of proven American locomotive designs. In addition it caused complications for the Western region who favoured lightweight diesel hydraulic locomotives which were highly successful in Germany. Ten years after the war the use of German technology and placing orders with German companies was not politically acceptable to many in the British Railways Board. Instead British locomotives made by British companies were to be used. Such a philosophy did not seem unreasonable - Britain had many great steam locomotive companies and works.

Two things contributed greatly to the early problems. Firstly diesel engines run at much higher rotational speeds than steam engines and demand much higher precision components and building quality - skills that turned out to be lacking in many of the British companies. Secondly the engines themselves were based around designs for marine diesels. At the time the difference between the work cycles of marine diesels which run at relatively steady speeds in fairly well cooled environments and those of locomotives which switched rapidly between high and low demands for power were not understood. Overheating, cracking from thermal stress and other related faults hit many early designs. Even later locomotives such as the Intercity 125 (HST) power cars suffered from problems in this area.

Other legacies also hindered the early diesel conversions. Most freight services in the early 1950's were still unbraked. Travelling at low speeds they depended upon the brake force of the engine and guards van for most of their brake power. This required large heavy engines in order that the locomotive itself was heavy enough to brake the train. In some cases the locomotive travelled with one or two brake tenders (available in kit form from Nthusiast resprays and other vendors) which were weighted wagons with additional brakes intended to increase the locomotive braking power.

See also App 4 - Locomotives and DMUs - Overview and General Information

Beeching saw these slow freights, forever being backed into sidings to allow trains to pass as a part of the past of the railway network, and the need for speedier services as essential to competing with the road network. From the early 1950's wagons were fitted with vacuum brakes and often also with bracing to prevent the wagon chassis bending when braking. New ideas like container freight - something now taken for granted - also came from the modernisation plan.

The Great Western region saw this as an opportunity to follow the German model where locomotives were built to be very light and relied upon the presence of braked freight wagons instead. The German railways achieved this using hydraulic engines and stressed skin bodies, neither of which were at the time available from British companies.

A second legacy was the use of steam for train heating. Steam from the locomotive was routed through the train down special cables between the carriages providing warmth. This meant that many diesels were also fitted with an electric powered steam boiler that heated water. This and the additional water tank greatly complicated the locomotives and increased maintenance costs. Locomotives intended for freight were generally not fitted with heating boilers and in later years many steam heating boilers were isolated or removed. The Southern Region already had considerable experience of electric train heating - from the third rail services. Therefore most southern region diesel locomotives ran with electric train heating powered from the generator. Over time newer carriages and locomotives saw the gradual elimination of steam heated stock.

See also Historical Background - Some notes on the heating and lighting used on railway rolling stock.

Also complicating early history was the gradual change of train display on the locomotive front. Steam locomotives and early diesels traditionally carried lamps indicating the train type. This helped signalling and other staff identify a train. Early in the diesel era British Rail adopted a four digit encoding for each train and specified that locomotives should be fitted with boxes showing these codes. Many classes thus have early members with indicator discs simulating steam lamps, later members with headcode boxes split either side of a central gangway door, and later locomotives still having the headcode in the centre after the doors proved to be a useless design idea. In the late 1970s technology changes saw the headcode boxes falling out of service. Many were replaced with additional electric lamps instead.

See also Communications, Control and Signalling - Bell Codes &Locomotive Head Codes

Finally it helps to understand the diesel engine of the period. Significant improvements in supercharging and turbocharging of engines were still occurring. This is why there is a rapid reduction in locomotive weight through the early 1960s.

Most of the 1950s introductions that came from the diesel modernisation plan started life in either all over green or two-tone green, generally with a grey roof. Locomotives bore a number with a leading D or E to indicate diesel or electric. Soon after the livery changed as safety experiments showed the value of the now universal yellow front panels. Locomotives acquired yellow front panels followed by all over yellow fronts. Locomotives that did not get a full repaint still got full yellow ends. Several experimental liveries followed in the late 1960s ending up with British Rail corporate blue becoming the standard livery for almost everything that moved and many things that didn't.

In 1973 British Rail computerised and TOPS (Total Operations Processing System) was introduced allowing British Rail to locate and track all of its equipment efficiently. As part of this process British Rail adopted a more logical locomotive identification with each locomotive being numbered by a two digit class number followed by three digits of locomotive identification. The class numbers reflected locomotive power with more powerful engines having larger class numbers. This scheme is used in the description of the locomotives and classes later on.

1977 saw the first real changes in livery from corporate blue - silver roofs and for the silver jubilee locomotives with union jack logos on the side. 1978 saw the arrival of "large logo" blue. British rail moved from yellow fronts to all yellow cabs and scaled up the numbers on the locomotive sides and the logo to cover the full body height. In many cases this was coupled with the fitting of high intensity headlights to further improve safety.

In the 1980s British Rail abandoned its regional structure and was split into units by traffic sector, and the different sectors now free of central control adopted a variety of livery changes including the early network southeast liveries and the grey Railfreight liveries. In 1997 the number of liveries exploded as the privatised franchises all set about repainting their locomotives into distinctive company colours and has continued with regular changes in style and new forms.

The Post Nationalisation Diesel Locomotives

There were a large number of small shunters purchased by BR, partly for evaluation, most only survived a few years before being sold on to industrial users. The more successful designs survived long enough to get a TOPS Class number.

01 introduced 1956, the last was withdrawn in 1981
Class 01 was represented a set of 5 Barclay built diesel shunters designed for working in low clearance, low weight environments. Three of them survived into the start of 1980 as they were the only locomotives light enough to work the Holyhead breakwater. They were a curious looking machine with a wedge shaped extension above the bonnet immediately in front of the cab, what ever this was must have been important as there was a ladder fitted on the left hand side of the engine for access.

Fig___ Class 01 loco.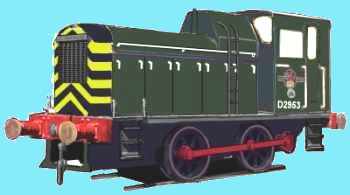 Class 02 introduced 1960 all withdrawn by 1975
This was a series of twenty 0-4-0 shunting locomotives built by the Yorkshire Engine Company, again for restricted clearances and docks and short enough to be turned on a wagon turntable. They lasted in British Rail usage until 1973 as the kind of work they were designed for vanished. Most of them along with many identical engines built for industrial customers ended up working on the other side of the fence in industrial yards where their small size and low weight were ideal. BH Enterprises produces a non-powered brass kit for the class 02, as do Worsley Works.

Fig___ Class 02 loco note the short cab and rear platform.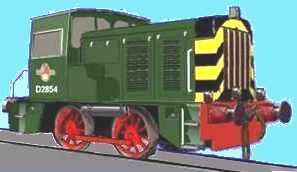 This engine had a short cab with a door in the centre at the rear, accessed via the platform at the back of the engine as shown in the sketch.

Class 03 (introduced 1957, all but one withdrawn by 1985, see below for the details on the lone survivor) and Class 04 (introduced 1953 all withdrawn by 1971)
The 03's and 04's are two closely related groups of small 0-6-0 diesel mechanical shunting locomotives used on Eastern and Western regions. The design of the 03 was actually based on the class 04, a prototype of which was built by Drewery in 1948 (described below). The original loco was numbered 11102 in the pre-D series numbering scheme. 230 class 03 locomotives were built by British Railways between 1957 and 1962 (most at Swindon), and 142 class 04 locomotives of almost identical design were built by private industries for British Rail over the same period. The 03 was built with both the tapering tube chimney and also the widening 'flowerpot' type but it had a distinctive bulge on top of the bonnet in front of the cab with two vents mounted on it to accommodate a larger fuel tank. The drive was via a jackshaft mounted at the cab end of the chassis, linked to the wheels by a coupling rod, this can be seen in the sketch below where I have coloured the arrangement red. I believe some engines did have the coupling rods picked out in red but as most photos of the type in service are black and white I am not sure how widespread that detail was.

Although designed as shunters both the 03 and 04 locomotives were used to move freight along industrial branch lines unsuitable for mainline traffic. The 03 locos were the only type used in the last days of the old Central Wales Railway, running from North to South up the centre of the country (this line had been absorbed by Cambrian Railways, then grouped into the GWR). Nine 03's were modified by reducing their height by four and a half inches for use on the Burry Port & Gwendraeth Valley Railway in South Wales, where they were often seen working together in threes on the steeply graded line. They were replaced by similarly modified 08/9's operating singly in the later 1980s.

Some 03s were also seen on some passenger train workings in the early years, early morning workmen's trains and the like. Some were fitted with air brakes, these had a small air cylinder about eight inches in diameter by three foot long mounted of the bonnet just in front of the cab on the left hand side. Some of the air-brake fitted locos had high mounted air brake pipes for coupling to passenger stock. Early models had a slender tapering chimney similar to that on the 04 Drewery, this was later altered to a shorter, fatter chimney. The class 03 continued in use for many years and could be found all over the railway network although gradually being phased out as the changing freight scene reduced their usefulness. A quirk of fate saw a single 03 survive for many years on the Isle of Wight railway where limited track clearances and the separation of the railway from the mainland saw one engine in use until 1993, when it was bought by WAGN as a depot shunter.

Fig___ Class 03 in late rail blue livery.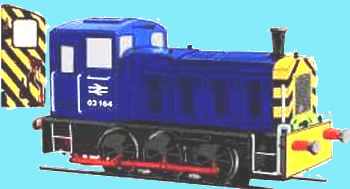 Most class 04 shunters were scrapped between 1968-1970 as the requirement for shunters dropped with the changing nature of railway freight. Many of them were sold to industry and used on the other side of the fence. Four BR owned class 04 locomotives were allocated for use on the Wisbech tramway, for which they were fitted with skirts to shield the coupling rods and wheels and a 'cow-catcher' frame on the front.

There is a photo of the 04, complete with skirts, on John Taylor's 'blue diesels' website (see contributors and bibliography) which shows an 04 tram loco in all over black livery but with markings as shown in the sketch below. Note the flat top to the bonnet distinguishing this from the class 03.

Fig___ Class 04 loco with 'tram skirts'.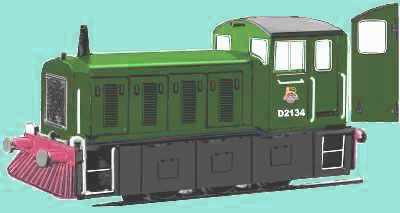 Beaver produced a kit for the class 03, and Langley produce a kit for the 04. The chassis required for both is however hard to find.

When modelling class 03s most pictures from the modern era show the shunters coupled to a flat truck. This was done because the short wheelbase of the class 03 could make them "invisible" to electronic train detection systems. In order to reduce the risk of collision the shunters were permanently attached to a flat wagon to give the needed length.

Class 05 introduced 1955, withdrawn by 1981
Class 05 was a series of Hunslet 0-6-0 engines. Very few made it until TOPS and only one ever bore a TOPS number - 05 001, which was specially modified for working the restricted loading gauge on the Isle of Wight and survived into the 1970s solely due to this, before being replaced by an 03.

Fig___ Class 05 loco.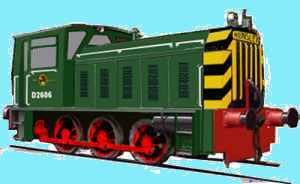 Class 06 introduced 1958, withdrawn 1981
Class 06 comprised ten 0-4-0 shunters built by Andrew Barclay between 1958-1960 for use on the Scottish Region. By the late 1970s these engines were also being sold off. A single 06 remains in service as a loan locomotive of the HNRC (Harry Needle Railway Company). They were almost identical in appearance to the Class 01 engine illustrated above, again with a curious wedge shaped extension above the bonnet in front of the cab. These locomotives lacked the ladder on the side and had much deeper buffer beams (similar to those on the Class 03 illustrated above).

Fig___ Class 06 Locomotive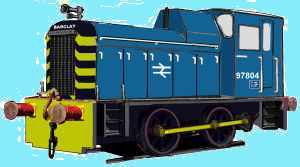 Class 07 introduced 1962, all withdrawn by 1977
The first of British Rails shunters to experiment with centre cabs were the class 07 locomotives. The cab design was intended to help solve visibility problems found with existing locomotives. Built specifically for Southampton docks these locomotives were almost never seen elsewhere. When the need for them on the docks was over in 1977 they were withdrawn.

Fig___ Class 07 Locomotive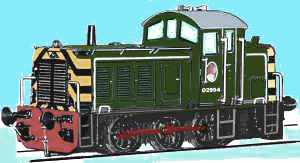 Class 08 introduced 1952 and still in service in 2005, generally known as 'Gronk'
formed the backbone of British Rail shunters and continues to do so today. This 350hp design was good but expensive, hence the use of the smaller class 03 and 04 type locos. Unlike the smaller units the 08 locomotives are diesel electric rather than mechanical engines. 1193 of these units were built between 1953 and 1962. Based on the LMS design from just before the war they proved to be more expensive to manufacture than the mechanical shunters but vastly more useful and able to haul huge loads at low speed. Large numbers remain in use today carrying a wide variety of liveries and names, not all of which are official. Limited to 15mph (any faster than this and the electric motors tend to fly apart due to centrifugal forces) they were unsuitable for moving freight between yards but ideal for handling large modern freight loads. All were fitted with train braking (some vacuum, some air, some both). Graham Farish produce a class 08 model in a variety of liveries.

Fig___ Class 08 Loco in early BR all-green livery.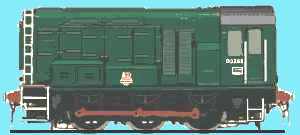 Class 09 known as the 'Super Gronk'
When southern region required locomotives of the same design but able to operate at higher speeds several of the original 08 locomotives were re-geared to run at a top speed of 27mph and reclassified as 09. From 1992 several other 08 locomotives have been re geared in a similar fashion by the new train operating companies.

Class 10
Similar to class 08 but the locomotives instead used a Blackstone engine and different traction motors. The 15 locomotives built to this design were fairly early victims of the push towards standardisation.

Class 11 introduced 1944, all withdrawn by 1972
Assigned to a series of shunters built during the war, and for a while after by the LMS, based on early LMS designs and very similar to the later BR class 08.

Fig___ Class 11 Loco in LMS livery.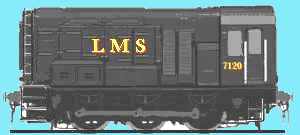 They were a development of earlier LMS shunter designs dating back to the 1930's, they were delivered in 1944 and lasted until 1972. Under TOPS non were numbered in the 11xxx series instead they had numbers beginning with 12. Although 106 strong the class was an early victim of rationalisation.

Class 12 entered service in 1949 and were all withdrawn by 1971
The Class 12 locos were again very similar the Class 08, although this class was actually ordered by the pre-war Southern Railway and fitted with the distinctive Bullied-Firth-Brown wheels of the so-called Boxpok design as used on several Southern locos. They entered service in 1949 and were all withdrawn by 1971, early victims of rationalisation.

Class 13 introduced 1965, withdrawn 1985
In 1965 Tinsley hump shunting yard needed more powerful shunters than the 350hp 08 locomotives available to it. The class 13's were constructed by permanently coupling a pair of 08s together and removing the cab from one, instead controlling both from the single cab. In addition large amounts of weight were added to improve adhesion for working the hump. When the yard closed in 1985 the locomotives were scrapped with it.

Fig___ Class 13.





Class 14 introduced 1964 all 56 withdrawn by 1969
Diesel hydraulic locomotives introduced as a replacement for some of the small shunting and local goods steam locomotives and had the same 0-6-0 wheel arrangement. These were Western Region locos, driven by hydraulic transmission drawing on German practice. It featured a central cab with low bonnets fore and aft for good all around vision and used a 'jackshaft' drive. They were geared to move at up to 40mph and were used on local trip workings as well as for shunting duties. 56 of these locos were built.

Fig___ Class 14 Loco in early BR livery.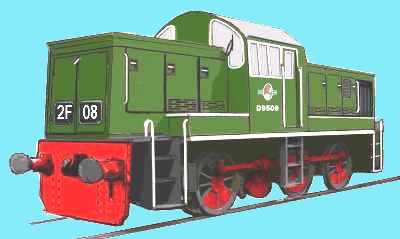 The cab was offset slightly toward one end, the sketch shows the view from the shorter end of the loco. Although the design was sound the locomotives came into service in 1964 by which time almost all of their intended short mixed freight duties had moved to the road network. Within a few years almost all were resold for industrial use particularly in heavy industry such as coal. A Class 14 kit is available from Parkwood

Class 15 introduced in 1957, all withdrawn by 1971 - Allocated to ER
15 was the lowest class number not be counted as a shunter, these BO-BO diesel electric locomotives, were introduced in 1957 for light weight freight and passenger traffic. Designed by BTH (British Thomson Houston Co), no heating boiler was fitted although they were built for 'mixed traffic' duties. They were on the LMR for the first year or so, then transferred to the ER. The off centre cab gave poor visibility in all directions and the locomotives were somewhat unreliable. A few were converted into train pre-heating units but by 1971 the others had been withdrawn. Class 15 kits are available from BH Enterprises, and Parkwood.

Fig___ Class 15 Loco in early BR livery.





Class 16 introduced 1958 withdrawn 1968
Closely related to the class 15 was class 16, built by North British and generally similar in outline to the Class 15's with the cab inset slightly from one end but using GEC generators. Introduced in 1958 these were also withdrawn by 1968, spending most of their later years around Stratford depot in London working light freights, or quite often not in working order. Although fitted with the same engines as the class 15 the design of the class 16 had serious ventilation problems that led to regular failures. A class 16 kit is available from Parkwood.

Fig___ Class 16 Loco in early BR livery.





Class 17 introduced in 1962 but all withdrawn by 1971, - Allocated to ScR, commonly known as the Clayton
The Clayton Paxman Type 1 design, featured a lower bonnet and central cab giving good visibility (often a problem with single cab designs). This BO-BO design was intended to operate on light freight and passenger services. Most were fitted with Paxman engines that proved problematic. Later units were fitted with rolls royce engines which resolved some of the chronic reliability problems. Never sufficiently reliable they were phased out by 1971, with British Rail choosing to invest in further class 20 locomotives instead. Two survived in the hands of British Rail's research department until 1978. A class 17 kit is available from Parkwood. The sketch was made from a photograph found on the web and shows the early BR livery including the red buffer beam but with the recently added yellow warning panels (introduced from about 1960 but taking some time to appear on all locomotives).

Fig___ Class 17 Loco in early BR livery with yellow ends.





Classes 18 &19 were not used

Class 20 introduced in 1957 and still in use in 2005, - Allocated to LMR, ER & ScR, generally known as the Chopper
The BO-BO Class 20 locomotives were introduced in 1957 and production continued for many years, boosted in part by the failure of many of the other classes ordered around the same time. Lacking train heating the locomotives were designed to be used on light freight although they were occasionally seen hauling passengers in summer. A total of some 200 units have been built, those built before 1968 had no head-code boxes and used the disc system. The long nose gave visibility problems (the centre-cab Clayton Paxman Type 1 machines of Class 17 were intended as a replacement for the Class 20's) and with the reduction in light freight the units were commonly coupled together in pairs cabs outward to give a 2000hp freight unit with good visibility. As of 2005 several class 20 locomotives have been fitted with forward video cameras. Large numbers of class 20 locomotives are still in service with train operators and private freight companies hauling all kinds of traffic around the network. Graham Farish makes a ready-to-run Class 20.

Fig___ Class 20 Locomotive in mid 1960s BR green and 2005 DRS blue livery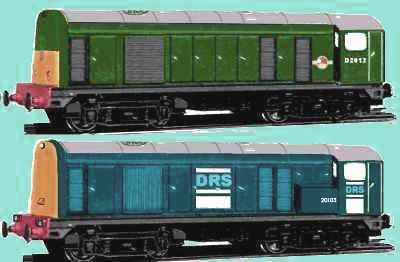 The sketch shows an early version in BR green with fold-down headcode disks on the front, the lower sketch is a 2005 Direct Rail Services loco, note the changes to the grilles, the addition of stowage boxes forward of the cab and the clean front end with a high intensity light near the top and a housing near the base. New lights have also been added directly to the forward ends of the buffer beam. The rear of the cab is now all yellow and again very clean with the high intensity light top centre, the wedge shaped housing lower down and the two new light clusters mounted just above the buffer beam to either side.

Class 21 introduced 1958/59, withdrawn 1968, - Allocated to ScR
If the Class 20 was a success the North British BO-BO Class 21 was a resounding failure. Built for light traffic they proved so unreliable that many of them spent most of their lives in pieces or in storage. Introduced in 1958/59 and originally used on Eastern and Scottish regions they proved problematic and were transferred to Scottish Region for easy access to the North British works. Most were withdrawn by the end of 1968 but some were fitted with different engines and continued in service in Scotland as class 29 until 1972. Langley Models make a 21/29 kit.

Fig___ Class 21 Locomotive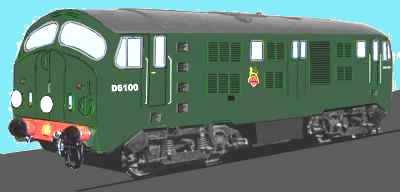 The sketch shows the original design, with connecting doors and folding headcode discs (currently displaying a code indicating the loco was hauling a Class C train, all XP stock, for example a parcels train).

Class 22 introduced in 1959 and withdrawn by 1972, - Allocated to WR, usually called the Baby Warship
This North British Type 2 B-B, was an experiment in the use of diesel hydraulic transmission (as favoured by Western Region) and was a broadly similar design to the class 21/29 (although rather shorter). Although based on a German design the locomotives were built in the UK using inferior techniques for purely political reasons. Intended to be a low weight and highly efficient locomotive making use of the weight advantages of hydraulic transmission what was produced was a heavy B-B arrangement locomotive. By 1968 North British, the builder of the class 22 and many other early diesels was out of business and locomotives were being scavenged for parts. The last class 22 was scrapped in 1972. N-thusiast Resprays make a class 22 kit (also available RTR) as do Worsley Works.

Fig___ Class 22 Locomotive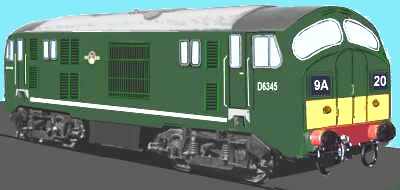 The sketch shows a Class 22 in early green livery with a white strip along the lower sides and light grey central roof section.

Class 23 introduced 1959, refurbished in the early 1960s but never really a success and all withdrawn by 1971 - Allocated to ER.
Introduced in 1959 the class 23 'Baby Deltic' was another failure. The ten BO-BO locomotives were based on the deltic engine design that was used so successfully in the class 55 locomotives. These ten locomotives were over their weight target when introduced and suffered power problems. This should have been a useful type, but proved unreliable and they were confined to Eastern Region. After a rebuild to fix the problems the locomotives ran light passenger and freight duties until their withdrawal as part of the rationalisation of the locomotive fleet between 1968 and 1971. Heritage-N makes an RTR class 23. The sketch was made from a photograph on the 2mm Scale Association website showing a model of the type made by David Smith.

Fig___ Class 23 Locomotive




Class 24 introduced 1958 withdrawn 1980, - Allocated to LMR, ScR, known as the Rat
Not all locomotives from the 1950's were a disaster. The Class 24 proved to be a success all around. A BO-BO diesel electric design based upon Sulzer engines the first was delivered in 1950 and 151 were built. Originally designed for London-Midland services the locomotives appeared everywhere (although rare on Western Region) on both passenger and light freight services, or in pairs on longer trains. The last class 24 was taken out of service in 1980 although several were retained as carriage heating units and for research work. Langley Models and Worsley Works make class 24 kits. Heritage-N makes a RTR class 24.

Fig___ Class 24 Locomotive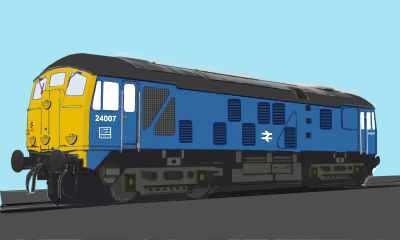 The sketch shows a locomotive in the later 1960s, following the adoption for the all-yellow front and corporate blue body sides although it still has the four folding headcode discs mounted on the front (later classes of engine featured the four character headcode boxes). This engine still also has the connecting doors on the front however these had proved to be a bad idea and were subsequently removed or welded shot. They were intended to allow the crew to move between engines when working in multiple but this was seldom if ever done and the doors made the cab draughty and difficult to heat.

Class 25 introduced 1961 withdrawn 1987, - Allocated to LMR, ER, WR, ScR, also known as the Rat
The BO-BO class 25 design followed on from the highly successful class 24 engines. An up-rated version of the Cl 24, allocated to everywhere except the Southern Region (although 'visitors' were seen occasionally). Some 323 were introduced from 1961 to 1967 using very similar components including a slightly uprated engine. Most were fitted with AEI traction motors and able to run at 90mph, reflecting the move from slow to fast freight services through the 1950s. As the need for light mixed traffic engines dropped the class 25s were gradually withdrawn (often being replaced by pairs of the Class 20 machines permanently coupled nose to nose) the last in 1987. Graham Farish produce a ready-to-run class 25.

Fig___ Class 25 Locomotive in 'two-tone' green livery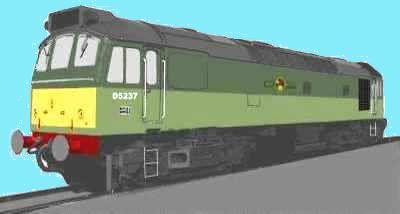 Class 26 introduced 1958 fitted with dual brakes and then fully refurbished in 1980s - Allocated to ER then ScR (see text). Enthusiasts called them the Mac Rat or the 'teacups' due to the sound if their engine idling
The BO-BO class 26 locomotives were introduced in 1958 along similar designs to the class 33 locomotives (see below) but with a lower power rating. They were originally introduced for Eastern Region but from the early days the locomotives worked almost entirely in Scotland and many were fitted with snowploughs. Several were fitted for merry go round coal workings, and they appeared on many freight trains. From 1980 the train heating was removed and the locomotives were fitted with air brakes, moving almost entirely over to freight services. Taylor Precision Models make a class 26 kit.

Fig___ Class 26 Locomotive in 'Railfreight triple-grey' with coal sector marking





The sketch shows an example based in Scotland (the white 'Scottie dog' logo indicates that is where it was maintained). The loco is in post 1989 triple grey freight livery and allocated to the coal sector of Railfreight. The yellow 'thing' under the front of the loco is the left hand snowplough, the right hand plough is edge-on in this view and hence not visible. These plough blades did not stay yellow for long, soon acquiring a coating of grime.

Class 27 introduced 1961 fitted with dual brakes and then fully refurbished only to be withdrawn in 1987 - Allocated to ScR. Enthusiasts called them the Mac Rat (same name as the 26)
The BO-BO class 27 locomotives followed the class 26 and were of a similar design but fitted with a slightly more powerful engine and different (GEC) transmission to the class 26. An up-rated version of the Cl 26, introduced 1961 fitted with dual brakes and then fully refurbished only to be withdrawn in 1987. Originally used on Scottish. NE and LM Regions between 1968 and 1970 they were confined to Scotland where some were fitted with electric train heating and remote control equipment to work in pairs, one at each end of a rake of coaches for the Edinburgh-Glasgow service. In 1980 the push-pull units were replaced by specially adapted Class 47/7's. On freight duties they often worked in coupled pairs. In the early 1980s the locomotives began to be withdrawn and the last left service in 1987. Heritage-N make an RTR class 27. Minitrix made a rather inaccurate 27.

Fig___ Class 27 Bo-Bo Locomotive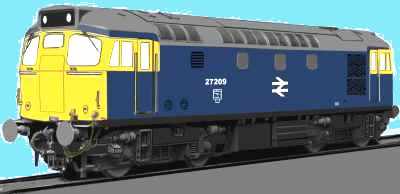 The example shown in the sketch has the connecting doors on the front welded shut, the livery dates from the 1970s and is the livery used on locomotives on the Glasgow-Edinburgh push-pull service (one engine at each end of the train). Many of these engines were equipped with snow ploughs when they went to Scotland (see Class 26 above).

Class 28 introduced 1958 all withdrawn by 1968 - Allocated to LMR. Known as the Co-Bo because of their wheel arrangement
The Class 28 locomotives were Metropolitan Vickers answer to the original requests for type 2 diesel locomotives. Built with an unusual asymmetric CO-BO axle arrangement the locomotives featured 2 stroke Crossley engines in order to allow British Rail to analyse the relative performance of two and four stroke engines. The locomotives featured multi-unit working, and steam heating for passenger traffic. The class 28 (or "metrovick") as it became known was initially used to work the fast ('Condor') freight service although engine troubles led to this service rapidly returning to steam traction. By 1961 almost the entire class was inoperable and class 24 locomotives took over the services. All were withdrawn within 10 years so they never received their TOPS numbers. Never a great success in their later years they were located in Cumbria, working the old Furness Railway lines. Modifications improved the performance but by 1968 the entire class was scrapped. Ian Stoate Models make a class 28 kit.

Fig___ Class 28 Co-Bo Locomotive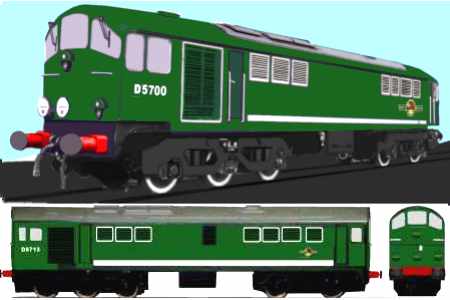 The upper sketch is based on a tracing of the manufacturers official portrait and shows the headcode set for an express goods service such as the Condor (Container Door to Door) service for which this class was intended. The lower sketch shows a livery based on a model produced at the time the locomotive was in service, also apparent is a window in the centre which was not present on the original prototype.

Class 29 introduced 1959 or 1960 and all withdrawn by 1972 - Allocated to ER then ScR
Class 29 was allocated to re-engined class 21 locomotives. These were fitted with Paxman engines after the original engines proved unreliable. Even with the new engines these locomotives were scrapped by the early 1970s. Originally supplied to Eastern Region they soon moved to Scotland. Oddly these locos carried their original numbers right to withdrawal, the 29xxx TOPS numbers were never applied, the letter D was however removed. Worsley Works and Langley Models both make class 29 kits.

Fig___ Class 29 Locomotive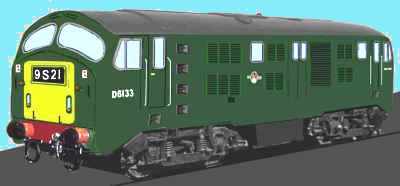 The sketch is taken from a photo of D2166, photographed after conversion from Class 21, this must have been after 1960 as the discs and front doors had been removed and the four character headcode box added. In this case the 9S21 indicates a slow freight train in Scotland (see also- Communications, Control and Signalling - Bell Codes &Locomotive Head Codes). All these locomotives were withdrawn before the four character headcodes were set to 0000 in 1976.

Class 30 introduced 1957 all converted to Class 31 by 1980- Allocated to ER, WR. Enthusiasts called them Skinhead
Class 30 was used for a series of locomotives mixed traffic built by Brush Traction starting in 1957. A moderately successful design which suffered from repeated crank case failures. Larger and heavier than many of the other equivalent locomotives they had A1A-A1A wheel arrangement (the central axle of each bogie merely bearing load and un powered). They were fitted with steam heating, and in some cases electric heating as well as both air and vacuum braking. Taylor Precision Models made a class 30 resin kit.

Fig___ Class 30 Locomotive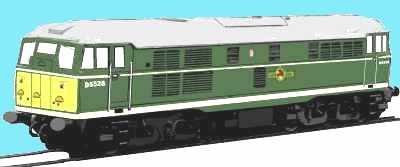 The sketch shows the original green livery with cream stripes and a post 1962 yellow warning panel. This locomotive still has the folding headcode discs fitted, three above the buffer bean and a fourth just below the central small window on the cab front.

Class 31 introduced 1958, all withdrawn by 1993 - Allocated to ER, WR. Early types with no roof mounted headcode box were knows as the Skinhead, later versions were apparently known as Gary.
From the beginning the Mirlees engines used in the class 30 locomotives was extremely problematic, suffering from repeated crank case failures. British Rail decided that the entire class would be re-engineed with English Electric engine equipment which by 1962 was proving extremely reliable in other locomotives, notably the Class 37s. The locomotives became class 31 as they were re-engined. The re-engined locomotives proved extremely reliable. These were fitted with dual brakes and then fully refurbished in 1980s. These engines were all originally supplied to Eastern Region but as more powerful locos were delivered some were transferred to Western Region. On Western Region they migrated down from passenger to freight duties as the Class 40's were introduced. Although never allocated to London Midland Region and Southern Region they were often seen on inter-regional workings. The first fifty locomotives were fitted with folding disc indicators, the remainder were delivered with the four character headcode box above the cab. Small numbers continue in service as of 2005, generally hauling test trains and moving stock around. Graham Farish make a ready to run class 31.

Fig___ Class 31 Locomotive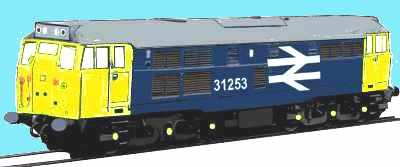 The sketch shows an engine in Large Logo BR livery (introduced in 1977) from the later 1980s with the by then mandatory high intensity headlight mounted in a housing in the centre of the front. This loco also has jumper cables, I believe to allow multiple working, which were not present on the original Class 31s.

Class 32 was not used

Class 33 introduced 1960 withdrawn by 2000 - Allocated to SR. Commonly called Cromptons
The BO-BO Class 33 locomotives were the first 'type 3' locomotives (1500hp or higher) to be introduced. The first units appeared in 1955 and all were specifically designed for the needs of Southern Region, being light weight and quite narrow. As the SR had changed over to electric train heating these locos had no steam boiler. The design, by BRCW, was externally similar to that companies Class 26 loco, but with a more powerful 'Class 3' engine. They were used on trunk-haul goods trains as far north as Newcastle and Manchester but were mainly confined to Southern Region, you would be not see a Class 33 on a pick up goods or trip working in the North West. Despite the light weight the vacuum and air braking made them effective freight engines with braked freight stock. Electric train heating meant locomotives could handle the southern passenger stock, and some were later fitted for push-pull operation with the southern region EMU stock. Others received slow speed control equipment and worked merry go round freight services.

Fig___ Class 33 Locomotive in engineers 'Dutch' livery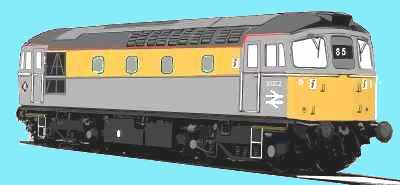 This livery was introduced in the early 1990s when locomotives were dedicated to specific sectors and the engineers got their allocation as well. Freight and parcels engines adopted a three tone grey livery in 1989, the engineers naturally got a number of freight engines and they simply painted the upper mid grey body sides in yellow.

One oddity was the special group of Class 33's with narrower than normal bodies, designed for the restricted tunnels of the old SER route from Tonbridge to Hastings which has unusually narrow clearances in the various tunnels. These engines looked almost identical to the standard type but the shape of the sides was subtly altered to reduce the width by a few inches.
The Class 33s wandered a long way over the years, in the 1960s (and possibly the early 1970s) they were used to haul cement trains from the Cliffe cement works in Kent to York (where the engine was changed for the remainder of the run up to Uddingston in Scotland) In the 80s they worked passenger trains from Cardiff to Crewe and Manchester, toward the end of the BR era some were based as far north as Aberdeen. Several were purchased by DRS for use on their Sanbach to Sellafield workings. Class 33 withdrawals began in the 1980s and by 2000 all had gone.
Graham Farish make a class 33.

Class 34 was not used.

Class 35 'Hymek' introduced 1961 withdrawn 1975 - Allocated to WR
Introduced in 1961 the class 35 ('Hymek' or D7000 class) locomotives were diesel hydraulic locomotives built by Beyer Peacock. Designed on German lines this was a low weight 1700hp diesel hydraulic weighing far less than the much lower power class 31 locomotives. These small B-B locomotives rapidly found use all over the western region for lighter traffic, they served on all sorts of duties from local freight and passenger right up to eight coach express trains. 101 examples were built and until 1966 it was seen on most WR branch line freight duties. In 1966 they moved to the South Wales area but also handled runs to London. The locomotives were withdrawn by 1975 as part of British Rail's decision to eliminate hydraulic transmission. Heritage-N produce an RTR class 35.

Fig___ Class 35 Hymek Locomotive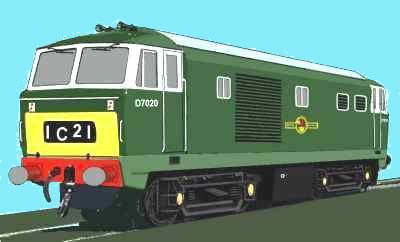 A design classic the Hymek was an icon of the 1960s, models were available in most scales including a kiddie garden train (battery powered) that ran on track with a gauge of about 10 inches. One of its claims to fame was that the anti glare protection in the windscreens was real gold. This was beaten into a sheet thin enough to see through and bonded into the glass. The American astronauts used a similar anti glare protection in the visors of their space suits.

Class 36 was not used.

Class 37 introduced 1960 - Allocated to ER, WR, ScR, generally called 'Tractor' or 'Siphon'
Late 1960 also saw the introduction of the first CO-CO class 37 locomotives. Based on the successful 2000hp class 40 locomotives it had more modern English Electric engine technology and a slightly lower power rating while much reduced in weight. Over 300 of these locomotives were built and the class now comprises six distinct specialised types, unquestionably one of the most successful classes. By the mid 1980s the locomotives were worn out. A decision was made to refurbish many of them, replacing much of the equipment, refurbishing the engines and in some cases adding additional features including traction control. A small number continue in service as of 2005 hauling both freight and also light passenger services, commonly in a "top and tail" formation with a class 37 on each end in order to cover for the shortage of new multiple units. The locomotives are still seen all over the UK and at times have journeyed as far as France and Italy. Graham Farish make a class 37 model.

Fig___ Class 37 in Transrail livery





The sketch shows the livery of Transrail, the original twin headcode boxes and central door on the ends were replaced by a single headcode box and that has now been plated over.

Class 38
Class 38 was a proposed design for a new freight loco in the 1990s but in the event the mixed traffic type fell from favour and BR went instead for the Class 60.

Class 39 was not used.

Class 40 'Whistlers' introduced 1958 withdrawn by 1985 - Allocated to LMR, ER, ScR
The first of the 2000hp or higher locomotives the English Electric Class 40 'Whistlers' Built by EE and also by BR/Sulzer, was introduced in 1958. Based on 10000 and 10001 built for the LMS the design was reasonably well proven, these were the first main line passenger diesel-electric locos introduced under the 1955 Modernisation Plan. It used the same English Electric 2,000 hp engine as the last of the Southern one-off prototype 10203.
Without the benefits of later diesel technology the class 40 locomotives were large and heavy. The 1-CO CO-1 wheel arrangement supported a locomotive almost seventy feet long. Nevertheless they could reach 90mph and with steam heating and vacuum brakes (later dual braking was fitted) made good freight and passenger locomotives. The heavy weight made them poor performers compared to many other diesels but they proved very reliable. So reliable that British Rail chose to have the later units use the 2000hp engine rather than take the option of a 2400hp upgrade.

The class 40s initially ran passenger services out of Kings Cross and also on the west coast mainline. As electrification and the class 55 deltics displaced them from these duties they trickled through other tasks always being pushed on by newer stock. Between the mid 1960s and 1977 they were also used for the royal train.

Fig___ Class 40 Locomotive





By the end of the 1970s the class 40 locomotives mostly handled freight or hauled electric locomotives when there were power failures or maintenance works on the west coast. The new class 56 and 58 locomotives displaced them from their freight duties and their passenger duties became mostly holiday specials. Withdrawn from general duties in 1985 four were kept in service hauling freight for the Crewe station remodelling duties but by 1987 even those were taken out of service. Graham Farish make a ready to run class 40.

Class 41 introduced 1958 the last was withdrawn 1967
Class 41 was assigned to an initial run of five North British built locomotives for the Western Region introduced in 1958. They were the first diesel hydraulic locos built for Western Region and named after warships (although not often referred to as 'Warship', a term usually associated with the later Class 42 and 43), they are often referred to as the D600 class as D600 was the number of the first of the class. These were without the four character headcode boxes (which appeared in about 1961). Western region wanted something similar to the lightweight German v200 Bo-Bo design however this was politically unacceptable so instead they got a set of five heavyweight A-1-A A-1-A wheel arrangement locomotives. Most of the parts were built by North British under license from MAN and Voith of Germany. Never quite standard the locomotives were scrapped in 1967 as high running costs and the closure of North British made them obvious early targets for disposal. Most of their short life was spent on the western region hauling light traffic while other locomotives were preferred.

Fig___ Class 41 Locomotive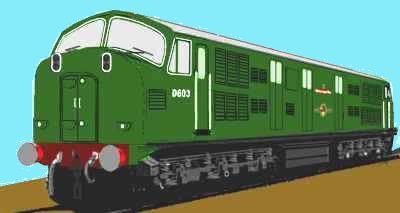 NB The sketch is provisional, the shape and body detail is about right but I was not able to confirm the operational livery details. When new D600 was all black with aluminium window surrounds and rims on the light clusters at the top of the bonnet.

Class 42 'Warship' introduced 1958 withdrawn by the end of 1972 - Allocated to WR.
Class 42 (built at the railway works at Swindon, the D800 series) and Class 43 (built by NBL at Glasgow) were the locomotives the Western region actually wanted and externally they were virtually identical. Unlike the first North British built locomotives the class 42/43 were built to German designs but licensed for UK production. The 'Warships' were thirty seven tons lighter than the tank like class 41 and the dual 1,135hp engines gave excellent performance. Early usage showed problems with performance over 80mph and also with train heating. Once resolved the locomotives gave good service on passenger services, generally staying south of Bristol. The Class 42s were officially mixed traffic locos but concentrated on shorter express passenger trains, originally in Western Region but later they also worked on Southern Region lines. The first 13 locos were built with three-character head-code panels flanked by discs following Western Region practice, the remainder were built with the standard BR four character head-code panel. In 1968 some locos were fitted for double-heading passenger trains when a larger Class 52 'Western' loco was not available.
Minitrix made a class 42. Graham Farish have a class 42 due for release at some point in the near future (as of 2005)

Fig___ Class 42 Locomotive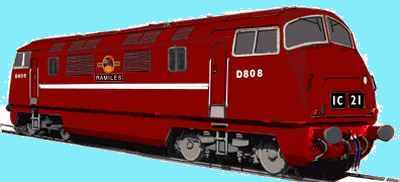 Class 43 'Warship' introduced 1960 and withdrawn 1971 - Allocated to WR
These North British built Class 43 locomotives (D836 - D870), although visually virtually identical with the Swindon built Class 42 machines, proved unreliable due to the use of different materials and the closure of North British made spare parts problematic. These NBL Class 43 engines thus were moved to freight services while the Swindon built Class 42 Warships ran major passenger services. After the decision to standardise on Diesel Electric all the Warships were scrapped between 1968 and 1972.
Note Class 43 was also the designation for the HST power cars discussed under Multiple Units

Class 44 'Peak' introduced 1959 withdrawn 1981 - Allocated to LMR
British Rail Derby built 10 class 44 'Peak' locomotives using Sulzer engines and Crompton Parkinson generators as the prototypes for a series of classes all known as 'Peaks' as they were named after mountains in England and Wales. Like the class 40 these locomotives were heavy 1-CO CO-1 wheel arrangement engines, although slightly more powerful than the class 40. Limited to 75mph the locomotives were reassigned to freight duties and stripped of their train heating gear almost as soon as the follow up class 45 locomotives entered service. They entered service in 1959 and spent almost their entire lifespan working freights from Toton yard. The last one was withdrawn from service in 1981.
Ian Stoate and P&D Marsh make a class 44 kit. Graham Farish have a class 44 ready to run locomotive due for release as of 2005.

Fig___ Class 44, original livery as new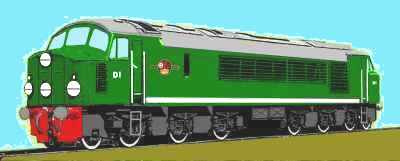 The sketch shows the livery as delivered, brunswick green with a light grey band and light grey roof. The livery was taken from the official record photograph which has all four headcode disks showing, this would not be the case in service.

Class 45 'Peak'introduced 1960 withdrawn 1989 - Allocated to LMR
Following on from Class 44 was class 45, also known as a 'Peak'. This was the first production run of the Peaks. Using a slightly improved Sulzer engine and better equipment the top speed was raised to 90mph. Fitted with steam heating the locomotives worked passenger services on the long distance Edinburgh to Penzance trains route as well as on St Pancras services. Many were re-fitted with electric train heating for the St Pancras service later on. The Class 44's and 45's were a successful mixed traffic type seen in most locations. On goods duties they were used for heavy trains on the Midland and North East/South West trunk routes. They regularly hauled the chocolate and cream painted BR Mk.1 main line trains originating in the Western Region. The class 45's survived until 1988 although most of them had gone by 1984.
Ian Stoate and P&D Marsh make class 45 kits. Graham Farish have a class 45 RTR model due out in 2005/6.

Fig___ Class 45, original split headcode and later single headcode





Class 46 introduced 1961 withdrawn by 1984 - Allocated to ER, WR
Class 46 was a variant of the class 45 essentially the final production run of this type and a total of 193 were built, serving mainly on London Midland and Eastern Regions but also running many services into Western Region territory. . Fitted with different generator equipment and other minor equipment variations the class 46 served along side the class 45 locomotives up until 1984 when the last one was withdrawn.
Ian Stoate and P&D Marsh make class 46 kits. Graham Farish have a class 46 RTR model due out in 2005/6.

Fig___ Class 46, final nose design in BR blue livery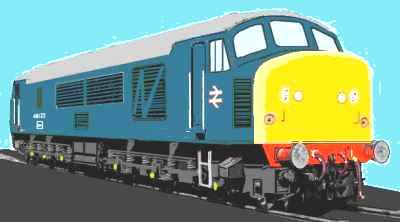 Class 47 introduced 1962 - Allocated to LMR, ER, WR, ScR and commonly known as the Duff
A total of 512 Class 47 locomotives were built. Closely related to the class 45 locomotives the Brush designed class 47 locomotives used a similar but uprated Sulzer engine and other changes to cut the weight and length down so that the locomotive could be CO-CO and somewhat shorter as well as more powerful. Several variants were built, some with steam heating, some with electric heating and others for freight use (47/3) with no heating gear. Over time various engines were refitted for electric heating, acquired dual braking and a small number were fitted for working push-pull on the Glasgow to Edinburgh route. Although rated at 2750hp the engines were downrated to 2580hp later on to improve reliability. The Class 47 is the single largest class of diesel locomotives built for British rails. 500 were built between 1962 and 1967 Some class 47 locomotives continue in service but very few as the engines are worn out and a major refit is needed, which would require long discontinued parts. Instead some have been turned into class 57 by fitting them with new engines. Graham Farish make a ready to run class 47

Fig___ Class 47 Locomotive in the original EWS livery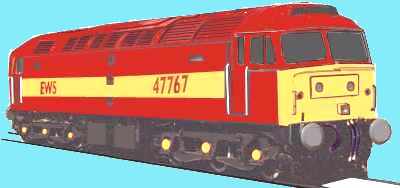 The sketch shows the original livery adopted by the EWS freight company, as newer designs have appeared so have variations on this basic livery. Some machines have EW&S, others (notably the Class 66) have the yellow stripe in a zig zag on the sides. Dapol and Farish have both released models of the Class 66 in 2005

Class 48 was allocated initially to the five locomotives that were built to the 47 design but with different engines. These were re-engined to match the rest of the class and became part of class 47 in 1969.

Class 49 has not so far been used but this class number was considered for Class 47's fitted with new American engines. In the event more powerful engines were fitted and the class 57 was allocated to them.

Class 50 introduced 1967 withdrawn by 1994 - Allocated to LMR then WR and known as the Hoover
English Electric built 50 CO-CO class 50 locomotives (the "fifty fifties") based on a design already shipping to other countries and tested by British Rail in the form of the DP2 prototype locomotive. In many ways a lighter, smaller and updated relative of the class 40 the locomotives were introduced in 1967, they were originally leased but BR purchased them outright in the mid 1970s. Originally intended for passenger traffic the locomotives were built to run at 100mph and provide 2700hp so that they could operate the west coast mainline trains north of Crewe, they were designed to be operable in pairs for taking large trains over the severe grades at locations like Shap. When introduced they were assigned to LM Region where they usually worked in pairs on the passenger express trains to and from Scotand, during this period they were based at Crewe. As electrification was completed northwards their duties were taken over by the 5000hp class 87 electrics and the Class 50s were reassigned to Western Region, at which time they were fitted with a high intensity headlamp. On the WR the rapid withdrawal of the Western diesel hydraulics had left something of a gap and the Class 50s also provided electric train heating. Western region in some ways got the last word in, naming the 50 locomotives after warships, much as the class 42/43 locomotives had been previously.
As they were introduced in 1967 they never carried the earlier green livery but began life in the plain blue of the BR corporate livery with full yellow ends (wrapped round at cab window level as far back as the cab door. This was the 'small logo' era, early 50s had a rather large double arrow logo below their original three digit number on the cab side at each end.
High speed trains displaced the 50s from their express passenger duties on WR and they were moved to other passenger services. Only one locomotive was ever really used for freight when, in 1987, a single locomotive was repainted into trainload grey and tested on china clay. The project ended in 1989 and by the early 1990s the locomotives were being withdrawn from all traffic displaced by newer high speed DMU services. In 1994 the last class 50 was withdrawn.
Graham Farish produce an RTR class 50.

Fig___ Class 50 Locomotive showing the Network South East livery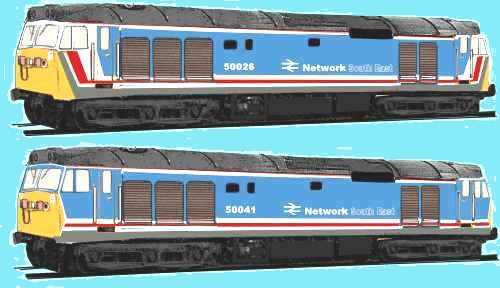 In 1987 BR abandoned the 'region' approach to management and 'sectorised' its business, allocating locomotives to specific duties. The railways around London became a sector in their own right, originally London & South East, subsequently the 'brand' Network SouthEast was adopted. The sketch shows two variants on the Network South East livery, introduced in about 1989, the upper being the original scheme, the lower a later simplified version.

Class 51 was not used.

Class 52 'Western' introduced 1961 withdrawn 1977 - Allocated to WR
Perhaps the last piece of Western Region independence and tradition were the Class 52 "Western" locomotives of the D1000 class. Painted in maroon livery (following trials with 'sand', maroon and un-lined green) these were powerful Co-Co's, introduced to supply more power than the Warships could provide for express passenger trains. Using voith hydraulic transmission and two updated Maybach engines similar to the Warships the locomotives were heavier and thus C-C wheel arrangement. The first Westerns entered service at the end of 1961. Early problems kept them limited to 80mph and with some other teething problems but by 1964 they were giving solid service. Although officially limited to 90mph the 2760hp locomotives were recorded performing far better when officialdom was not watching.
In the early 1970s the Westerns were scheduled for withdrawal along with all other hydraulic locomotives. Despite being kept on minimal maintenance only shortages of ETH equipped class 47's and class 50s saw the last few locomotives survive into the beginning of 1977.

Fig___ Class 52 'Western' Locomotive in original livery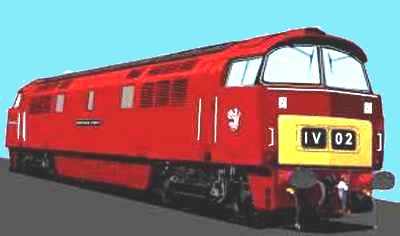 In their early days the Westerns hauled the express passenger services. As these shifted to electrically heated stock and the Westerns were run down they became regulars on china clay trains and on parcels and mixed freight services as well as heavy aggregate trains and enthusiasts specials.
Graham Farish offer a class 52 in RTR form.

Class 53 'Falcon' Built 1961, scrapped 1975 - Allocated to WR
A single CO-CO locomotive formed Class 53 and named Falcon. Built in 1961 by Brush Traction it was used to explore the use of dual engines in Diesel Electric locomotives. Fitted with dual Maybach engines closely related to class 52 it delivered 2880hp. In the early days it worked heavy freight and passenger services around the north east, before being refitted and returning to British Rail in green, where it worked mainly London to Bristol services. It spent its last few years in blue based around Newport where it became the engine of choice for the heavy ore trains. In 1975 it was scrapped. Although the dual engine approach was a success by the time the locomotive had demonstrated this larger single engine power plants had become available and it thus remained one of a kind. Falcon kits are available from a surprising number of vendors. Both Nthusiast Respays and Britannia Pacific offer Falcon in kit or ready to run form.

Class 54 was not used.

Class 55 Deltic introduced 1961 (following a prototype built by English Electric in 1955) withdrawn by 1982 - Allocated to ER, ScR
Class 55 was assigned to another dual engine locomotive. British Rail needed powerful locomotives for the east coast main line which at the time was diesel powered and thought likely to remain so. In order to get the needed power in an acceptable size English Electric used an engine design by their Napier subsidiary originally intended for power boats. A prototype "Deltic" or "DP1" was produced in 1954 and delivered a staggering 3,300hp, well above any comparable locomotive. The prototype was taken out of service in 1961 at the same time as the production engines were coming into service.
Light but with emission characteristics that would see it banned on the spot today the dual deltic engines allowed English electric to deliver a set of 22 3,300 horsepower CO-CO locomotives between 1961 and 1962 that weighed just under 100 tons and were officially rated at 100mph, although at times clocked somewhat higher. They used the same bogies as the Class 37.

Fig___ Class 55 'Deltic' Locomotive





The Deltic was the most powerful single locomotive type in the world when it was introduced but only 22 were built and they operated on North Eastern, Scottish and Eastern Regions, mainly on passenger duties. Although they wandered as far as Perth on regular services they spent their lives on the east coast main line passenger services. As the HST came into regular use on the east coast in the late 1970s the class 55 became surplus and were rapidly withdrawn and by 1982 all had gone. During the BR blue era several deltics from the Finsbury Park depot had white window surrounds, this was done as a morale booster when word of the depots closure spread.
Graham Farish make a ready to run class 55.

Class 56 A pure freight loco introduced 1977 - Allocated to ER, ScR, enthusiasts refer to them as a Grid
1976 saw the first new British Rail locomotive order for many years - for a CO-CO heavy freight diesel. Although still with a surplus of stock from the modernisation plan British Rail lacked a heavy freight locomotive for heavy coal trains. Producing 3250hp the 56s took the heavy freight services (in particular the merry go round coal services) away from 47s, which had often hauled the trains in pairs. Much political flack occurred when the first 30 Class 56 locomotives were built in Romania and in part due to poor construction the later locomotives were built at Doncaster and Crewe by BREL (the engineering arm of British Rail privatised in 1970). Altogether 135 locomotives were built. As they were designed for freight use the maximum speed was limited to 80mph and no train heating facilities were fitted. As the coal traffic declined as part of Government policy these engines were shifted to other heavy freight duties. The class were found to be quite complex to maintain and the load bearing body shell added to the cost. By 2005 only a few 56s were left operational, non were actually in service during that year other than some now running in France.

Fig___ Class 56 Locomotive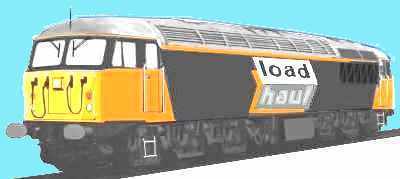 The sketch shows a loco bearing one of the three pre-privatisation train-load companies established in 1992, in this case 'Load Haul'. The body is a basic black with orange cantrail and cab sides, yellow panels on the front and a black, grey, orange and white logo on the sides. In the photo I used to obtain the livery there were no visible numbers or other markings. Load Haul, along with Transrail and Mainline, became English Welsh and Scottish Railways in 1996 but their liveries survived for a few years.
Graham Farish make a ready to run class 56.

Class 57 introduced 1997
As the class 47 locomotives wore out Freightliner looked at options for refitting them. From 1997 Brush rebuilt several as freight only locomotives replacing the Sulzer engine with a similarly rated second hand GM engine and stripping out other unneeded items like train heating. Although slightly lower power the resulting locomotives have 30% more traction power and a much lower top speed of 75mph. The resulting locomotives became class 57.
After a trial locomotive was rebuilt from a 47 and GM engine as a passenger locomotive a set of 16 were converted to include electric train heating and also modern couplers so that they could act as rescue locomotives for the passenger DMU services. More powerful GM engines are used so that the locomotives can power all the electronics of a rescued 'Pendolino' EMU and also maintain 95mph. A further four locomotives were converted for rescue and sleeper services later on.

Fig___ Class 57 in Freightliner livery (2004)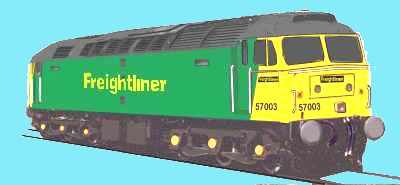 Graham Farish make an original class 57. Nthusiast Resprays make a kit for the 57/3 and the 57/6 passenger variants.

Class 58 introduced 1983
Based on the class 56 locomotives and the continued need for heavy freight locomotives British Rail introduced 50 CO-CO class 58 locomotives starting in 1983 to work with the class 56s. The class 58 was mostly noticeable for the changes in body design with narrow central body, modular design and easy access for maintenance. Although plagued by problems with wheel slip the locomotives put in good service until privatisation. In spite of a claimed 15% reduction in running costs over the Class 56s the export orders for the 58s failed to materialise and in the event only 50 were built, EWS withdrew most of the locomotives by 2002, although rather than scrap several of them have instead been sold on into the Netherlands and France. Worsley Works makes a class 58 kit as do TPM.

Fig___ Class 58 loco in Mainline 'grey' livery




Class 59 introduced 1985
By 1984 the political climate had changed for the railway network as had government thinking on the free market. Faced with dismal reliability of the available locomotives Foster Yeoman, who already maintained their own wagon fleet, negotiated a deal where they provided their own locomotives and British Rail staff drove them. Foster Yeoman tendered for locomotives and demanded 95% reliability. No UK engineering company even bothered to tender. EMD (part of General Motors) won the contract and delivered CO-CO locomotives to specification based on their US designs but squashed down to the UK loading gauge and numbered as Class 59 for TOPS purposes. The engines achieved 99% reliability and shortly afterwards National Power and ARC were purchasing the same locomotives. It is claimed that a single Class 59 with its computer controlled anti wheel slip system can handle the same load as two 56s or 58s.
Limited to around 60mph but generating 3,600hp they haul heavy freight, particularly aggregates. The design was also distinctive, echoing many aspects of US design practice and high maintainability.
BH Enterprises and Worsley Works make class 59 kits.

Fig___ Class 59 in National Power livery





The sketch shows one variation on the National Power livery, the differences were slight.

Class 60 introduced 1999 and known as the Doughnut (as you can see right through from one side to the other)
Class 60 was a British Built design following on from the 59. Although the private operators felt comfortable ordering US locomotives the British Rail 'Railfreight' sector did not. Starting in 1999 100 CO-CO class 60 locomotives were delivered to Railfreight, and under privatisation sold to EWS. Although reasonably reliable the class 60s are now being phased out rather than given a major refit. Taylor Precision Models makes a class 60 kit.

Fig___ Class 60 in Railfreight Construction livery





Note there is only one BR double arrow, a silver one mounted under the cab at the left hand end, with the number in black above it. This livery is taken from a photograph taken in about 1990.

Class 66 introduced 1999
In 1998 EWS ordered a large heavy freight locomotive design to replace the inherited and aging locomotives it was using to haul freight around. The locomotives were designed by EMD in the US and built in Ontario, Canada. They are related to EMD SD-70 and SD-75 locomotives but built to a UK loading gauge and other requirements. Rated at 4200hp and suitable for 80mph running the CO-CO class 66 is another totally freight dedicated locomotive with no train heating facilities. Such was the success of the design that other train operators have ordered the locomotives and over 200 are in UK service, and variants are in use across Europe. The photo below shows a Freightliner owned Class 66 working with a track renewal team in 2007.

Fig___ Class 66 loco in Freightliner livery (2007)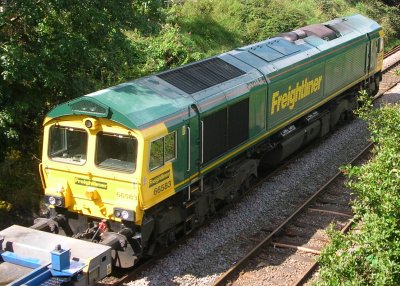 Dapol and Graham Farish both expect to release Class 66 RTR locomotives by the end of 2005. BH Enterprises and Worsley Works make class 66 kits.

Fig___ Class 66 loco in GB Railfreight livery





Class 67 introduced 1999
EWS needed faster locomotives for their mail services and also to replace the aging class 47 locomotives on the mail services. Class 67 was a series of 30 BO-BO locomotives designed for 125mph running. Early on there were significant problems with axle weight that led the locomotives to be restricted to mainline routes. They are also unable to operate any routes that are narrower than the full UK loading gauge as they are built to within millimetres of the gauge limit. To keep the postal workers in the rake of vans warm these engines are fitted with electric train heating (usually referred to as ETS these days, standing for electric train supply).

Fig___ Class 67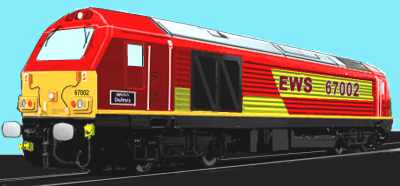 The ETS facility means they can be used with modern passenger stock and when the Royal Mail abandoned rail for a time the 67s were often used to rescue failed passenger trains. They were also occasionally used for odd jobs such as hauling the Orient Express and the Royal Train. Some mail services have moved back to rail on trial but their long term future is unclear.

Post nationalisation Diesel prototypes
Several other diesel prototypes were manufactured, although non received an official class number or went into series production. Notable amongst them were GT3 and HS4000.

GT3 introduced 1960 withdrawn 1962
GT3 "Gas Turbine 3" was an experimental gas turbine locomotive building on the design of 18000 and 18100. It delivered 2700hp and unusually looked like a steam engine with a 4-6-0 wheel arrangement. Although a success British Rail had decided to standardise on Diesel electric and it only saw service between 1960 and 1962.

HS4000 introduced 1968, sold 1971
HS4000 "Hawker Siddeley 4000" was a 1968 Brush built demonstrator of high power diesel locomotives. The CO-CO locomotive delivered 4000hp and could operate at 125mph. Although successfully used on Kings Cross passenger services and freight tests it was simply more powerful than needed. HS4000 was sold in 1971 to the USSR. Not until 1998 would British Rail order a locomotive that powerful (Class 66), and not until 1999 a 125mph stand alone diesel locomotive (Class 67). Aspects of HS4000 did however make their way into the class 56 and class 58.


---
^
Go to top of page



International Good Guys ~ Making the world a better place since 1971 ~ Site maintained by



All material Copyright © Mike Smith 2003 unless otherwise credited