Hale Station CLC - Services and stock



NB Please note this section is in very rough form, my notes are currently in storage. The sketches used for illustration are NOT scale drawings. More, and better, photographs are to be added to this page, once I get time to sort through, scan and scale them. I am deeply indebted to the members of the uk.railway and uk.rec.models.rail newsgroups who have provided a great deal of the information used in this section.

Passenger Services

There were regular passenger trains from Chester to Manchester (Central Station, now the GMEX centre). There was at one time a daily train to London from Hale, departing in the early morning, although I am not sure of the details. Two coach push-pull services were a regular feature from the 1930s until the end of steam, under BT the engine was usually a BR 'Mickey Mouse' 2-6-2 of the type formerly offered by Minitrix. Diesel multiple units were introduced fairly early in this area, the first DMU services starting in about 1960, but steam hauled trains continued for peak times into the 1960s. By the early 1970s the Manchester to Chester service usually consisted of two car Class 101 sets providing an hourly service in each direction. By a quirk of timing these trains have often crossed at Hale. The train stopped at all stations from Chester to Altrincham, then ran as an express between the Oilerkon electrics on the Manchester South Junction &Altrincham Railway line to Manchester stopping only at Sale before reaching Manchester. Originally the trains terminated at Central Station in Manchester, after the closure of that station they were routed to Manchester Oxford Road (from whence many continued on, providing regular services to Blackpool, Wigan and presumably other destinations).

In 2003 there was a shortage of DMUs for the line, leading to a short lived loco-hauled service consisting of two Fragonset Class 31 locomotives top and tailing four Mk 2D coaches in BR Intercity livery.

Trains have always used the line as a diversion, especially when work was underway on the West Coast Main Line. During the WCML electrification work in the spring of 1958 the Manchester to Bournemouth 'Pines Express' was diverted via Hale, usually hauled by a Jubilee class locomotive. This service normally ran from Crewe via Stockport to Manchester but during the diversion after leaving Crewe it turned left at Sandbach forward via Middlewich to join the CLC line at Northwich where it turned right then forward via Hale then Altrincham. It then ran on the Manchester South Junction &Altrincham Railway line to Deansgate Junction where it turned off and skirted the sidings at Skelton Jcn, then ran on to Stockport where it re joined the line to Manchester. I understand this diversion it added 50 minutes to the journey time. There have also been a number of 'specials', some run by enthusiast groups (which continue to run into the present day (2006) as well as special trains for events such as important football matches in Manchester and the like. The Venice Simpleon Orient Express rake of Pullman coaches, hauled behind a pristine Class 47 in white roofed BR Large Logo livery, ran a Valentines Day special in the early 1980s, shortly after their reintroduction in 1982. The steam specials run for enthusiasts has been a feature of the line, justifying the running of any (preserved) engine type hauling a mixed bag of coaches in various liveries (one such train had at least one crimson and cream brake with other coaches in 'intercity' blue and white), you need a minimum of about six coaches behind such an engine (the current series in the first years of the 21st century have favoured eight coach trains which can be accommodated at the stations on the line). Although most steam specials are hauled by large express engines the NRM's preserved 0-6-2 LNWR 'coal tank' engine has run at least one excursion on the line.

Goods traffic on the line

There was a daily stopping goods service through Hale until the later 1960s (Hale goods yard closed in 1968). There was also a daily milk train to Manchester, running inwards in the early morning, from another branch line to Winsford (again joining the mid Cheshire line at Cuddington). Milk churn traffic was collected from stations on the line into the 1950s, possibly the 1960s.

There was a twice daily parcels train run between Crewe and Manchester, calling at Knutsford and Altrincham on the way, although not stopping at Hale. The rake typically comprised only a couple of vans, this service lasted into the later 1960s.

A nearby polo club generated horse box traffic at intervals, the dock at Hale would require a lot of shunting to handle this traffic. I understand that the long siding on the cattle dock side of the station, although mainly used by local coal merchants, was used to store the boxes. There may well have been special trains (more likely coaches attached to scheduled trains) bringing the participants and spectators.

Hale is on the Mid Cheshire line and due to a lack of turntables on the line there was always a fair bit of tender-first running. The line formed part of the Cheshire Lines Committee system and the CLC handled a lot of freight; there were steelworks at Irlam near Manchester and on the river Dee near Chester, large chemical works were built around Northwich in central Cheshire and at Widnes on the bank of the Mersey. All of these generated traffic and received considerable quantities of Lancashire coal and broken limestone from the Peak District. The docks in Liverpool and Manchester provided plenty of traffic and the line between Liverpool and Manchester carried considerable goods traffic. At the Manchester end Britain's first and largest industrial estate at Trafford Park contained a great range of manufacturing industries. Nearby the CWS built a large soap factory served by the CLC and in 1922 an oil refinery opened at Stanlow on the south bank of the Manchester Ship Canal. A subsidiary industrial park built alongside the Bridgewater canal at Broadheath (on the Altrincham-Manchester line just North of Hale) would also generate a range of traffic.

There was a branch from the line through Hale (closed in the mid 1930s) from Cuddington to Whitegate and Winsford, where there were extensive works belonging to the Salt Union.

Other notable industries served included the Brunner Mond (formerly ICI Mond Division) soda ash works at Northwich set up in the 1920s. This single industry with its need for tons of limestone every day has been a mainstay of the line and still generates much of the freight traffic today (2007).

As ICI had arrangements to use only East Midlands coal there were regular long coal trains running on the line to feed the many chemical plants. There were regular long coal trains well into the diesel era, many hauled by Class 40 engines and comprised mostly of 12 ton and 16 ton wagons (comparatively few coal hoppers seem to have used the line).

The heavy limestone trains from the quarries of Buxton going to the chemical works in Cheshire are a feature of the line. Wagons used for this traffic were originally large numbers of traditional wooden bodied open wagons, quite a number of (Midland Railway designed) CLC three plank types but also large numbers of private owner five plank open wagons operated by Buxton Lime Firms and Brunner Mond Chemicals. In the mid 1930s these two companies merged with Nobel Industries, British Dyestuffs Corporation and United Alkali Company to form Imperial Chemical Industries (the largest chemical company in the world until it was de-merged in 1992).

ICI continued to operate large numbers of five plank open wagons for transporting the limestone but in the mid 1930s they began building a fleet of large vacuum braked bogie hoppers. These wagons operated on a merry-go-round system long before Mr Beeching (who had worked for ICI) introduced the idea for coal trains. The vacuum braked hoppers operated as 'block trains' carrying limestone from Tunstead in the Peak District to Northwich in Cheshire. After loading at Tunstead (opened in the 1920s) the hoppers were left for a couple of hours on a siding where they were checked and maintained before beginning the return journey. The hoppers were built by Charles Roberts, vacuum brake fitted throughout their life and a fleet of over 150 were built in the later 1930s running on diamond frame bogies. After the war additional wagons were ordered to the same basic design but fitted with plate frame bogies, increasing their payload somewhat, in the early 1950s a final batch was ordered, again with plate frame bogies but also with some small differences in the body. A typical hopper train, up to the 1960s, would be between five and ten hoppers, in the 1970s there was a move toward fewer longer trains and the class 25 engines were replaced by large locomotives or ran double-headed. In the mid 1980s the original hoppers had their diamond frame bogies replaced by plate frame bogies, increasing their payload slightly.
The ICI hoppers were originally painted all over black and had ICI on the side in the form of welded on metal letters picked out in white. After the war the official colour was all over light grey, again with ICI picked out in white but the only examples I ever saw were an all-over rust and track dust brown colour. They were coded PHV under the TOPS system after 1974 and they had numbers prefixed ICI, following the de-merger of ICI in 1992 the prefix changed to BLI (Buxton Lime Industries).

ICI Hoppers showing location of vacuum cylinders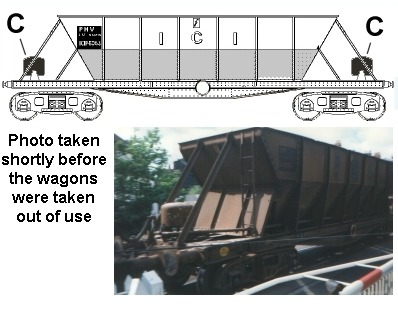 Rumours of their demise were circulating for some time, their bogies were reportedly approaching the end of their working life in the late 1980's, but it was early 1998 before they were finally replaced by rakes of four wheeled PGA hoppers hired from CAIB. These proved problematic in this traffic however, the dust blown off the wagons attracted complaints and the shift to much higher axle loadings on the modern wagons cause serious vibration problems on the un-welded track. The final solution was to weld the track and, from late 2000, employ much larger JEA bogie hoppers.

Brunner Mond hoppers in 2006




The ICI vacuum braked hoppers are not available in any form for N gauge, although a kit is available for OO. The PGA hoppers are available as ready to run in N from Farish and the N Gauge Society offers its members a suitable kit for the more modern bogie types.

The limestone hopper trains were a characteristic sight passing through Hale, I believe there were typically three trains a day in each direction on this service even after the longer trains were introduced, but other freight working have always been a feature of the Mid Cheshire line.

Soda ash was a regular cargo, often making up an entire train, by the later 1970s the stock was cream liveried four wheel tank wagons, similar to the Peco long wheelbase 'gas tanker' model, these were powder wagons not liquid tanks. Most trains operating from the Stanlow oil refinery only used the southern part of the line, but modellers licence would allow some oil workings even into the block-train era.

Rock salt in BR standard metal bodied tarpaulin wagons (unsheeted I believe) was shifted every autumn from the later 1960s (perhaps before). In the early 21st century trains of large ribbed-body bogie tippler wagons carrying fly as from power stations were using the southern parts of the line, these travel unsheeted and leave a faintly visible cloud in the air as they pass.

In the 1990s there was a Thursdays only Holyhead to Humber petroleum coke "empties" which passed along the mid-Cheshire line in the late morning, there were I believe two trains a week, each consisting of a short rake of large bogie covered hoppers (typically I believe about five hoppers) but most of these ran at night. This service came to an abrupt end following a fire at the Humber Oil refinery at Killingholme, Lincolnshire in about 2002. The refinery was the only British source of the petroleum coke used by Angelsey Aluminium at Holyhead, this material is now imported from the USA.

Also on the line in the 1990s I recall seeing short rakes (as many as ten but sometimes as few as three) of four wheel depressed centre powder tanks and very long rakes of empty MGR hoppers. I asked on the uk.railways newsgroups and was informed that the powder tanks would be the Enterprise freight service to/from Warrington Arpley yard to Peak Forest and Dowlow nr Buxton. I gather that in 2005 rakes of four or five large bogie covered hoppers were used for this traffic (as well as the four wheeled tanks) hauled by a single Class 66 or a pair of Class 37 engines. The MGRs (which I had thought were doing driver training services) could either be to or from Earles Sidings for Hope Cement works or from Healey Mills/Yorkshire area. I have since seen rakes of loaded HAAs pass along the line.

There was also apparently a train of empty flat wagons run from Mostyn on the North Wales coast to Healey Mills in the morning as well.

During track renewal work around Stockport there were regular trains of bogie ballast hoppers (long rakes of Seacow types on one occasion) and four-wheel spoil wagons. Works at Stockport also required the diversion of the Northenden 'binliners' through Hale. I also remember seeing the occasional long rake of what I believe were rail-carrying wagons run through the station. One late afternoon in 2005 I saw a Fragonset liveried Class 33 (black with yellow panel below the front windows and a red stripe, outlined in white, between the doors) hauling a lengthy rake of assorted empty coaches. The coaches were apparently in good condition although most were still in pre-privatisation liveries.

Locomotives and multiple units seen on the line

I gather the Midland Railway operated a number of passenger services on the line, I have not yet managed to confirm the make up of these trains but a likely candidate would be a 2-2-2 'Spinner' hauling perhaps a five coach train providing an express service. There is a photograph of a Midland 0-6-4 tank (I believe this was a Deeley 0-6-4T commonly know as a Flatiron, 40 were built in 1907 but all were withdrawn by 1938). Another photo shows a LNWR 2-4-2 tank hauling a regular passenger service to Crewe which included a through coach to London in the rake. The LNWR operated two types of 2-4-2 tank, introduced in 1979 and 1890.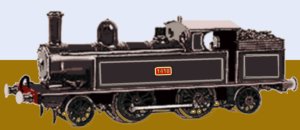 Given the interrelationship of the GNR, MR and GCR in this area it seems likely that all three companies would have sent engines along the line as part of their goods services rather than change engines. The GCR Class 9K 4-4-2 tanks were regulars on passenger duties, some were fitted for push-pull working in the early 1930s. Introduced in 1902 and becoming Class C13 under LNER ownership the forty engines of this class were initially based in the London area, some being transferred to Manchester for suburban duties in the early 1930s. Withdrawals started in the 1950s and the last, based in Manchester, was withdrawn in 1960.
Following the Grouping in 1923 the line would have seen both LMS and LNER engines on freight duties but I believe the passenger side was generally GCR hauled into the 1950s, with 9L/C13 engines in regular use. Some LMS tanks were also used on the line and locomotives from the former North Staffordshire Railway operated in this part of the world and it is likely that occasional examples would have passed through Hale. There is a photograph of the station (dated 1955) showing an ex GCR GCR Class 11E 'Director' 4-4-0, LNER class D10 number 62662 'Prince of Wales' hauling a passenger service.

The DMUs appeared in about 1960 (some people think it may have been as early as 1958), displacing steam from passenger duties on the line. The Class 101s soon became the mainstay of passenger services although other classes of DMU were also used on the line. The rakes varied, during peak times up to six coach units (three two coach units operating in multiple, often of different classes), normal off-peak services consisted of a two, occasionally three, coach set. The 101s proved a long lived breed, one of the last to go was 'Daisy', a two car 101 unit repainted in its original BR green livery which operated in the South Manchester area (including on the Chester services) until late December 2003. The 101s were progressively replaced in the early 1980s by a range of multiple units, principally the rather less successful Class 142s.
Interspersed with the 142s the line has seen a wide range of multiple units employed, including 'heritage' 1st generation units and the more modern classes 150, 151 and 152 and a range of liveries including BR Provincial livery (still seen occasionally in 2006), Liverpool Metro yellow and Strathclyde red! Occasionally post privatisation multiple units have run in multiple, usually two different classes running together, usually in different liveries.

Hale - post-privatisation multiple units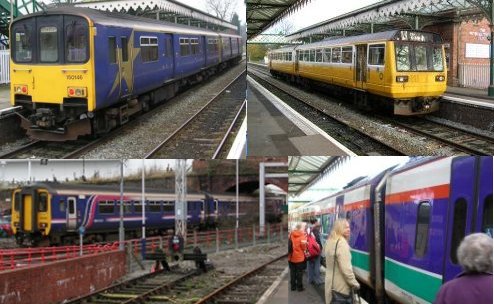 Note the photo in the bottom left was taken at Altrincham, the train in question was arriving from Hale, the photo bottom right shows a Strathclyde Transport liveried DMU at Hale in 2006.

General freight trains were hauled by a range of LNER and LMS locomotive types. The ICI hoppers were initially operated in 11 wagon rakes hauled by 4F class locos but from 1938 Class 8F locomotives took over the haulage duties, hauling up to 17 loaded wagons. During the war the empties were often hauled by LNER J39 class 0-6-0s due to a shortage of the heavier engines. In the later 1950s ex War Department 8F engines were occasionally used and BR standard 9F types were also trialed, hauling up to 19 wagons, however the older 8F remained the mainstay of the services until the diesels took over.
Diesels typically hauled 20-25 ICI hoppers in a rake, although rakes as short as five hoppers with a brake van were seen behind a single class 25 in the 1960s. Engine types used for the limestone trains included classes 24, 25, 28, 44, 45 and 46 with most trains hauled by Class 25s until the later 1970s when more class 40 and 45 traction was seen as longer trains became the norm. In the early 1980s class 47s were often used and in the mid 1980s pairs of class 20s coupled nose to nose were a regular feature and for a time a dedicated pool of these engines was used, but they were found to have problems and by the later 1980s pairs of Class 37s were the norm (with the occasional single Class 47), more modern engines, such as the class 56, could not run with the old hoppers as they lack air brakes.
The CAIB PGA wagons were hauled by a single Class 56 or pairs of Class 37's and the new JEA wagons saw Class 66 and Class 60 haulage in the first year or so of operation although at first rakes were only 17 or so wagons. By 2006 the standard limestone train was a rake of 20 to 25 JEA bogie wagons (carrying close to 1500 tons of limestone) hauled by a Class 60 locomotive, the service consisting of only one or two trains a day.

EWS Class 60 in 2006




Enterprise services in 2005 were hauled by EWS Class 66s and Freightliner green Class 59s. Light engine movements have included Class 37s, 47s, 59s and 66s. Other goods trains operating on the line but as yet unidentified have included a short train of a single bogie tanker (cargo unidentified) and three container flats each carrying one or two 'beam tank' containers.








^
Go to top of page




International Good Guys ~ Making the world a better place since 1971 ~ Site maintained by


All material Copyright © Mike Smith 2003 unless otherwise credited